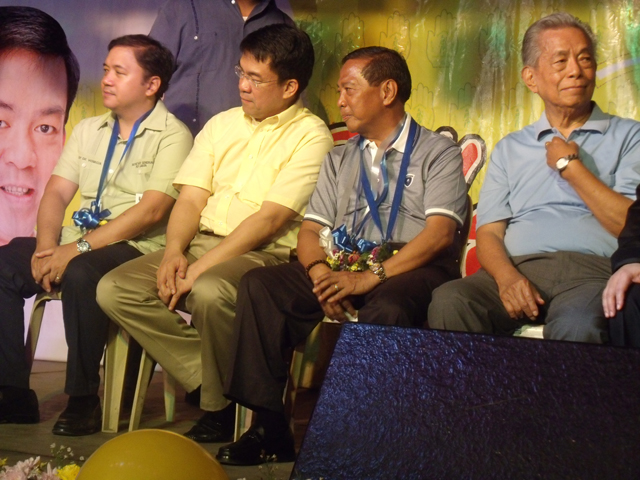 NOT OVER. Vice President Jejomar Binay says the issue is not yet over because he will still talk to Sen Koko Pimentel about his decision to leave UNA. File photo by Reynaldo Santos Jr
MANILA, Philippines – "Bahala na siya doon." (It's up to him.)
This is how Vice President Jejomar Binay responded to the statement of Sen Aquilino "Koko" Pimentel III that he is up for adoption after leaving the United Nationalist Alliance (UNA).
In a phone interview with ANC, the ABS-CBN News Channel, Binay responded to Pimentel's announcement that he is bolting the coalition over its decision to accept resigned Sen Juan Miguel Zubiri in its senatorial slate. (Read: Koko Pimentel leaves UNA)
"Kanyang desisyon yun. Ako naman nalulungkot ako pero nirerespeto ko ang desisyon niya," said Binay. (That's his decision. I feel sad but I respect his decision.)
Speculation is rife Pimentel will run under UNA's rival, the ruling Liberal Party (LP). Pimentel told dzMM though that he has not yet entered a formal agreement with LP. He revealed he is also in talks with Sen Alan Peter Cayetano, secretary-general of Sen Manny Villar's Nacionalista Party. He added that he wants to remain president of PDP-Laban.
Pimentel said, "I am up for adoption kasi kailangan ko rin ng tulong eh. Ang aming partido ay di ganun kalaki, kadami (because I also need help. Our party is not that big, we are not that plenty.)"
Binay is on vacation in Europe to celebrate his 40th wedding anniversary. Binay's spokesman, Joey Salgado, said Pimentel did not inform the Vice President that he is leaving UNA.
Binay and Pimentel belong to the Partido Demokratiko Pilipino-Lakas ng Bayan (PDP-Laban), which coalesced with former President Joseph Estrada's Pwersa ng Masang Pilipino (PMP) to form UNA. (Read: Enrile: I will still endorse Koko if he asks help)
In the interview, Binay reiterated that PDP-Laban remains committed to UNA. He added that the public must distinguish Pimentel as an individual from PDP-Laban as a coalition partner of UNA.
The Vice President, however, said he will talk to Pimentel once he returns.
"This issue is not yet over. Sen Pimentel and I will still talk," Binay said in Filipino.
Binay also said that it is LP, not PDP-Laban, that has the resources for the elections.
"We are not like other parties that have so many resources. The resources of PDP are just individuals' resources."
Binay will return to Manila on July 7.
The Vice President has deep-rooted ties with Pimentel and his father, former Sen Aquilino "Nene" Pimentel Jr, dating to the anti-Marcos struggle. (Read: Binay-Pimentel: The ties that bind)
Pimentel's objection to Zubiri is rooted in an electoral protest over the 2007 polls. He accuses the latter of cheating him and depriving him of his Senate seat for over 4 years.
Zubiri resigned in August 2011, days before the Senate Electoral Tribunal declared Pimentel the winner of the protest. – Rappler.com
Click on the links below for related stories:
Elsewhere in Rappler: