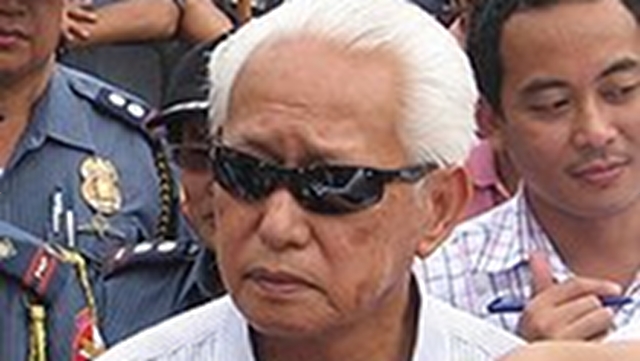 WEIGHING CAREFULLY. Manila Mayor Alfredo Lim says he is still choosing his running mate for 2013. File photo
MANILA, Philippines – Who will Dirty Harry's partner be?
Manila Mayor Alfredo Lim is carefully choosing his vice mayor for the 2013 elections, citing his "unfortunate" experience with his second-liners. On the show Headstart on ANC, the ABS-CBN News Channel, Lim said he is still making up his mind.
"Hanggang ngayon nga, namimili pa ako. May mga nag-ooffer na. Tinitimbang kong mabuti. Tapos malas ako sa vice mayor eh." (Until now, I'm still choosing. There are those presenting themselves. I'm still weighing it carefully. I'm unlucky with vice mayors.)
Lim's current vice mayor, Isko Moreno, became his critic and allied with former President Joseph Estrada, who will challenge Lim in next year's mayoral race.
Relations between Lim and Moreno turned sour, with the latter even accusing Lim of threatening to kill him. The mayor has denied the allegation.
Former Manila Mayor Lito Atienza was also a vice mayor of Lim but eventually turned against him.
Lim said he is taking his time in making the decision because whoever will win as vice mayor in 2013 will have a strong chance of running Manila by 2016.
"One foot of his will already be in the door of the mayor's office. He will already have an advantage over the other candidates that's why I am choosing well."
Lim said he wanted to ensure that his successor will continue his programs in the city like free medical services.
'Erap a formidable opponent'
Lim admitted that Estrada will be a formidable opponent in 2013.
The mayor is a member of President Benigno Aquino III's Liberal Party while Estrada's party, the Pwersa ng Masang Pilipino, is a coalition partner of Vice President Jejomar Binay's United Nationalist Alliance (UNA).
Lim said as of now, he does not see the need to respond to Estrada's attacks against him. Estrada has said that Manila has been left behind by cities like Makati and Taguig due to poor leadership, planning and the "police mentality."
While Lim said voters will ultimately decide, the former cop added that he will strike back when the campaign period begins.
"I've been saying that if they do not stop criticizing me, once the campaign period starts in March, I'll be constrained to answer them with proof."
He added, "I'm not referring to anyone. Politics, many people enter that. They say many things without any basis." – Rappler.com