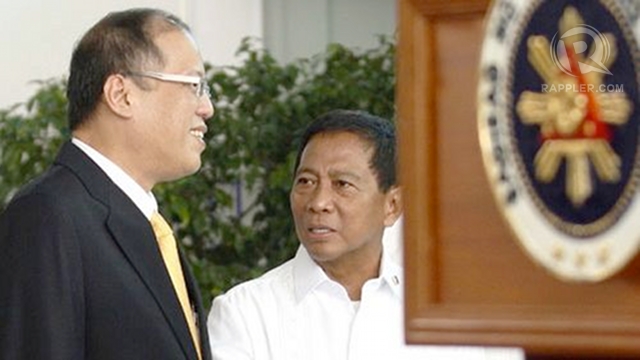 SUPER COALITION? President Aquino's allies find it awkward, surprising
MANILA, Philippines – Short of dismissing the proposal, Malacañang on Tuesday, July 17, said a coalition between the Liberal Party (LP) of President Benigno Aquino III and the United Nationalist Alliance (UNA) of Vice President Jejomar Binay would be difficult due to practical and philosophical reasons.
Presidential spokesperson Edwin Lacierda said President Aquino discussed this with LP stalwart and Budget Secretary Butch Abad, who also acts as the President's senior political adviser. They talked about the "difficulties" surrounding the proposal, he said.
The administration party has already forged a coalition -- in principle -- with the Nacionalista Party (NP) of Sen Manuel Villar and the Nationalist People's Coalition (NP) of President Aquino's uncle, business tycoon Eduardo "Danding" Cojuangco.
The planned coalition has 16 names on its senatorial short list. LP is already having a difficult time trimming it down to 12, the number of seats up for grabs in the May 2013 senatorial race.
Lacierda cited a more crucial issue, however.
Included in UNA's senatorial slate are allies of former President Gloria Macapagal- Arroyo such as Zambales Rep Milagros "Mitos" Magsaysay, Cebu Gov Gwen Garcia, and resigned Sen Juan Miguel Zubiri.
"We've got philosophical differences with some of the members of the slate of UNA. I think that's very visible to everyone," said Lacierda.
Besides, UNA has already declared that it will only accept candidates who belong to the two parties that form their coalition, Lacierda said.
"You already adopted an exclusionary policy in the beginning so whether one is open or not I think that's beyond the issue because LP has already forged ahead with their coalition," he added. "Suddenly, they are open to a coalition with LP? So it's up in the air why they changed [their position]? What made them change their minds about it?"
Abad earlier told Rappler that the proposed coalition has not been discussed by the LP leadership. "The idea (LP-UNA) has been broached, but there has been no discussion on it at the leadership level," he said.
While Binay himself told reporters on Monday that he was "open" to an LP-UNA coalition, he stressed that he's not the one behind the proposal. He said he's unaware of any initiative coming from either side to pursue it.
Puzzling proposal
LP members have been puzzled by the sudden proposal of UNA senatorial candidate San Juan Rep JV Ejercito, son of UNA stalwart former President Joseph Estrada.
Ejercito told the Philippine Daily Inquirer on Monday: "It (LP-UNA coalition) would be ideal. Talks of an LP-UNA coalition also floated in April, around the time of President Joseph Estrada's birthday. But nothing came out of it.
"In the Senate slate, as many as 30 names were initially considered," Abad said. The initial list included members of the UNA coalition. "The difficulty is when UNA declared that it will not accept any other party in its coalition. The LP proceeded to entertain feelers for coalition with other parties and groups towards an administration coalition," Abad added.
UNA stalwarts earlier said they will only include in their Senate slate members of the two political parties behind the coalition: Binay's Partido Demokratiko Pilipino-Lakas ng Bayan (PDP-Laban) and Estrada's Puwersa ng Masang Pilipino (PMP).
Awkward proposal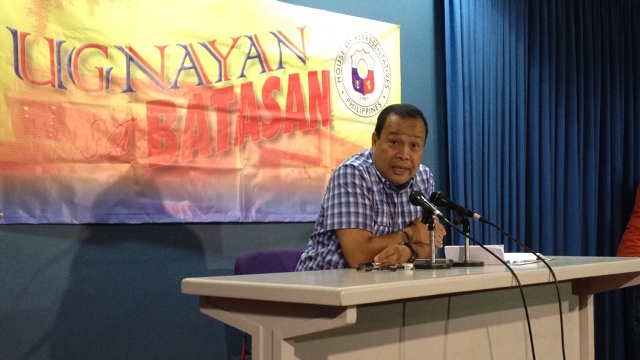 AWKWARD: House majority floor leader Boyet Gonzales says the proposed LP-UNA coalition is awkward because LP has already forged a coalitin with NP, NPC
House Majority Leader and LP member Neptali Gonzales II Ejercito's proposal is "awkward." The LP-NP-NPC coalition is already a winning ticket, Gonzales added.
Ejercito's statements on Twitter, however, show that he himself doubts if his proposal would ever prosper.
Ejercito tweeted:" "I don't think it will happen."
He added: "I said that a Super Coalition is ideal for PNoy for the sake of unity but actually very hard to be realized." - Rappler.com
More in Rappler's Elections 2013 Coverage: