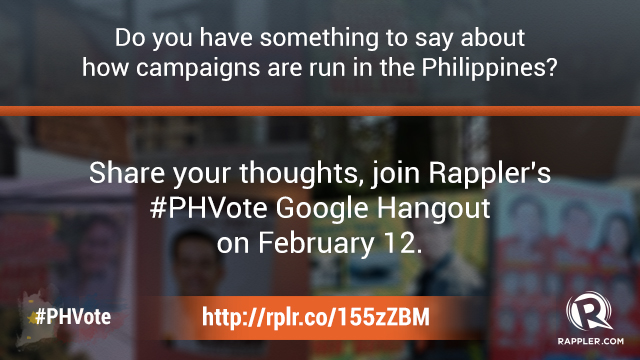 MANILA, Philippines - The campaign period for Senate and party-list bets in the Philippine mid-term elections officially starts Tuesday, February 12.
What things should voters expect now that the campaign season has begun? How do you want your candidates to conduct their sorties? What do you want to see during the campaign season?
At Rappler, we want your voices to be heard. Join our #PHvote Google Hangout on the Rappler homepage on Tuesday, February 11!
Do you want to be part of Rappler's coverage? Send us a tweet using the hashtag #PHvote and tag us on Twitter, or leave us a message on Facebook. You'll need a Google+ account, a laptop with a web camera and a headset, stable Internet connection, and working knowledge of Google+ and Google Hangouts.
Rappler's #PHvote coverage will be live on the site from 4-8pm.
Can't join us via Hangout? Join our conversation on Twitter using the hashtag #PHvote
If you want to join our future Hangouts, fill in the form below:
See you online! -Rappler.com
---
Visit our #PHVote microsite for election updates
---