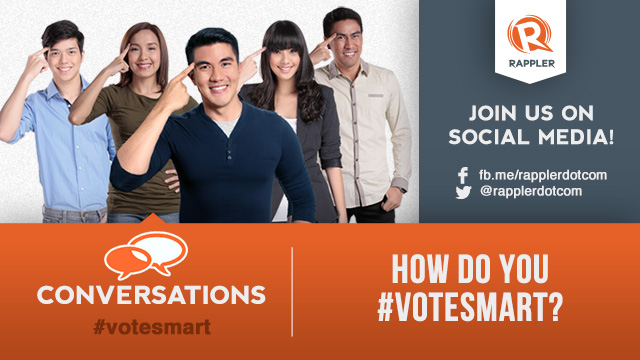 MANILA, Philippines - Three weeks before the 2013 mid-term elections, Rappler launches the #votesmart campaign, our way of encouraging social media users to go beyond emotions when selecting their leaders. The #votesmart campaign is about doing that extra effort to know the candidates well, finding out where they stand on issues that matter to you, and looking into their qualifications.
More than making a pledge to vote smart, however, have you taken concrete steps to make sure you will indeed #votesmart on May 13?
For example, have you, by now, put together a list of candidates whose names you will shade in the ballot? What have you done to get to know the candidates better? How do you decide when a candidate who seems qualified but you don't agree with some of his issues? What, to you, is an ideal candidate?
Send us a tweet (@rapplerdotcom) using the hashtag #votesmart, leave us a message on Facebook, or send an email to submit@rappler.com.
Here is what the online community is saying:
- Rappler.com