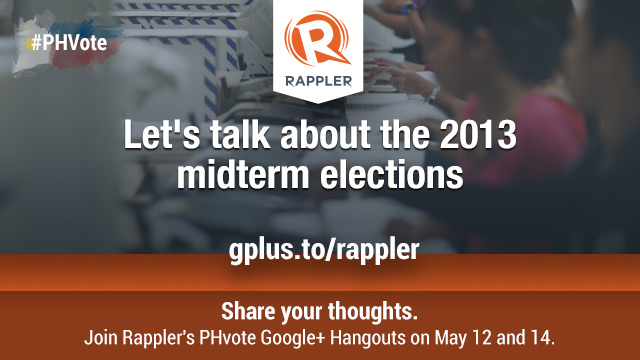 MANILA, Philippines - From Comelec commissioners to Supreme Court justices, from church leaders to activists, from the candidates themselves to their love interests; we have heard from almost everyone during the campaign period of the 2013 midterm elections.
But your voice is important too, and with a week to go before we head to the polls Rappler would like to invite you to hangout with us online to discuss the elections.
Mark your calendars and make sure you take part in a series of #PHvote Google Hangouts we're hosting.
Why care about 2013?
May 12, 2013 / 4-5pm



One day before the election we talk about what it means to vote this year.

Rappler's political reporters and youth voters sound off. Why should you care about the 2013 mid-term elections?

How will the results of this elections define the second half of President Noynoy Aquino's administration? How important is this election and what role will it play as we move towards the 2016 presidential polls?
PHvote 2013: The morning after
May 14, 2013 / 10-11am



The posters are down, the jingles have (mercifully) stopped playing, and the results are out. Congratulations, you've survived the 2013 elections! Now that it's (almost) over, let's take a look at the ups and downs of the 2013 midterm elections.

What has changed from the previous elections, and what are the lessons to keep moving on to the next ones?
Want to join out the Hangouts? Fill up the form below. You'll need a Google+ account, a laptop with a web camera and a headset, and a stable Internet connection. If you haven't joined a Google Hangout before, follow these simple steps provided by Google.
You can also join the social media conversartion. Tag us on Twitter using the hashtag #PHvote or leave us a message on Facebook. - Rappler.com