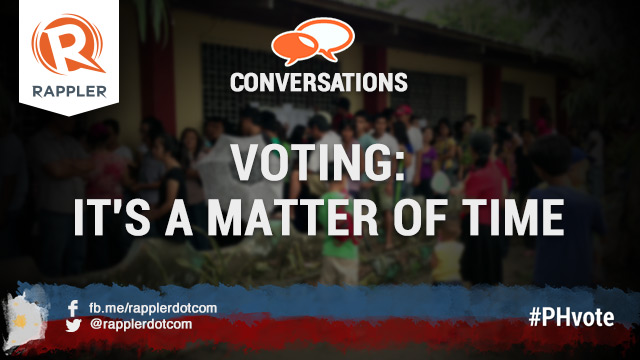 MANILA, Philippines – When poll automation was implemented in the 2010 presidential elections, everyone wanted to know, "would it be faster?"
Fast forward to 2013, the second time PCOS machines are employed, we're curious, has the speed of the whole process actually improved.
To find out, Rappler held a Twitter conversation asking voters to share how long it took for them to cast their votes. We received a whole range of responses, some say it took them as short as 2 minutes, while some took as long as 4 hours.
We'd like to know, how long did it take you to vote? Did you mind waiting under the rainy weather? Did it take you forever to vote? What caused the delay?
Send us a tweet (@rapplerdotcom) using the hashtag #PHvote, leave us a message on Facebook, or send an email to submit@rappler.com. Your photos and videos are also welcome, so share away!
Meanwhile, check out what the online community is saying:
-with reports by Claudine Itchon/Rappler.com
---
Wonder what the headlines are for the past hour? Watch the replays here!
Visit #PHvote, Rappler's coverage of the 2013 Philippine elections.