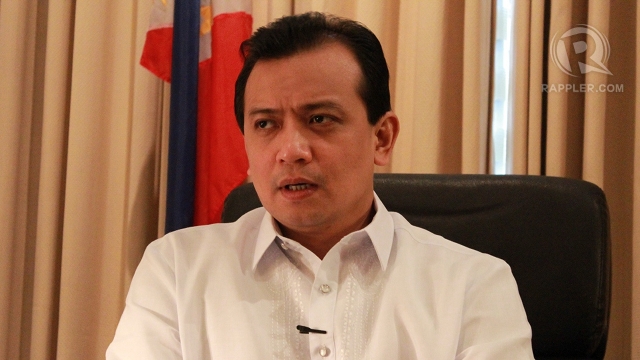 BACKCHANNEL NEGOTIATOR. Sen Antonio Trillanes IV stirred controversy for bolting the Senate majority and the revelation that he has been acting as backchannel negotiator with China on the Scarborough Shoal dispute. Photo by Hoang Vu
MANILA, Philippines – Sen Antonio Trillanes IV is again running for senator but this time no longer behind bars.
At age 32, then Navy Lieutenant Senior Grade Trillanes made headlines for leading the 2003 Oakwood Mutiny to protest corruption in government, particularly the military. Trillanes was jailed while facing rebellion charges but managed to stage another coup, this time in an election.
In 2007, Trillanes surprised even himself with his come-from-behind victory in the senatorial polls. Running under the Genuine Opposition ticket, the detained soldier won on an anti-Arroyo advocacy. A wide organizational base that included soldiers, Philippine Military Academy and high school batchmates at Angelicum in Quezon City, businessmen, and volunteers also delivered for him.
Just a few months later, Trillanes led another coup attempt, walking out of his own trial in Makati with other accused soldiers and laying siege on the Peninsula Manila hotel. He and his companions eventually surrendered.
After 3 years of serving his Senate term in Camp Crame, Trillanes was able to enter the halls of the Senate when President Benigno Aquino III granted him amnesty in December 2010.
Trillanes calls himself an Aquino ally. In May, he voted to convict then Chief Justice Renato Corona in the impeachment trial that was widely believed to be initiated by the Palace. Trillanes, though, has no reservations about questioning administration-backed initiatives he disagrees with, like the K-to-12 basic education program and the reproductive health bill.
Ahead of his reelection bid, the leader of the Magdalo Group joined a mainstream political party, the Nacionalista Party of Sen Manny Villar. Trillanes said he was impressed with the party's history and nationalist ideology.
In an interview with Rappler, Trillanes said he learned after one Senate term that he cannot work alone. "I believe that in order for me to function better as a legislator, I need to be part of a group. You cannot be an independent or a Lone Ranger. You won't be able to get things done, your bills passed, or your advocacies raised."
Just weeks after the interview, Trillanes showed he has no qualms about being a Lone Ranger. In a surprise move, he attacked the leadership of Senate President Juan Ponce Enrile and bolted the Senate majority. He accused Enrile of railroading the bill dividing Camarines Sur upon orders from Arroyo. Trillanes also revealed he was behind a plot to unseat Enrile.
The Senate President struck back, reading supposed notes of Ambassador to China Sonia Brady and accusing Trillanes of favoring Chinese interest in his backchannel talks. It was revealed on September 19, 2012 that Trillanes acted as backchannel negotiator with Beijing from May to July 2012.
Critics called the entire episode political suicide for Trillanes. Enrile vows to campaign against Trillanes but the youngest senator is not threatened.
"Tatawagin mo 'kong coward? Ako pa? Senator Enrile ka lang. Titindigan kita," Trillanes said. (You call me a coward? Me off all people? You're just Senator Enrile. I will stand up to you.)
Watch Rappler's interview with Sen Trillanes: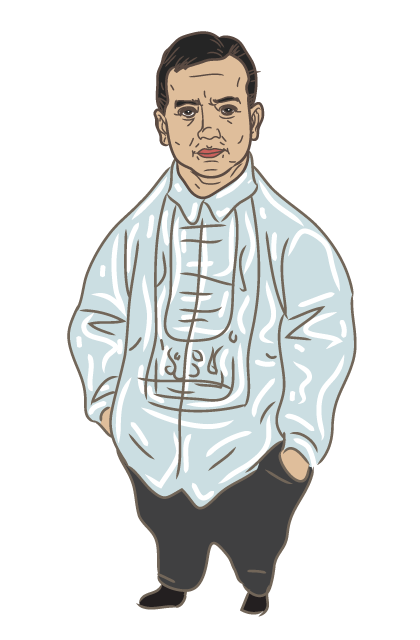 FAST FACTS
Political Party: Nacionalista Party
Age on Election Day: 41
Advocacies: Anti-corruption, military and police reforms, welfare of government workers, education, sports
Designation:
Chairman, Senate Committees on Amateur Sports Competitiveness, and Civil Service and Government Reorganization
Chairman, Select Oversight Committee on Government Procurement
Senate terms: One (2007-2013)
Votes and ranking in 2007 polls: 11th; 11,189,671 votes
Latest survey ranking: 6th-10th, Pulse Asia September survey 2012
Pork barrel released (2010-2012): P330,597,035
*Source: www.dbm.gov.ph
Education:
Masters in Public Administration major in Public Policy and Program Management, University of the Philippines (2002)
BS Naval System Engineering, Philippine Military Academy, cum laude (1995)
BS Electronics and Communications Engineering, De La Salle University (4th year, 1991)
Professional Background: Navy officer, politician
Acting Commanding Officer of patrol gunboat (1999-2000)
Procurement Officer/Instructor, Naval Education and Training Command (2000-2001)
Administrative/Personnel Officer, HQ Patrol Force (1999-2000)
Bills passed in the Senate: 19 (3 sponsored, 15 co-authored, 1 co-sponsored)
Conferment of Civil Service Eligibility (sponsor)
Geology Profession Act of 2011 (sponsor)
Release of Retirement Pay within 30 Days after Retirement (sponsor)
Clerical or Typographical Error and Change of First Name and Nickname (co-author)
Data Privacy Act of 2011 (co-author)
Expanded Senior Citizens Act of 2009 (co-author)
Magna Carta for Disabled Persons (co-author)
Philippine Respiratory Therapy Act of 2009 (co-author)
Philippine Psychology Act of 2009 (co-author)
Philippine Coast Guard Law of 2009 (co-author)
Military Service Board (co-author)
Philippine Disaster Risk Management Act of 2009 (co-author)
Education Requirements for Promotion in the Philippine National Police (co-author)
National Cultural Heritage Act of 2009 (co-author)
Real Estate Service Act of the Philippines (co-author)
Archipelagic Baselines Law of the Philippines (co-author)
Tourism Act of 2008 (co-sponsor)
University of the Philippines Charter of 2007 (co-author)
Universally Accessible Cheaper and Quality Medicines Act of 2008 (co-author)
*Source: www.senate.gov.ph
Relatives in government: Antonio Trillanes III (brother, his personal staff)