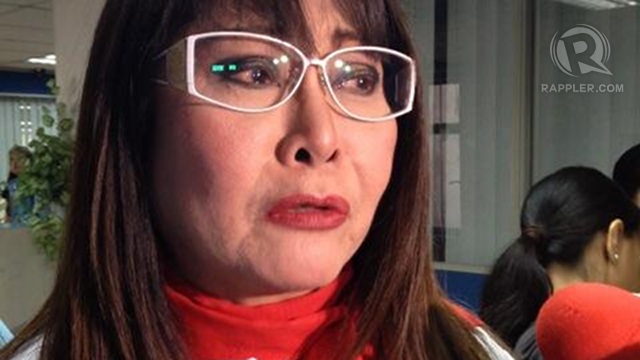 CRYING BET. Imelda Papin sheds 'tears of joy' over a reversed disqualification case. Photo by Paterno Esmaquel II
MANILA, Philippines – She prayed before an altar, and walked to the pack of reporters at the poll body's headquarters in Intramuros, Manila. Then singer Imelda Papin cried, as if on cue.
Her lawyer, Romulo Macalintal, announced to reporters on Thursday, April 25, that the Commission on Elections (Comelec) has reversed its earlier resolution to disqualify Papin from running for Congress.
Papin, who began to cry while Macalintal was speaking, later said: "Pasensya na po. Tears of joy 'to eh, 'no." (Pardon me. These are tears of joy.)
In a resolution promulgated Monday, April 22, the Comelec en banc granted Papin's motion of reconsideration to allow her to run as representative of San Jose Del Monte City, Bulacan. This reversed a Comelec second division resolution, dated January 31, saying Papin "had not complied with the one-year residency requirement" in San Jose Del Monte. (Watch more in the video below.)
The petitioner argued Papin resides in North Fairview, Quezon City, which supposedly meant Papin failed to meet the required one-year residency in the place she wants to represent.
In the new resolution, the Comelec said Papin's actions "manifest her intention to abandon Quezon City and establish her new domicile of choice in San Jose Del Monte City." The Comelec en banc cited evidence such as a transfer of voter's registration records and residency certificates.
Running under Lakas-CMD, Papin faces 5 opponents for the lone district of San Jose Del Monte City. She is not a first-time politician, having served as Camarines Sur vice governor from 1998 to 2004. – Rappler.com