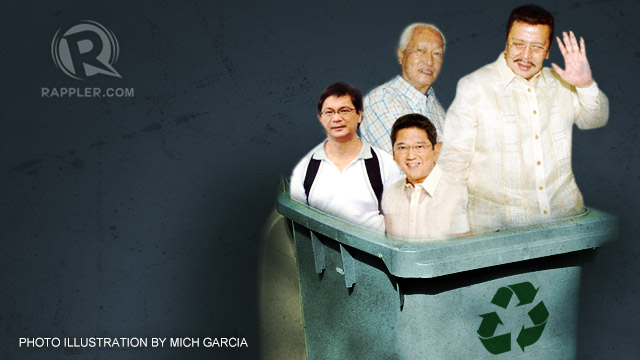 MANILA, Philippines – In the National Capital Region, there are absolutely no fresh faces among the major candidates this coming elections.
Metro Manila consists of 16 cities and one municipality. In each of these local government units, the candidates for mayor are either re-electionists, sons of the third-termers, or old-timers trying to re-take city hall.
Data from the Commission on Elections (Comelec) show that 14 of the incumbent mayors are seeking fresh mandate in 2013, while the remaining 3, who are on their last term, have fielded their relatives to replace them.
The list of those who filed their candidacy for mayor and vice mayor in the NCR is dominated by familiar political surnames. Mostly, they are incumbents or their immediate relatives, former holders of the posts, and congressmen wanting to cross to the executive side.
The following mayors will run for reelection:
Herbert Bautista of Quezon City
Robert Eusebio of Pasig City
Benjamin Abalos Jr. of Mandaluyong City
Guia Gomez of San Juan City
Del de Guzman of Marikina City
Antolin Oreta III of Malabon City (originally elected vice mayor, and assumed post after Mayor Canuto Oreta died this year)
John Reynald Tiangco of Navotas City
Alfredo Lim of Manila
Jejomar Erwin Binay Jr. of Makati City
Maria Laarni Cayetano of Taguig City
Jaime Medina of Pateros
Antonino Calixto of Pasay City
Aldrin San Pedro of Muntinlupa City
Vergel Aguilar of Las Piñas City
The mayors of Caloocan, Parañaque, and Valenzuela cities, on the other hand, are serving their last term, and will be fielding their relatives to replace them in 2013:
Enrico Echiverri of Caloocan City is fielding his councilor son, Ricojudge Janvier Echiverri.
Florencio Bernabe Jr. of Parañaque City is fielding his councilor son Florencio Bernabe III.
Sherwin Gatchalian of Valenzuela City is fielding his congressman brother Rexlon Gatchalian.
Enrico Echiverri and Sherwin Gatchalian will, in turn, run for district representatives in next year's polls.
Aside from Rexlon Gatchalian, two other incumbent representatives are leaving the legislature to join mayoralty races: Oscar Malapitan of Kaloocan's 1st district and Edwin Olivarez of Parañaque's 1st district.
Nat'l pols, returning mayors
At least 3 candidates for Manila mayor had run for various national positions in previous elections.
The incumbent, Lim, ran for president and lost in 1998, and was elected senator in 2004.
His strongest opponent, Joseph Estrada, was elected vice president in 1992 and president in 1998 before he was ousted in 2001. He ran again for president in 2010 but lost.
Another candidate, Felix Cantal, ran but lost in the 2007 senatorial elections. It was believed that he was inclined to join the 2010 presidential elections due to his transit ads, but didn't push through with it.
Former mayors in 3 cities will be joining next year's election in the hopes of reclaiming their previous position: Macario Asistio Jr. in Caloocan, Jaime Fresnedi in Muntinlupa, and Wenceslao Trinidad in Pasay.
Another former Caloocan City mayor, Rey Malonzo, will be joining the vice mayoralty race in the city next year. He also ran for vice mayor in 2010 but lost.
Even Estrada, who was once mayor of San Juan, transferred residence to Sta. Mesa in Manila in May to challenge Lim in 2013.
Crowded races
Caloocan has the most number of mayoralty candidates with 13, followed by Manila with 9, and Las Piñas with 5.
Malabon City, which had a lone mayoralty candidate in the 2010 elections (Canuto Oreta), again has an unopposed candidate for 2013—Antolin Oreta III, who replaced Oreta, who died this year.
In other LGUs in the capital region, the number of those vying for the post of mayor ranges from 2 to 4.
A total of 56 mayoralty candidates and 52 vice mayoralty candidates will run in Metro Manila in 2013, lower than the total 69 mayoralty and 62 vice mayoralty candidates in 2010. - with research assistance from Kat Uyan and Xyline Señoran, Rappler.com