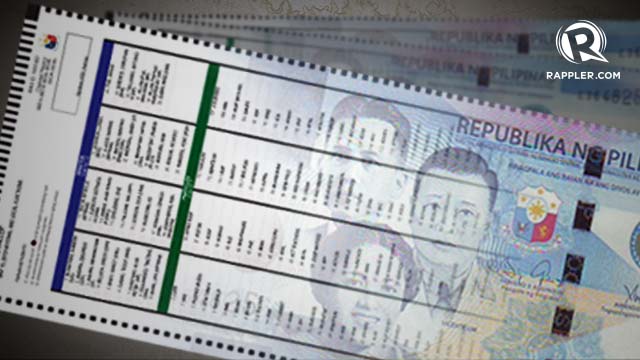 MANILA, Philippines -- Candaba police filed before the Pampanga provincial prosecutor Saturday, May 11, a vote buying case against Apolinario Cruz, an alleged supporter of mayoral candidate Reynaldo Capati Sagum of the Nacionalista Party.
The police caught Cruz handing out white envelopes containing three P100 bills to voters in Barangay Mangga at 11 am on Friday, May 10.
Cruz carried two bags printed with the word "Busog," the registered alias of Sagum. The bags had at least 44 envelopes, each found containing P300 pesos.
Cruz denied knowing Sagum, adding the money did not come from Sagum. "The bags were just passed to me," Cruz told the reporters. Cruz intends to post bail.
Sagum, though, was not named in the complaint. He could not be reached for comments.
The buying and selling of votes are among the prohibited acts under the Omnibus Election Code (OEC). Offenders may be imprisoned from one year to less than six years and shall not be subject to probation. Those found guilty shall be disqualified from holding public office and banned from voting.
Sr Supt Oscar Albayalde, who was assigned as provincial police director 12 days before election day, said the provincial police are "serious in the campaign against vote-buying."
Albayalde confirmed it is the first of such case in Pampanga, one of the 15 provinces declared as election hot spots this year. - Rappler.com
---
Visit #PHvote, Rappler's coverage of the 2013 Philippine elections.

Get to know the candidates through our comprehensive profile pages and help spread the word about these candidates by answering our poll.
Check out our fun timeline to find interesting trivia on the candidates.
Help us monitor violence & vote buying! Report them through #VoteWatch and our tool will automatically map your report.
Share this page and pledge to #votesmart by clicking on the button below.