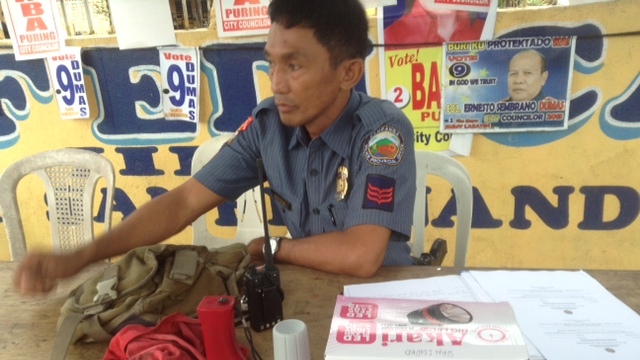 ON STANDBY. Cops are on alert in San Fernando, Pampanga.
SAN FERNANDO CITY, Philipipnes - The police has placed 9 towns in the province of Pampanga under its watch list due to the presence of loose firearms and partisan armed groups.
The 9 towns are Mexico, San Simon, Sasmuan, Arayat, Guagua, Mabalacat City, Magalang, Candaba and Lubao, where former President Gloria Macapagal Arroyo is a registered voter.
Arroyo, who is seeking a second term as the representative of the second district of Pampanga, would not be able vote on Monday, May 13, however as she failed to ask permission from the court to leave the Veterans Memorial Medical Center.
Arroyo has been under hospital arrest since 2011 for her alleged involvement in the reported fraud in the 2007 senatorial elections. She was allowed to post bail by the Pasay regional trial court in July 2012 but was taken back to the hospital in October after she was charged with plunder.
In Tarlac, 13 places were put under a police watch list: Bamban, Capas, Sta Ignacia, Victoria, La Paz, Gerona, Camiling, San Jose, San Clemente, Pura, Mayantoc and Tarlac city.
Power outage also hit Balanga City, Bataan from 4:50 am to 5:20 a.m. Power has been restored. - Rappler.com
Visit #PHvote, Rappler's coverage of the 2013 Philippine elections.

Get to know the candidates through our comprehensive profile pages and help spread the word about these candidates by answering our poll.
Share this page and pledge to #votesmart by clicking on the button below.