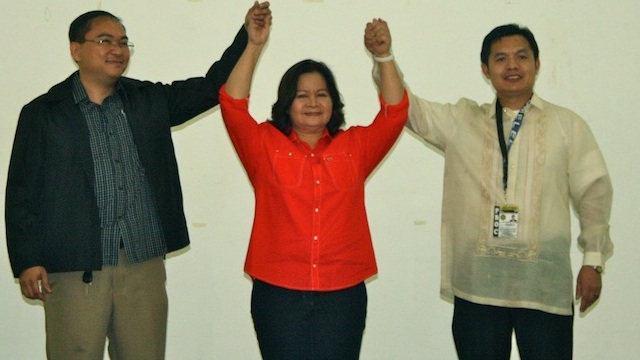 WINNER. The Pampanga provincial board of canvassers proclaimed Gov. Lilia Pineda as the winner of 2013 gubernatorial race.
MANILA, Philippines - Pampanga's re-electionist Governor Lilia Pineda was officially proclaimed the winner of the province's gubernatorial race Thursday, May 16.
The Pampanga provincial board of canvassers made the proclamation even without the certificates of canvass from the towns of Mexico, Lubao, and San Simeon, and the city of Mabalacat.
Votes for Pineda were "sufficient" for a wide lead, provincial election supervisor Fernando Cot-om said. The board of canvasser counted a total of 437,832 votes, coming from 17 towns and cities.
The governor, who will now start her second term, said that she had won "the trust of Kapampangans."
She ran against the Liberal Party's Fr Ed Panlilio, who beat her in 2007, and independents Joey Montemayor and Joe Ocampo.
The canvassing for the 3 towns and one city was delayed due to the replacement of 4 faulty compact flash cards, estimated to contain around 4,000 votes. - Rappler.com