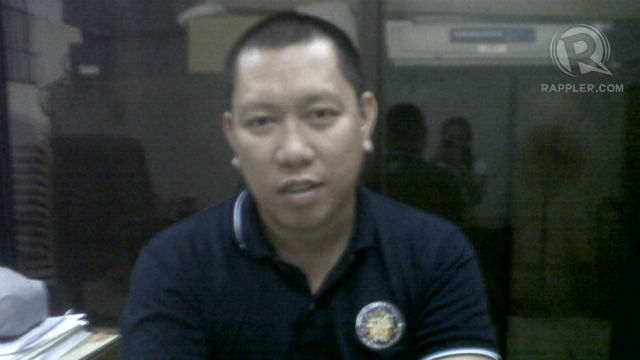 LOGISTICAL PROBLEMS. Negros Occidental Elections Supervisor Atty. Will Arceño says that postponement of the final testing and sealing of the PCOS machines is due to logistical problems. Photo by Paula Azurin
BACOLOD, Negros Occidental – The final testing and sealing of precinct count and optimal scan (PCOS) machines for the province of Negros Occidental has been postponed until May 10, Friday.
According to Provincial Elections Supervisor Atty. Will Arceño, this was due to the request from the Philippine National Police (PNP) to move the date of testing and allow them a shorter period of time to secure the PCOS machines.
The PCOS machines are still in the warehouse of the Commission on Elections (Comelec) in Bacolod, awaiting deployment to the assigned schools. The reason behind the request was largely due to a logistical problem.
Atty. Arceño said, "There was a request from the PNP and the Armed Forces of the Philippines. They cannot provide nor sustain a long security for the PCOS machines."
Arceño explained that once the PCOS machines are sent to the different voting centers, they would have to stay there until Election Day.
He said that due to the small number of policemen and since the PNP will be manning each voting center, there would be no police left behind in police stations.
"Mahaba siya 7 days before, including election day so 8 daya…include mo ang hindi pa na matapos daan so 9 days. Maliban sa kulang gid ta sa pulis, kay PNP they will be manning each voting center so wala nang police na mabilin sa police station," he maintained. (Seven days before is quite long, including Election Day, all in all 8 days. They also have to take note of the fact that it won't finish early…they are pegging it at 9 days. Due to the small number of policemen, since the PNP will be manning each voting center, there will no police left behind in the police station.)
Lack of security
Aside from the lack of security for the town center and the police station, the police are also susceptible to dangers from insurgents according to Arceño.
On election day, there will be two policemen manning each polling center in the entire province of Negros Occidental. Arceño recognized, however, that there would be problems with this set up.
"Just imagine duwa lang ka pulis sa isa ka voting center. We're talking here of all voting centers even the far flung areas so kung duwa lang na problema na," he added. (Just imagine that there will only be 2 policemen in one voting center. We are talking about all voting centers even the far flung areas. If it's just two, that might be problematic.)
In order to address the logistical problem in the upcoming elections, Citizen Armed Force Geographical Units (CAFGU) and the barangay tanods were called upon to act as perimeter guards for the checkpoints all over the province.
Transmission
Only a mock transmission was held and there were no reported complaints with the results.
However, there is still the possibility of signal jammers particularly in far flung areas. Only one PCOS machine technician is assigned for every polling center which has 5 to 6 PCOS machines. For the bigger schools, there will be one technician for every 10 machines.
The BGAN, a satellite based system of transmission, will be used as a contingency measure in case the cellular based transmission will not work in far flung provinces.
When asked whether he would allow the parallel manual count as proposed by PPCRV, Arceño said that he would not allow it as they are not equipped or prepared for a manual count.
There are 2,044 PCOS machines for Negros Occidental. For contingency purposes, the Provincial Comelec office already requested for an additional PCOS machine per town. – Rappler.com
Paula Azurin is a Rappler Ambassador.