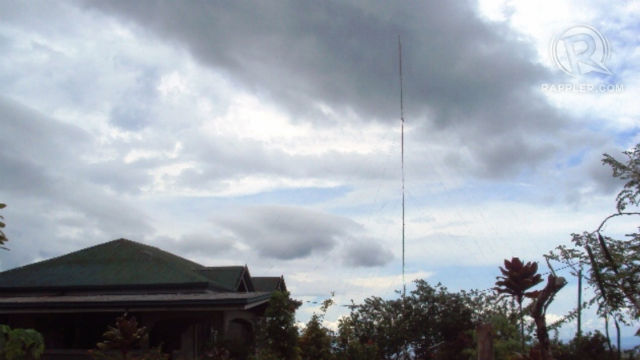 TOWER OF SUSPICION. Local police suspects that the illegally built tower will be used to disrupt communications transmission on Election Day. All photos by Gabrielle Espinosa.
BOHOL, Philippines —A newly-built tower discovered in the isolated barangay of Agsoso, Loon, Bohol was suspected by police officials to be used to disrupt communication transmissions this coming elections.
The construction of what looks like a communications tower elicited suspicions of jamming crucial election communication equipment like the precinct count and optimal scan (PCOS) machines.
According to the local police officials of the municipality, the tower could be attached to an antennae system needed in any jamming operation.
An inspection made by the police last Saturday revealed that the tower, about 50 meters high, was built in just four days from April 21 to 24.
It was built on a lot allegedly owned by a politician identified with the Bag-ong Bol-anon, a party in line with Gubernatorial bet Conchita "Cheche" Toribio delos Reyes under the United Nationalist Alliance (UNA).
Police confirms that the tower does not have any permit from the barangay nor the municipality.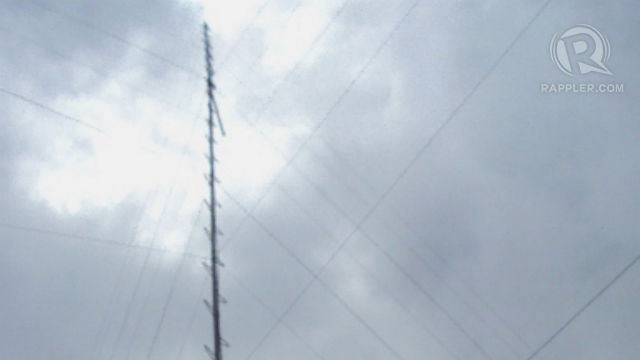 NO OWNERS? Residents near the 50-foot tower maintain that they do not know who built it.
Incumbent mayor of Loon Dr. Lloyd Lopez told the police to confirm the construction of the structure after being informed of the tower's existence. The police, however, failed to identify the lot owners.
When asked why the construction of the tower was permitted, the owner of the house on the lot where the tower stands said in Boholano, "We do not own that tower, but we allowed its construction because I believe no one would be affected if we let them build it anyway."
The owner of the house claimed to be a supporter of Bag-ong Bol-anon. A placard was even nailed in front of their house to show their support for the party.
No jamming?
Although the National Telecommunications Commission (NTC) already inspected the site, it has not been confirmed whether the suspicions of signal-jamming were true or not.
According to Engr. Jess Laurino of NTC Region 7, it is less likely to be used for jamming because the antennae system mounted on the tower is different from the kind of antennae system signal jammers mostly use.
NTC Region 7 is still waiting for a formal report before filing a case.
The municipality of Loon is home to 26,596 registered voters with 61 voting centers. The seat for the mayoral race is between re-electionist Lloyd Lopez of the Liberal Party and Ana Lisa Orcullo-Go of UNA. –Rappler.com
Gabrielle Espinosa is a Rappler Ambassador.