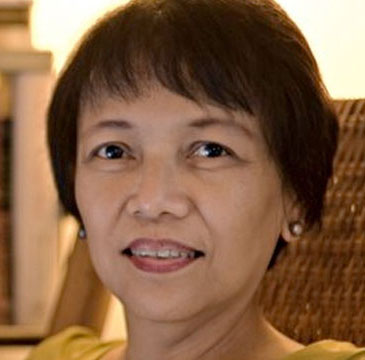 Marites Dañguilan VitugThe combative Mitos Magsaysay said it well on TV: "Are you black or are you white?" She was posing the question to the 3 guest candidates of UNA or the United Nationalist Alliance, the coalition she belongs to.

Reporters interviewed her during UNA's recent early campaign sortie in Batangas, a vote-rich province. Magsaysay was undeterred, ready to pick a fight.

Chiz Escudero, Loren Legarda, and Grace Poe-Llamanzares are of a separate breed in the 12-member UNA senatorial slate. They are also senatorial candidates of the Liberal Party.

With popularity as their main currency, Escudero, Legarda and Poe-Llamanzares can choose to fleet from one coalition to the other, depending on what suits their purposes best.

Why, they have the best of both worlds, Magsaysay complained. This seemed untenable to her.

Magsaysay's question is important because it applies not only to the 3 candidates but to her entire coalition. And we may yet see answers unfold in the May elections and its aftermath.

'Loyal opposition'

Led by Vice President Jejomar "Jojo" Binay, UNA has claimed to be a "constructive opposition." Or, more like a "loyal opposition," UNA spokesperson JV Bautista told Rappler, and added: "We are loyal to the queen but not to the ministers."
Notice that Binay and company are cautious about defining themselves in relation to President Aquino despite differences on key issues. It would be political suicide, as one pundit put it, to fight a popular president.

In the same way, PNoy wants to keep a semblance of unity in his official family, starting with his VP. Both know that noises of discord would be counter-productive and further grist for the ravenous media mill.

Thus, we're seeing Binay and PNoy in an awkward minuet, each one careful not to step on the other's toes.

Binay and Garcia

The most recent display of disagreement between Binay and PNoy was over the suspension of Cebu Gov Gwen Garcia, as ordered by Malacañang. A defiant Garcia refused to leave the capitol.

Binay, together with UNA stalwarts Joseph Estrada and Juan Ponce Enrile, took a chartered plane and rushed to Cebu over the holidays to show support for the embattled governor. An ally, Garcia had earlier planned to join UNA's senatorial slate but backed out.)

Malacañang official Ricky Carandang had to appeal to Binay and the UNA leaders to advise Garcia to follow the rule of law.

GMA, Corona impeachment

In 4 other issues which PNoy felt strongly about, Binay simply kept his distance or took an opposite view.

Binay did not make public comments approving the impeachment of Chief Justice Renato Corona. Rather, he appeared neutral and called for a fair trial.

When the Supreme Court allowed Gloria Macapagal-Arroyo to leave the country last year, our sources told us that Binay advised Justice Secretary Leila de Lima to just let the former president go. (De Lima, at the time, defied the Supreme Court's order.)

In a letter to the President in 2011, Binay lobbied for the controversial general, Carlos Garcia, who was charged with plunder. Binay advised Aquino to go for a plea bargain deal, arguing that the government had a weak case against Garcia.
Binay reportedly did not support the impeachment of Ombudsman Merceditas Gutierrez, whom Aquino considered a stumbling block in the government's anti-corruption efforts, especially in going after Arroyo. Aquino won on an anti-corruption platform and this was central in his program.

Mid-term elections

Will the mid-term elections start to draw the line between President Aquino and VP Binay? Will the campaign sharpen the differences between the two?

The answer will lie in the issues that will come to the fore and how both leaders will deal with them.

This early, it is reasonable to say that part of the outlook for 2016, the year we vote for a new president, begins next month, when the campaign season starts. By May, we will know the victors: they and their alliances will give us an indication of how 2016 will shape up.

While Binay is the clear candidate of UNA for president, no one has yet surfaced from the ranks of the LP to match the popular and politically deft VP. An anointment by PNoy is not a sure thing—unlike in Brazil where the hugely admired president, Lula da Silva, endorsed his chief of staff Dilma Rouseff who won.

For LP, the choice for 2016 is still up in the air. - Rappler.com