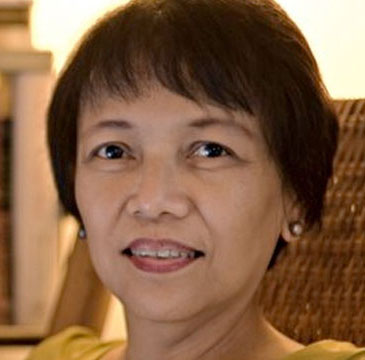 Marites Dañguilan VitugI've gone over the list of candidates for the Senate and I can't go beyond choosing 4. I know where they stand on issues that I care for. And there's an element of personal like—they have no record of dishonesty, no integrity issues hanging over their heads.
Why such a disappointing decision? To others more skeptical than I am, however, this is already a generous number.
It shouldn't be this way.
Watchers of our political scene told me in a recent conversation that I could easily pick 12 senatorial candidates if our political parties were strong, with clearly defined platforms. This scenario means there is no such thing as "guest candidates" shared by 2 coalitions. And I don't have to agonize over who I personally liked.
In Germany, for example, the faces and names of candidates do not matter much because it's the party they belong to that counts. All I need to do is to match my principles and beliefs with those of the party.
There are no distractions such as sons and daughters who want to inherit public office. And showbiz celebrities are not a shoo-in for politics.
Political party reform
To increase my fill-up rate, I'm posing 3 questions to the candidates that have to do with pending bills in Congress. They should easily answer these because nothing in these legislative measures is novel. At one time or another, they must have encountered these issues.
Moreover, should they win, they can act on these bills and shepherd them through the Senate. These questions have practical and valuable consequences for our public lives.
Ultimately, their positions may help the undecided and others (like me) who are scrounging for more candidates to vote for.
First, do they support the political party development bill and more rigorous provisions that will penalize turncoats, impose stricter standards for registration of political parties, allocate a substantial share of state subsidy to strengthen the party, and adopt a tight system of allowable campaign contributions and expenses?
Among others, this bill aims to wean candidates from vested interests who donate huge sums to their campaigns and ask for favors in return. This perpetuates the inequity in our society.
Last year, representatives of political parties such as LP, NPC, PDP-Laban, CDP or Centrist Democratic Party endorsed the Senate and House bills to strengthen the political party. The bills made it to plenary, apparently the first time they reached this stage. This gives some hope that the next Congress will take off from where it left.
FOI in India, Brazil
Second, will they push for the Freedom of Information bill, without the right-to-reply provision, in the next Congress?
We're seeing how other democracies are benefiting from their FOI laws. In Mumbai, India, a remarkable civil-society group, Praja Foundation, has set up a system to rate elected officials, with data gathered through their Right to Information law, which includes use of discretionary funds.
One of the Praja leaders told me that the legislator who was ranked the lowest asked for an explanation. He visited the NGO's office with key members of his staff and they pored over all the documents and scrutinized the matrix used. In the end, the politician thanked Praja for its work and vowed to improve his rating.
In Brazil, thanks to their new FOI law, outrageous salaries of some government officials have been made public, exposing a great inequity in the bureaucracy.
Fair competition
Third, do they believe in an anti-trust legislation and will they work to have it passed?
A number of fair-competition bills are pending in both the House and the Senate. These do not seem sexy and easy-to-digest but, in essence, they are quite simple. They aim to prevent the concentration of economic power in a few persons or families. Isn't this one of the most fundamental things wrong with our society?
A fact sheet issued by Congress on the array of anti-trust bills says that one of the objectives is to punish all forms of unfair trade and anti-competitive (read: monopolistic) conduct. Abuse of dominance of a firm will be unlawful.
Here are a couple of the key provisions: prohibited acts include price fixing, bid rigging, exclusivity arrangements, predatory behavior toward competitors, and limitation and control of markets; and mergers, consolidations or asset acquisition which tend to create a monopoly are not allowed.
It would be better, really, if a political party or an entire coalition take a stand on these 3 pressing issues. And it will be best if President Aquino include these in his priority bills for the next Congress.
These are the stuff that will help lead us into a more equitable society in the last 3 years of the Aquino administration. - Rappler.com
---
Click the links below for more opinion pieces in Thought Leaders: