(1st UPDATE) Senators tell PS-DBM's former inspector and accountant: If you don't name Lao, you are liable
Two former executives of the Procurement Service of the Department of Budget and Management (PS-DBM) have admitted to signing an inspection report for a delivery not yet there, for the purpose of processing payment. But both would not say if the instruction came from their erstwhile boss, embattled former PS-DBM chief Lloyd Christopher Lao.
All they admitted was that there was a "general directive" from Lao to fast-track COVID-19 deliveries.
"What I can recall is there was a directive from the head of agency that we must prioritize procurement of COVID-19 response items. It was a general directive," said Allan Raul Catalan, the former chief accountant of PS-DBM.
Lao is the head of agency Catalan was referring to.
Catalan told the Senate on Thursday, September 30, that he indeed knew that the payment would be processed for items which were not delivered yet.
"You knew the items were not yet delivered?" asked Senator Francis Pangilinan.
"At the time, yes," Catalan answered.
It was an atmosphere of "suasion," said Senator Richard Gordon. This prompted Senator Franklin Drilon to pursue a line of questioning that tried to convince Catalan to throw Lao under the bus.
"Are you saying that you did this on your own or upon the instruction of Lao, because remember you are committing an offense, you are falsifying documents, I hope you realize that it is not that simple to say 'I just relied on a general instruction,' because the conclusion would be that you did it on your own," Drilon said.
"If I can recall, we had one general meeting presided by Usec Lao composed of the procurement division, the finance division, and the operation division, the general instruction was to assist the fast-tracking of the transactions," said Catalan.
PS-DBM's former chief inspector George Mendoza said "definitely, I was not in that meeting.
"I'm trying to save your neck, if you don't want to save your neck it's up to you," Drilon told Catalan.
To defend the non-diligence in checking suppliers, particularly biggest procurement winner Pharmally Pharmaceutical Corporation which was severely under-capitalized for P10 billion projects, Lao said the biggest safeguard was that they didn't make advance payments.
An internal audit of the PS-DBM as ordered by the now-resigned Budget Secretary Wendel Avisado would reveal that Pharmally consistently had delays in its deliveries.
Pharmally was financed and guaranteed by Michael Yang, former economic adviser to President Rodrigo Duterte.
At the House of Representatives on Monday, October 1, Mendoza said that, in his view, inspections reports prepared to facilitate advance payment of items were not considered falsified because the items were inspected once they landed in the Philippines.
Asked the same question, Catalan echoed Mendoza, saying that from his understanding, "Mr Mendoza did not falsify anything since a colatilla was placed there that it is just a pro-forma invoice…and the actual inspection will happen once the goods arrive in the Philippines."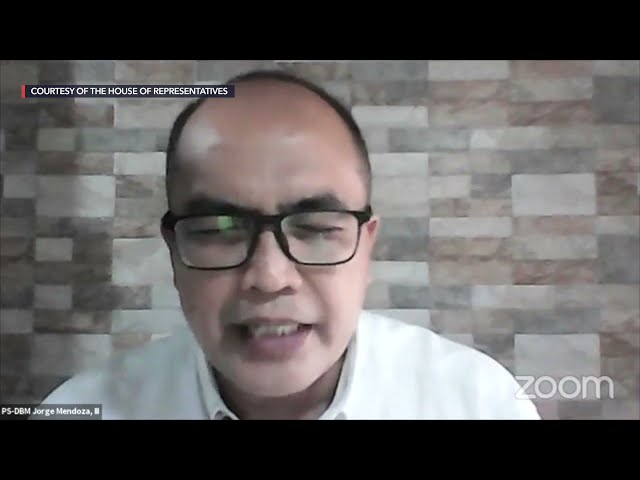 'They seem to be very afraid'
The revelation of the Lao general meeting evolved because during a previous hearing, Mendoza said he was asked by Catalan to sign an inspection report even though he had not inspected any delivery.
On Thursday, Mendoza clarified it was not an explicit instruction from Catalan. It turned out Catalan had told Mendoza that he could not start processing the payment if Mendoza does not sign the inspection report.
It was an indirect instruction nonetheless and Catalan justified that the inspection report was just a pro-forma or templated form that would allow them to fast-track deliveries, just as Lao had directed in a general sense.
"We have a process in accounting. I did not instruct [Mendoza], nobody instructed him, except for that meeting with Usec Lao who directed us to assist in the payment," said Catalan.
Catalan said that when he processes a payment, it would still have to be approved by Lao, whom he kept referring to as the "head of agency."
That caught the attention of Pangilinan who said, "they are hesitant to name Lao, they are hesitant to divulge information, to clarify the matter and they seem to be very afraid."
Before ending the line of questions, Drilon advised Mendoza and Catalan to consult their lawyers. Because, the senator said, since Lao left the PS-DBM in June, "you are left holding the bag." – Rappler.com