This is AI generated summarization, which may have errors. For context, always refer to the full article.
Vaccine czar Carlito Galvez Jr warns that the Philippines can lose out on securing limited vaccine doses if confidentiality agreements are breached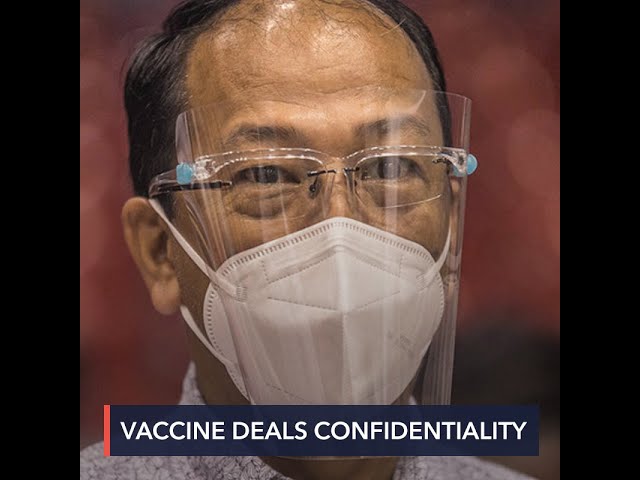 Facing pressure from lawmakers to disclose prices of COVID-19 shots, vaccine czar Carlito Galvez Jr warned that doing so would "jeopardize" the government's deals on vaccines that it is planning to purchase.
Galvez, who heads negotiations on the Duterte government's purchase of the coveted good, declined to cite negotiated prices of vaccines as he reiterated these were covered by signed confidentiality disclosure agreements (CDAs).
"We can loose the 148 million vaccine doses if we breach these agreements," Galvez said in Filipino on Tuesday night, January 19.
Galvez issued the statement in response to lawmakers seeking transparency in vaccine prices. Politicians zeroed in on the vaccine of Chinese drug maker Sinovac, questioning why the government considered it if it reportedly cost more than other options, and despite reported results from trials showing it was less effective in preventing COVID-19.
To the frustration of lawmakers, however, Galvez has kept quiet on the price, only describing it as at par with prices offered to neighboring countries, given at-cost, cheaper than US options, and "less than P700."
Aside from Sinovac, the Philippines has signed CDAs and is in the final stages of deals with Novavax, Pfizer, Moderna, Astrazeneca, Johnson & Johnson, and Gamaleya.
What happens during vaccine negotiations?
In an effort to appease qualms over vaccine prices, Galvez detailed the steps taken in vaccine negotiations:
Signing of a CDA
Signing of a term sheet
Signing of a supply agreement
CDAs are preliminary documents that pave the way for negotiations. They are not unique to the Philippines; vaccine manufacturers request them from governments before further talks on possible deals.
Galvez said these CDAs set conditions for talks which cannot be violated. "Once breached, this may result in the termination of a government's contract with a particular company and may, consequently, affect the negotiations with other vaccine manufacturers," the National Task Force against COVID-19, headed by Galvez, said in a statement.
Part of the CDAs covered prices, exact delivery dates, as well as other information on vaccines. In December 2020, a Belgian minister had posted prices of vaccines being offered to European countries in a now-deleted tweet, earning the rebuke of pharmaceutical companies who complained of a breach of confidentiality.
Term sheets, meanwhile, see vaccine companies commit to supplying a certain amount of doses to countries. Galvez earlier said they were signed to lock in logistics needed for production and delivery.
This is followed by the signing of a supply agreement, which will facilitate purchase and payment, though access to vaccines in a country will ultimately depend on whether it is granted emergency use authorization (EUA) by the Food and Drug Administration (FDA).
"We will not use vaccines that are not approved by the FDA. All agreements with vaccine manufacturers will not push through if they are not able to secure an EUA," Galvez said in Filipino.
Seeking to assure the public further, Galvez said that all vaccines would be financed though loans from the World Bank and the Asian Development Bank (ADB), "which have very stringent regulatory requirements, as well as review and approval processes to ensure that all transactions made are above board."
Galvez committed to disclose prices of vaccines to the public, but only when negotiations with pharmaceutical companies and deliveries are completed. It could also come earlier after supply agreements are signed, he said.
So far, the Philippine government alone has not signed any supply deal with any vaccine company. Supply deals signed by the government with AstraZeneca were done with the local government units and private sector who pooled resources to secure the vaccine. – Rappler.com