This is AI generated summarization, which may have errors. For context, always refer to the full article.
(UPDATE) But the couple remain at large since they were granted bail in 2016 to join the peace talks between the government and the National Democratic Front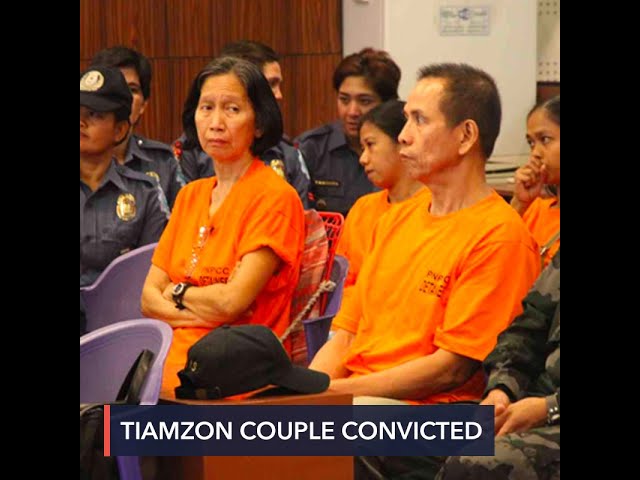 A Quezon City trial court on Friday, November 27, convicted couple Benito Tiamzon and Wilma Austria, alleged leaders of the New People's Army, of kidnapping and serious illegal detention.
"The accused Benito Tiamzon and accused Wilma Austria are found guilty beyond reasonable doubt of the crime of kidnapping and series illegal detention," QC Regional Trial Court branch 216 Presiding Judge Alfonso Ruiz II said in the decision.
The court sentenced the couple to reclusion perpetua or imprisonment of up to 40 years. It also directed the couple to pay P75,000 as civil indemnity and another P75,000 as exemplary damages. Kidnapping is a non-bailable case.
The Tiamzon couple were not in court during the sentencing. A Manila court granted them bail in 2016 to join the peace talks between the Philippine government and the National Democratic Front (NDF), the political wing of the Communist Party of the Philippines.
Though the same court ordered their rearrest in 2018 following President Rodrigo Duterte's directive to terminate the peace talks with the communist groups, the couple have remained at large since.
The conviction Friday stemmed from the case of the 1988 kidnapping of 4 soldiers in Mauban, Quezon.
Malacañang welcomed the decision against the Tiamzons.
"The long arm of the law has finally caught up with the Tiamzon couple. We therefore consider this latest court decision as a triumph of the justice system. It clearly shows that the wheels of justice continue to grind," Presidential Spokesperson Harry Roque said.
Justice Secretary Menardo Guevarra, for his part, said he was happy with the ruling and said it is a "victory for the prosecution."
Political persecution
Edre Olalia, the couple's counsel and the president of the National Union of Peoples' Lawyers, slammed the "politically motivated persecution."
"A hardline attack because [it was] resurrected out of nowhere," Olalia said.
This, he added, is a violation of the Joint Agreement on Safety and Immunity Guarantees, which coverer the Tiamzon couple.
Olalia said this was "in tandem with false charges against other consultants' and political demonization and legal weaponization under the [Anti-] Terror Law."
Public Interest Law Center (PILC), one of the lawyers of the couple, also denounced the ruling and said the two were unable to avail of a fair trial, citing threats to the lives of the accused and their witnesses.
"The vilification of the Tiamzons, led by the president himself, has constricted their space for remedy or relief at this time. Given the present factual milieu, the Tiamzons, along with other peace consultants facing false charges in court, cannot avail of fair trial," PILC said in a statement.
The couple was arrested in 2014 in Cebu for multiple murder and frustrated murder charges, among others, filed before the Manila, Quezon City, Toledo City, and Northern Samar courts. – Rappler.com