PNP spokesperson Police Brigadier General Ronaldo Olay says that they did not order any red-tagging activities to local police units
The Quezon City Police District doubled down on making amends Tuesday, April 20, after it sustained a terrible lashing on social media for red-tagging community pantries.
The QCPD shared Monday, April 19, on its official Facebook page an unfounded social media post linking community pantries to the communist movement.
That post backfired and ignited an uproar from various sectors which resented the government's red-tagging a well-loved, private, civic action.
On Tuesday, the QCPD was profuse with apology and reached out to offer its help to community pantries.
In a turnaround, the contrite QCPD statement described the phenomenon of community pantries as a "noble cause especially in this time of pandemic."
A QCPD statement sent to reporters said it "will never allow alleged red-tagging."
"The QCPD expresses sincere apology particularly to the affected party for the inconvenience that the inadvertent post could have caused and reassured her safety and protection," it added.
The QCPD was referring to Ana Patricia Non, who pioneered the Maginhawa Street community pantry in Quezon City. Non said she was forced to close their site because the red-tagging of police and the NTF-ELCAC endangered the lives of their volunteers.
In a Facebook post of Peace Philippines, a youth led organization claiming to advocate peace, community pantries were labeled as a weapon of the communists to recruit members.
The Facebook post was also shared by the government's main anti-insurgency machinery, the National Task Force to End Local Armed Conflict (NTF-ELCAC) and 8 other Facebook pages and profiles allegedly linked to the police, including the QCPD.
QCPD has already deleted the shared post as of this writing.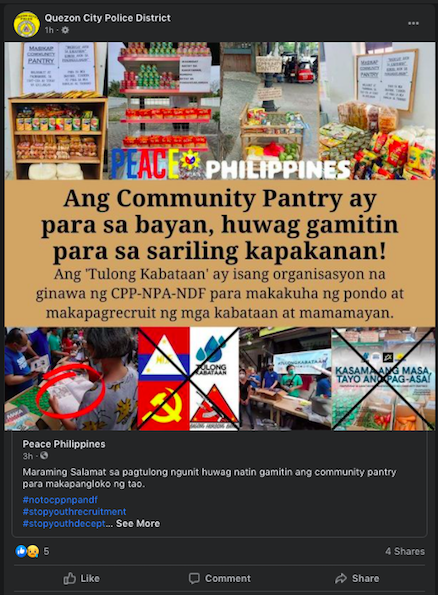 "We are now reaching out with the organizer/outlet manager as the QCPD is very much willing to support the noble cause especially in this time of pandemic," QCPD said.
In a phone interview with Rappler, PNP spokesperson Brigadier General Ronaldo Olay clarified that they did not order any red-tagging activities to its local police units.
Meanwhile, Quezon City People's Law Enforcement Board (PLEB) said it would will investigate the red-tagging incident and would not tolerate abusive cops.
"It is beyond comprehension why allegedly certain members of our PNP approached them to ask for the organizer's cellphone number and her affiliations. In Quezon City, abusive cops will not be tolerated. We will investigate this matter and get to the bottom of this," PLEB said.
The Commission on Human Rights also slammed the red-tagging of pantries and its effect on the supposed relief of the program to the less fortunate.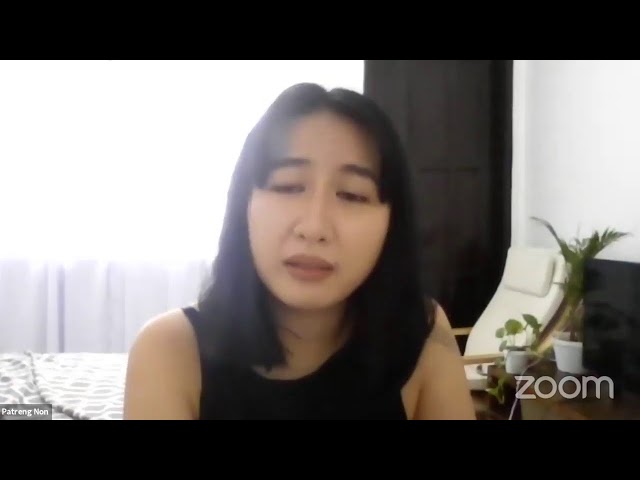 "The shameful and politicking actions of the few ideologically bent, however, has dimmed the hopes of many that have come to see the community pantries as means of sustenance to provide food for themselves and their families," CHR said.
But despite this fiasco, community pantries continue to operate in other areas in the country. (READ: How to lead a community pantry in your barangay). – Rappler.com