City attorney Orlando Casimiro says 'damages will be claimed against Zuellig' due to its repeated failure to manage the huge turnout of vaccine registrants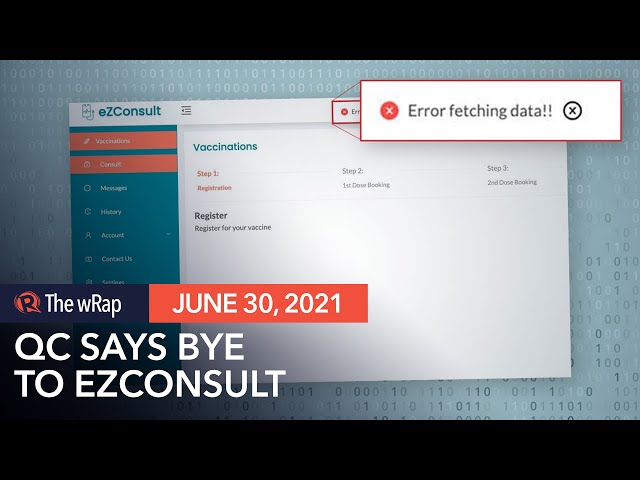 The Quezon City government announced on Tuesday, June 29, that it has decided to end its contract with Zuellig Pharma, the company behind eZConsult, after the vaccine booking website crashed for the ninth time.
The online portal choked anew beginning Tuesday afternoon after the local government unit (LGU) opened 55,450 new vaccination slots for the city's residents and workers.
The termination of the contract came after Quezon City Mayor Joy Belmonte warned Zuellig Pharma on June 16 that the city government could terminate its contract with the company if it is unable to upgrade eZConsult's system by June 18.
The city government said on the day of the deadline that the people behind eZConsult have "succeeded in fixing their system," but noted that it would only be able to assess those improvements once another round of online booking was conducted.
"Earlier, they reported an upgrade of their system which supposedly could already accommodate up to 50,000 users at a time. However, their system crashed again when we opened new slots," Belmonte said in a statement.
"We have already given Zuellig ample time to improve their system upon their request and yet their system has crashed again for the 9th time," she lamented.
City attorney Orlando Casimiro said "damages will be claimed against Zuellig" due to its repeated failure to manage the huge turnout of vaccine registrants.
Belmonte also reiterated the city's plan to file charges against the company for its failure to meet contractual obligations.
"We are filing appropriate charges against them through our legal department," she said.
The QC government began using eZConsult in March, when the city kicked off its COVID-19 immunization program.
What about those with appointments already?
Users who successfully booked a slot on the website for July 1, 2, 3, 5, and 6 despite the heavy traffic are advised to proceed with their scheduled inoculation.
The city government also said that those who were scheduled for a second dose should also follow the date indicated in their vaccination card, and receive their shot at the site where they had their first dose.
The LGU also encouraged individuals eager to get vaccinated to register through the city's new COVID-19 online vaccination portal, QC Vax Easy.
Unlike eZConsult, QC Vax Easy does not allow registrants to choose their vaccination schedule and hub.
Instead, the city health department contacts registrants for their schedules and assigned inoculation sites.
To register, fill up the form by accessing this link.
As of June 27, the Quezon City government has fully vaccinated 219,815 individuals out of the 568,840 people who have received at least one COVID-19 vaccine dose.
Quezon City is the most populous city in the Philippines, with 2.9 million inhabitants. – Rappler.com