Erlinda Echanis sends a letter to the Pink Petals Memorial Homes demanding the release of the body of slain Anakpawis chair Randy Echanis
After her repeated urgings were unheeded, Erlinda Echanis formally demanded Tuesday, August 11, that Pink Petals Memorial Homes release the body of her husband, slain Anakpawis chair Randall "Randy" Echanis.
"The wife of Ka Randy, his family and friends have positively identified his lifeless body. They claimed it from your funeral parlor and transferred to another of their choice. That is their right. The PNP has no right to interfere with such right," said the demand letter, which was written by the Echanis family's lawyer, Luchi Perez.
Aside from the release of Randy Echanis' body, the family demanded that the funeral home "not do anything to his body or release it to the police or anyone else", or Pink Petals management would face criminal and civil complaints.
The letter cited Article 306 of the Civil Code, which said that the right and duty for arranging the funeral for a person must follow the order established for support. Under the Family Code, the order shall first come from the spouse.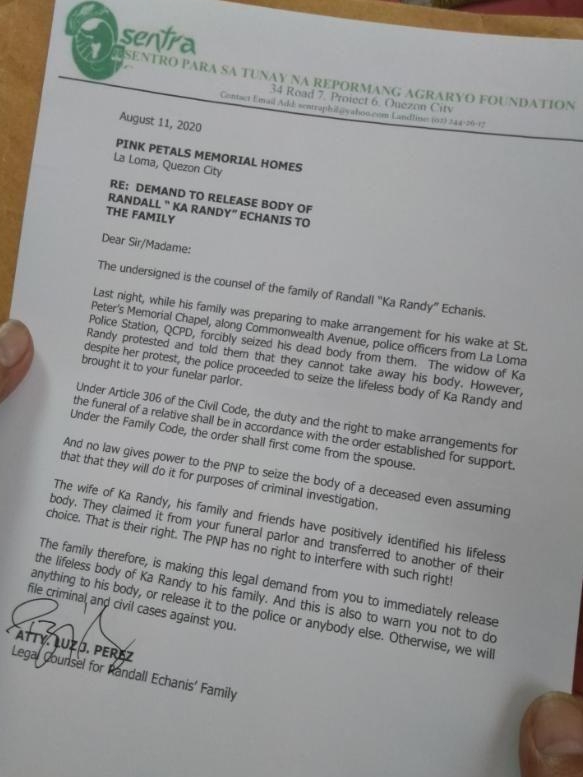 Why is the body not with the family?
The police still doubt it was the body of Randy Echanis.
When Anakpawis announced the killing of Echanis on Monday, August 10, the Quezon City Police District could not confirm it. The cops said they only knew of a stabbing incident that led to the death of two people in Novaliches, the same area where Echanis lived.
The QCPD identified those stabbed dead as Manuel Santiago and Louie Tagapia.
On Monday afternoon, Echanis' wife and lawyers identified Manuel Santiago to be Echanis and then brought his body to a St Peter's funeral home in Quezon City.
In the evening, QCPD policemen "forcibly took" the body and brought it to the Pink Petals funeral home, in La Loma, Quezon City.
The QCPD wants either a fingerprint or a DNA test to establish the body's identity. – Rappler.com