This is AI generated summarization, which may have errors. For context, always refer to the full article.
(UPDATED) Mary Rose Sancelan, the only doctor in Guihulngan City, is the 6th person killed on a list of 15 individuals red-tagged by a local anti-communist vigilante group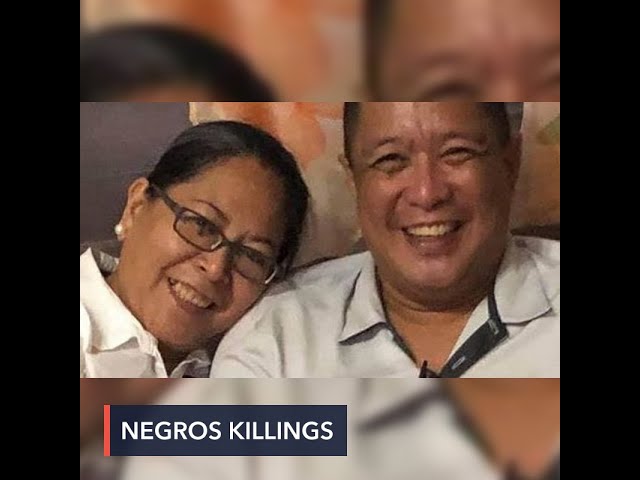 A doctor, who was red-tagged earlier, and two others, were killed in separate shooting incidents in Guihulngan City in this province Tuesday, December 15.
Dr. Mary Rose Sancelan, city health officer of Guihulngan, and husband Edwin Sancelan, a local government employee, were on their way home when an unidentified suspect fired at them and quickly fled from the area.
This happened at Carmen Ville Subdivision in Barangay Poblacion at around 5:20 p.m on Tuesday.
The victims were brought to the hospital where they were pronounced dead on arrival.
Recovered from the crime scene were 15 spent cartridges of a caliber .45 pistol.
Personnel of the Guihulngan City Police Station were conducting a follow-up investigation for the possible identification and arrest of the assailant.
Sancelan, the only doctor in Guihulngan, was number one on a list of 15 people made by a local anti-communist vigilante group Kagubak short for Kawsa Guihulnganon Batok Kumunista (Guihulngan Against Communists).

She's the 6th person to have been killed on that list so far, which was brought up during a 2019 Senate probe investigating why hundreds of killings went unsolved in the island that year.
Sancelan said in a video posted by the Archdiocese of San Carlos that she was accused of being a member of the Communist Party of the Philippines and its armed wing, the New People's Army.
"I am accused of being [alias] JB Regalado, a commander and head of the CPP-NPA," Sancelan said in the video, recorded weeks before her killing. "I felt helpless and paranoid when I go out and work. Of course, I am afraid to get killed and I'm not free to go to the mountain communities."
Lawyer Anthony Trinidad who was also on the same list as Sancelan, was killed in July 2019 in Guihulngan.
The National Democratic Front of the Philippines Negros condemned the killing of Sancelan and her husband, and said in a statement that the doctor was not a member of the NPA.
"She was mistakenly accused as Ka JB Regalado, the spokesperson of Leonardo Panaligan Command New People's Army," the NDFP said.
Killings condemned
San Carlos Bishop Gerardo Alminaza called for an end to the killings on Negros Island.
"The unchristian actions of the killers remain 'unsolved,'" Alminaza said. "How long must we wait for a bloodless celebration of Christmas? Killings cannot bring about peace! Neither can it result in good governance."
Human Rights organization Karapatan condemned the killing of Sancelan, whom they pointed out was the local head of the IATF, working to contain the pandemic in her city.
"We are outraged with the brazen killing of Dr. Sancelan and her husband who were both employed at the local government of Guihulngan City before their tragic death. Their killing reveals that the threats of tagging individuals as part of the New People's Army are real and certainly not contrived," Karapatan Secretary-General Cristina Palabay said.
Guihulngan, one of the poorest cities in the province, and is a hot spot for violence amid intensified anti-insurgency operations.
Intensified red tagging, including by government agencies themselves, have led to mass arrests of activists and journalists across the country.
Same city, different killing
A separate shooting was reported in Guihulngan that same evening, at around 5:30 pm in Barangay Calamba.
The victim was identified as Saelar Aslong.
Based on the initial investigation, the victim was on board his motorcycle when the riding-in-tandem suspects approached him and shot him several times.
He was brought to the hospital but did not make it.
Recovered from the scene were 14 fired cartridges and two deformed slugs of .45 caliber pistol.
Police have yet to establish the motive for the second killing nor if they were linked to the murder of Sancelan. – Rappler.com