Justice Secretary Jesus Crispin Remulla says the contract for the excavation inside the New Bilibid Prison is 'unenforceable'
MANILA, Philippines – Justice Secretary Jesus Crispin "Boying" Remulla said the excavation inside the New Bilibid Prison (NBP) did not undergo appropriate process and has no legal basis.
"Balewala naman 'yon eh kasi nga wala namang authority 'yong secretary of justice saka walang authority sa pangulo ng Republika ng Pilipinas eh (That's invalid because they have no authority of the secretary of sustice and authority from the president of the Republic of the Philippines)," Remulla said in an interview with DZBB on Friday, November 18.
"It cannot be considered a valid contract. Kahit maghabol sila sa korte, hindi nila kayang – at ang tawag diyan, unenforceable contract. Unenforceable 'yan (Even if they bring that to court, they cannot – we call that an unenforceable contract. That's unenforceable)," Remulla added.
The justice chief was pertaining to the deep excavation and a "tunnel" discovered inside the national penitentiary. According to acting Bureau of Corrections (BuCor) chief Gregorio Catapang Jr., the hole is 200 meters wide, and 30 meters deep.
Suspended BuCor chief Gerald Bantag had claimed that he ordered the excavation to build the "deepest" swimming pool in Metro Manila, adding that he is a master scuba driver.
Bantag defended the swimming pool project in a DZBB interview on Thursday, claiming that it was intended for the training of jail personnel for disaster response. The BuCor, however, is mandated to focus on the welfare of persons deprived of liberty, and not necessarily on disaster response.
Bantag said the excavation project was done through a partnership with private firm "ATOM." They had arranged that ATOM would fund the transfer of Bilibid to other place, then the Bilibid land would be developed.
Once the land has been developed and generate sales, ATOM would have a 65% share from the sales, while Bilibid would get 35%. Catapang earlier said that Bantag kept the project a secret and that no public funds were appropriated for the project.
Project history
Remulla narrated that the excavation project started sometime in 2020, during the Duterte administration.
Catapang, however, said the project started in 2019. Bantag took over as BuCor chief in September 2019, after Nicanor Faeldon was sacked over the Good Conduct Time Allowance controversy and the botched release of the late convicted murderer and rapist Antonio Sanchez that year.
Remulla said that BuCor and ATOM had invited Duterte for the project's groundbreaking ceremony, but the Presidential Management Staff, which did complete staff work on the project, advised him not to go because the project had "no legal basis."
"There is no bidding, tapos in-award na niya (Bantag) sa ATOM. Eh 'di ba, hindi naman puwede 'yon? So hindi pumayag ang PMS na papuntahin si pangulong Duterte doon sa groundbreaking ng ATOM kasi nga…hindi legal; walang legal basis. So 'yon, walang legal basis."
(There is no bidding, then he awarded that to Atom. That's not allowed, right? So the PMS did not let president Duterte to attend the groundbreaking because that's illegal, it has no legal basis. That's it, no legal basis.)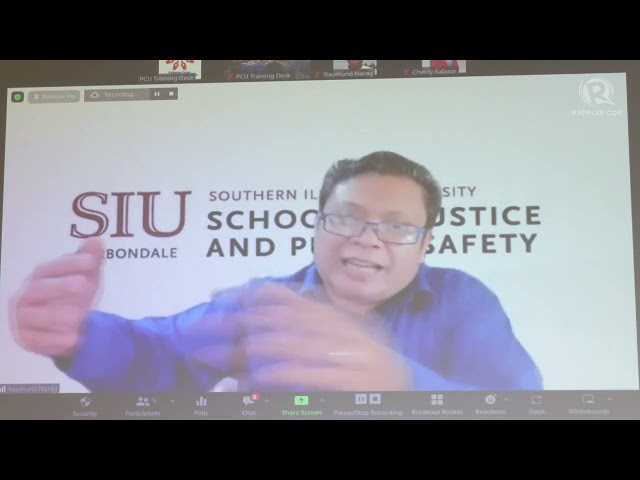 Government projects should undergo bidding as stated in laws, including under Republic Act No. 9184 or the Government Procurement Reform Act. Duterte's Executive Order No. 34 simplified the process of alternative procurement but only limited to emergency cases such as limited source bidding, direct contracting, shopping, repeat order, and negotiated procurement.
Guevarra not aware
Remulla also added that his predecessor, Solicitor General Menardo Guevarra, is not aware about the project. Guevarra himself said this in a message to reporters on Wednesday.
"As former justice secretary, I had absolutely no knowledge about this alleged excavation inside the NBP compound. The same being an operational matter, the BuCor probably did not find it necessary to inform, much less seek authorization from, the DOJ," Guevarra said.
The BuCor is under the DOJ.
Remulla also said that it's possible that someone could face complaints over the project. He added the DOJ would also look into and study Bantag's excavation project.
Aside from being implicated in the death of broadcaster Percival "Percy Lapid" Mabasa and Jun Villamor, the alleged middleman in the case, Bantag is also facing various allegations linked to his term as corrections chief.
Aside from the swimming pool controversy, Catapang also revealed that they discovered 15 horses, 10 chickens used for cockfighting, and three pythons inside the national penitentiary. The discovery of chickens and pythons was new because Bantag was already known for tending horses.
Bantag rode horses while inside Bilibid on a few occasions. – Rappler.com