This is AI generated summarization, which may have errors. For context, always refer to the full article.
Rosal has until Tuesday, May 9 to secure a TRO from the Supreme Court
ALBAY, Philippines – Supporters of disqualified Legazpi Mayor Geraldine Barrameda Rosal launched a prayer rally for the embattled chief executive on Tuesday afternoon, May 8.
Fr. Willy Alvarado of the Society of Our Lady of the Most Holy Trinity (SOLT) led the prayer rally, appealing for Mary, mother of Jesus to intercede for constituents of the mayor.
While the rally broke up at dusk of May 8, protesters were back on the streets early on Wednesday, May 9.
A bigger-than-life statue of Mary was the most prominent visual at the rally, with the Albay Cathedral in the background.
Protesters held up placards and streamers in front of the city hall, asking the Supreme Court to grant the mayor's May 7 petition for a temporary restraining order (TRO).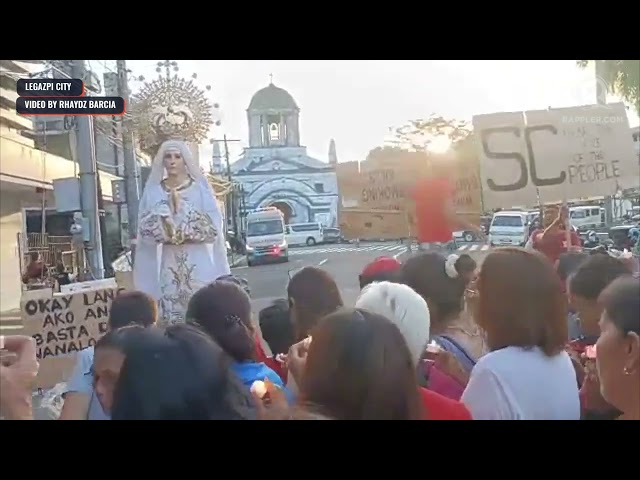 The Commission on Elections en banc on May 4 nullified Rosal's 2022 mayoral victory.
The seven-member body upheld the Comelec Second Division's October 2022 ruling that found Rosal had violated the election code ban against giving money to influence voters.
Alvarado and other priests would not comment on the merits of the case. But protesters said they felt the Comelec had cast aside their democratic choice.
Comelec spokesman Rex Laudiangco said Rosal has until May 9 to secure a TRO from the High Court.
Succession question
The loudest cries at the protest touched on the issue of succession.
The Comelec ordered the second-placer in the May 2022 mayoral race, then Ako Bikol representative Alfredo Garbin Jr. to assume the mayoral post.
Rosal beat Garbin by less than 1,000 votes in the polls.
In an interview with Rappler on May 8, the mayor described the decision of the Commission on Elections to disqualify her as "trampling on the sacred votes" of Legazpi constituents.
A day before the prayer rally, Garbin's cousin, Tisha Arezapa, spoke in support of the mayor.
"I'm here because my cousin Alfredo Garbin didn't win the election," said Arezapa who comes from Garbin's home barangay of Dita.
"The incumbent vice mayor should be the legitimate successor when a vacancy in the mayoral seat is deemed to be vacated, not the losing candidate who even lost the recount. That is the rule," said Irene Solmirano of women's organization Entrepinay.
Second setback
This is the second electoral setback for the Rosal couple.
The Comelec in November 2022 disqualified former Legazpi mayor Noel, Geraldine's husband, from the Albay gubernatorial race he had won.
Noel failed to get a High Court TRO on the Comelec decision that found he had violated the election spending ban.
In Noel's case, the Comelec ordered then vice governor Edcel Greco Lagman of the Aksyon Demokratiko party to assume the province's top post.
The disqualification case against the mayor was filed by losing local council candidate Joseph San Juan Armogila over her participation in the two-day Tricycle Driver's Cash Assistance Payout on March 31, 2022. – Rappler.com