Lawyers have become the 'targets of thugs' because of the culture of impunity that worsened in recent years, says lawyer Jose Begil, former IBP president in Surigao City
Lawyers across Mindanao expressed rage over the August 26 broad daylight killing of lawyer Rex Jesus Mario Fernandez in Cebu.
The Union of Peoples' Lawyers in Mindanao (UPLM) blamed the fatal attack on what it described as a "kill them all" environment in the country since 2016.
Fernandez, a human rights lawyer, was shot dead in his car along R. Duterte Sreet in Barangay Guadalupe, Cebu City, on Thursday, August 26.
Lawyer Dexter Lopoz, UPLM spokesperson, told Rappler that his group was "aghast and incensed with the brazen execution."
The killing, UPLM said, only showed that lawyering has become a dangerous profession in the country since President Rodrigo Duterte assumed power in 2016.
Lopoz said the killing also showed a breakdown in the rule of law in the country.
He said the "kill them all" environment was encouraged, and started with the bloody drug war of the Duterte administration in 2016, and soon, activists and lawyers started getting killed.
He said the prevalent culture of impunity worsened in the past years.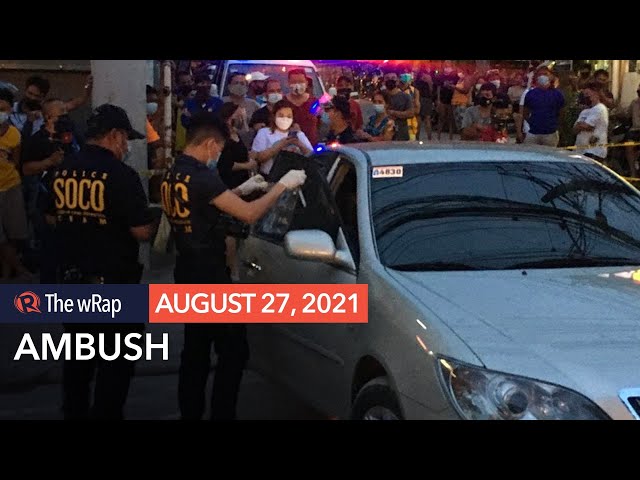 "It is tragic that people nowadays resort to settling their differences through the barrel of a gun, often targeting lawyers who are merely advocating the causes of their clients with zeal and passion as mandated by our Code of Professional Responsibility," UPLM said.
The group said the killers' mindset is that they won't get caught and prosecuted because "the perpetrators of more than 30,000 extrajudicial killings have never been brought to justice."
"This is an indisputable effect of impunity due to the government's refusal or even perhaps, acquiescence to EJKs or summary executions," said Lopoz.
Lopoz lost his lawyer brother, Rex Jasper, to what he called a summary execution in Tagum City, Davao del Norte, in 2019.
He blamed Duterte's drug war for the death of his younger brother.
Impunity
Cagayan de Oro-based lawyer Beverly Selim-Musni described Fernandez's gruesome killing as "impunity at its worst."
"The gunman was barefaced who struck in broad daylight amid the busy, noontime traffic. It is surreal as it is revolting to watch the brutal killing of Rex in a video circulated online," said Musni.
Musni, who worked with Fernandez, remembered the slain lawyer as "a storyteller in full color who awed and entertained his audience with narratives of the cases he handled, courtroom dramas he participated in, courageous clients, and sins of the enemies of the oppressed."
"His laughter was a trademark," said Musni. "Nahilis akong ngipon ug kagot sa kasuko over his killing (I'm gnashing my teeth in anger over his killing)."
Musni herself has been seeing constant threats on her life. She has been red-tagged without let-up on social media, and in flyers circulated in Cagayan de Oro. Her house was also fired upon once by a still unidentified person.
But for Musni, silence is not an option, and killings such as what happened to Fernandez "should rouse citizens into demanding justice, for law enforcers to do their job, and to hold the government to account for its sheer failure to protect lawyers."
Another Cagayan de Oro-based lawyer, James Judith, said since the courts are the visible representation of justice and lawyers are court officers, "an attack on any one of us is an attack on the institution."
Judith said, "In the battle for truth and justice, we are the first casualties. The recent spate of attacks shows that justice is threatened and we are losing the battle from the get-go."
Call for speedy investigation
In Caraga region, lawyer Jose Begil, former president of the Integrated Bar of the Philippines (IBP) in Surigao City, said lawyers have become the "targets of thugs" because of the culture of impunity that worsened in recent years.
"Under Duterte, lawyers handling human rights cases, social justice and causes of the poor and marginalized are branded as enemies of the state. We have become targets of neutralization or whose existence is dispensable. His death [Fernandez's] made the rule of law dispensable in favor of the rule of thugs," said Begil.  
He said such killings have a chilling effect on the judicial and legal institutions of the country.
"It makes the advocacy for the rule of law, defense of human rights and civil liberties which are hallmarks of democracy, a tall order," Begil said.
Lawyer Ian Vincent Manticajon called for a speedy investigation and prompt resolution of the Fernandez case.
According to the National Union of Peoples' Lawyers (NUPL) in Cebu, Fernandez was the 57th lawyer slain since Duterte rose to power in 2016, and that the latest case was among "work-related killings." 
NUPL has recorded a dozen lawyers shot to death in Mindanao, 16 in the Visayas, including Fernandez, 22 in Luzon, and seven in the National Capital Region since 2016. – Rappler.com
Grace Cantal-Albasin is a Mindanao-based journalist and an awardee of the Aries Rufo Journalism Fellowship