(1st UPDATE) Cambe suffers a stroke after two years in Bilibid serving sentence for plunder, while his former boss Bong Revilla is back in the Senate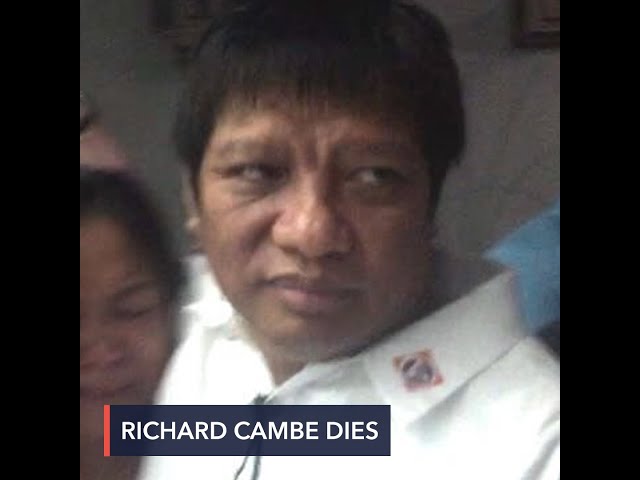 Lawyer Richard Cambe, Senator Bong Revilla's former staff who was convicted for plunder in the pork barrel scam, has died inside the New Bilibid Prison (NBP), Justice Secretary Menardo Guevarra confirmed.
"According to Bureau of Corrections (BuCor) Spokesperson Gabby Chaclag, Atty Richard Cambe suffered a stroke and died at the Ospital ng Muntinlupa this evening," Guevarra told reporters in a message late Thursday night, April 8.
"He was brought to the Ospital ng Muntinlupa this afternoon, then the said hospital reported that the PDL patient expired past 6 pm today," Chaclag told reporters.
"His next of kin has been informed and they requested that their privacy be respected. So we can only confirm that he died of stroke. Initial investigation also shows no signs of foul play so far," Chaclag added.
Cambe was serving a sentence of up to 40 years for plunder after he was found guilty in December 2018 of plundering P124.5 million worth of taxpayer's funds while he was a staff of Revilla in the Senate. Revilla was acquitted by a controversial split vote of 3-2 by the anti-graft court Sandiganbayan Special First Division.
Cambe died without a resolution to his appeal at the Supreme Court.
Up to the last days of the trial, Cambe swore he never knew whistleblower Benhur Luy. Luy was the star witness in the entire pork barrel scam case, where Revilla and former senators Jinggoy Estrada and Juan Ponce Enrile were accused of pocketing hundreds of millions of kickbacks from their pork barrel that they funneled through the fake nongovernmental organizations of businesswoman Janet Lim Napoles.
Napoles was convicted alongside Cambe in the Revilla case.
As he walked out of Sandiganbayan a convicted man, a crying wife by his side, Cambe maintained a stoic face, trying to quietly leave the court. His former boss Revilla was swarmed by media in a victorious march to the back entrance of the Sandiganbayan, on his way home to Cavite where a welcome party was waiting.
"I find it hard to believe that this scam of such magnitude was confined only within the realm of Napoles and Cambe to the exclusion of Revilla," said the strong dissent of First Division Chairman Justice Efren dela Cruz, whose ponente was turned into a dissent after three of his colleagues won the special vote.
Dela Cruz, who handled the case from the start, said: "For Napoles and Cambe to infiltrate the money, they needed Revilla. It is ludicrous that Revilla would casually exercise a lofty power gratis, while leaving Napoles and Cambe [with] whom he has no blood relation or other filiation of equally strong degree, to reap the benefits alone."
But Dela Cruz lost.
When trial wrapped in August 2018, Rappler had the chance to speak briefly with Cambe inside the courtroom where we asked if he was nervous that he might be the one to fall.
"Hindi, hindi ako kabado (No, I'm not nervous)," he told this reporter, and maintained he didn't have the kind of money that Luy claimed he delivered to him.
"In fact, noong gusto nilang i-freeze kuno, ayaw ng bangko i-freeze, bakit? Kasi panay utang ang aking ano eh (In fact, when they wanted to freeze my assets, the bank refused. Why? Because all I had were debts)," Cambe said.
In the course of the trial, Cambe had to lawyer for himself while Revilla had a battery of lawyers from multiple firms. Eventually, Cambe got his cousin to lawyer for him.
How Revilla got away from the plunder charge
Cambe's signatures appeared on the damning documents discovered by the Ombudsman prosecution, but some of Revilla's signatures appeared, too. However, Revilla managed to find a handwriting expert to say in court that his signatures were forged. The forgery defense was what acquitted Revilla.
What was unrefuted, however, was Revilla's unexplained wealth because by 2010, the Revilla bank accounts accumulated a total of P170.9 million when he only declared P81.16 million in cash and investments in his Statements of Assets, Liabilities and Net Worth or SALN for that year.
This was "glossed over" by the three majority justices – Geraldine Faith Econg, Edgardo Caldona, and Georgina Hidalgo – said the second dissenting justice, Maria Theresa Dolores Gomez Estoesta.
"Revilla simply wallowed in his own defense of denial and forgery. Why should the majority opinion now take cudgels for him?" said Estoesta.
"One need only turn a discerning eye, and not look the other way," she said.
The Sandiganbayan decision ordered the return of P124.5 million to the National Treasury, but did not specify who must return it. Ombudsman prosecutors filed pleadings after the verdict to make Revilla return it, but that is still unresolved, and the money is still unreturned.
Revilla went on to win a spot in the 2019 midterm senatorial elections. He is an incumbent senator, his related graft case still ongoing.
Watch this explainer of that sensational plunder case. Both Estrada and Enrile are out on bail.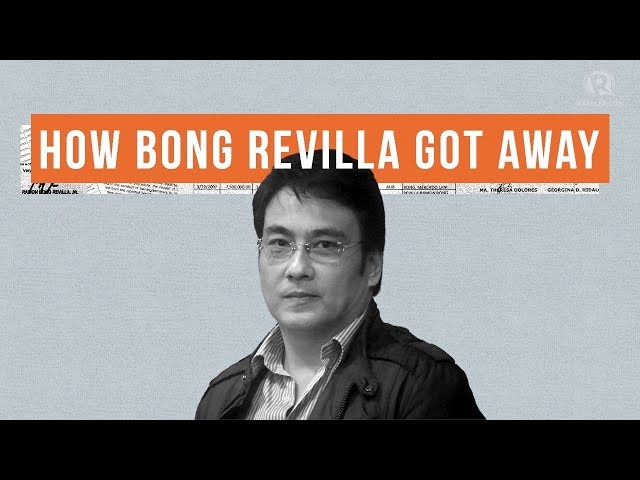 On Friday, April 9, Revilla sent his condolences to Cambe's family in a statement, saying, "He served more than 10 years with my father, and just about the same time in my office…. I pray that we extend his family and loved ones their privacy for them to grieve. Ang aming taimtim na panalangin at lubos na pakikiramay sa kanyang mga naiwan. (Our solemn prayers and deepest condolences to those he left behind.) Rest in Peace Richard." – Rappler.com