Vice President Leni Robredo says the Duterte government needs 'laser-like focus' in fighting the COVID-19 pandemic
No winding ad-libs, no cuss words, no jokes about teleprompters and peeing.
In 14 minutes, Vice President Leni Robredo laid down a pandemic plan that was missing from President Rodrigo Duterte's final State of the Nation Address (SONA) on Monday, July 26, that lasted two hours and 46 minutes.
Clad in a royal blue dress, Robredo addressed the nation through a Facebook Live video titled "Ulat ni VP Leni" on Tuesday, July 27, a day after Duterte delivered the longest SONA of the post-Marcos years.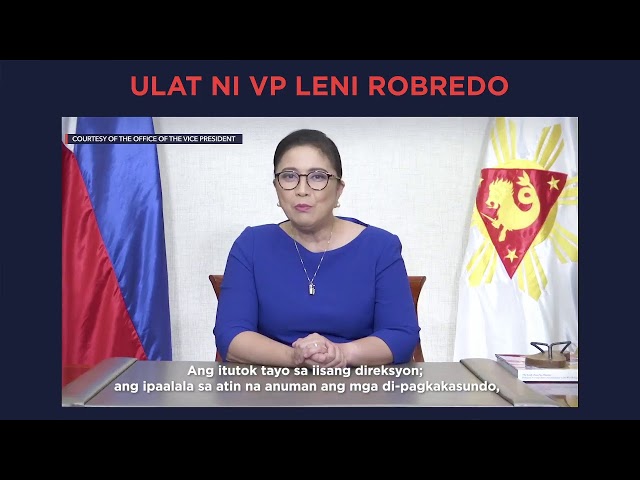 Robredo came out swinging, telling the President he cannot afford to be preoccupied with anything else but the COVID-19 crisis.
It's an apparent swipe at Duterte, whose rants about his bloody drug war, the communists, and his defeatist approach to China's incursion in the West Philippine Sea overshadowed his pandemic strategy – or the lack of it.
"Walang ibang dapat tutukan sa mga panahong ito kundi ang pandemya at ang kanyang mga epekto. All hands on deck, laser-like focus ang kailangan," Robredo told the President. (There should be no other priority but the pandemic and its effects. We need all hands on deck and laser-like focus.)
The Vice President said Duterte's plan against the pandemic should be reflected in the national budget, in every meeting of officials, and in every memorandum to be handed down the bureaucracy.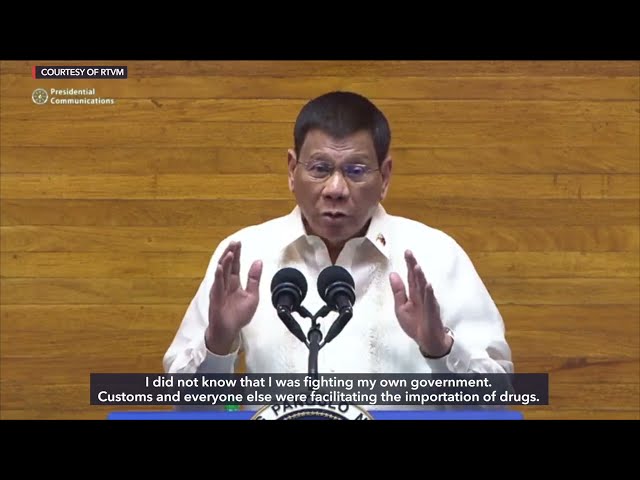 She gave an outline of her policy proposals, which Robredo plans to elaborate on her Facebook page in the coming days:
a centralized system and database for COVID-19 testing, tracing, and treatment
easier access to COVID-19 vaccines
review of sin tax collections to possibly realign them as pandemic aid funds
ensuring the Philippine Health Insurance Corporation will pay its debts to hospitals
proper implementation of the Universal Healthcare Law
passing of the Bayanihan 3 bill
loans for small businesses
livelihood assistance
retraining for laborers so they can keep up with modernized industries
more funds to the education sector
Without mentioning names, Robredo also criticized administration-allied officials and politicians who are already posturing for the 2022 elections.
"Kung magkakabit ng billboard at tarp, sana tungkol sa kung paanong makakaiwas sa sakit. Kung may ipapagawa sa isang batalyong graphic artist, sana ang layunin para dumami pa ang magpapabakuna," said the Vice President.
(If we need to put up billboards and tarps, let it be about staying safe from illness. If need the services of a batallion of graphic artists, let it be for a vaccination drive. When passing new laws, let it be for funds and a stronger system to combat the pandemic.)
Since 2020, Robredo has been consistent in using her official Facebook profile to deliver sobering remarks about the state of the public health crisis and to offer solutions to the Duterte administration.
Duterte and his allies have also been consistent in rejecting or outright ignoring Robredo's suggestions this past year and a half.
The President himself would often say through official government channels that Robredo has done nothing but criticize him.
He has so far been successful in painting a negative picture of the Vice President in the eyes of Filipinos – even if Robredo's pandemic response programs have been drawing widespread praise from other officials and lawmakers.
That Robredo is engaged in an uneven perception war against the Duterte machinery is among the primary reasons why she is still mulling over her potential presidential bid in the 2022 elections.
Next year's polls could see the Vice President – the most viable standard-bearer for the anti-Duterte forces, according to pre-election surveys – pitted against the President's own daughter, poll frontrunner and Davao City Mayor Sara Duterte.
Call for unity, hope
The Vice President also dedicated a good chunk of her speech on Tuesday crediting Filipinos for going out of their way to help those in need –especially in times when the government was not there to send aid.
"Pilipino ang tumulong sa kapwa Pilipino; Pilipino ang sumalo sa kapwa Pilipino. Nakaraos lang tayo sa nakaarang isa't kalahating taon dahil sa lakas na ibinigay natin sa isa't isa. Humaharap po ako sa inyo ngayon para idiin: Maraming, maraming salmat sa inyo," Robredo said.
(The Filipino helped their fellow Filipino; the Filipino came to their fellow Filipino's rescue; we made it through the past year and a half only because of the strength we gave each other. I face you all today to say: Thank you very, very much.)
She hopes that Filipinos would continue finding reasons to come together, regardless of beliefs and political affiliations.
"Magkakarugtong ang diwa natin. At ang tanging paraan para madig ang krisis ng pandemya – ang tanging paraan para maabot ang pinakamatatayog nating mithiin – ay ang kumilos nang magkakasama," Robredo said. (We are all interconnected. The only way to overcome this crisis – the surest path to reaching our loftiest dreams – is to act as one.)
The Vice President has also made a similar call to unite to the different opposition forces in 2022, believing the Philippines can no longer afford six more years of the Duterte regime. – Rappler.com