'Pera ng bayan 'yung gamit 'nyo.... Ang hirap lunukin kasi nasa gitna tayo ng pandemic tapos ganito,' says Vice President Leni Robredo.
Vice President Leni Robredo said it was a hard pill to swallow knowing businessmen behind anomalous pandemic contracts awarded by President Rodrigo Duterte's government are either fugitives or have alleged links to the illegal drug trade.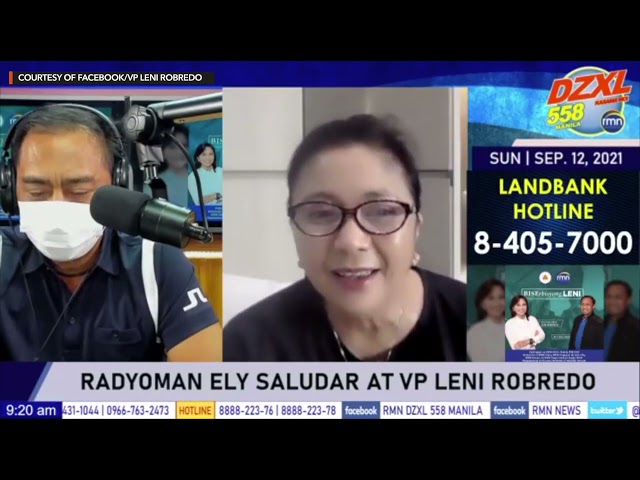 This was how the Philippine opposition leader responded on Sunday, September 12, when asked by her co-anchor Ely Saludar in her weekly DZXL radio show about the Senate's ongoing probe into questionable pandemic deals.
"Lahat implicated sa drugs. Hindi natin sinasabi na totoo 'yun, pero the mere fact na implicated sila, meron silang mga kaso sa Taiwan, fugitives from justice, anong business maki-deal with them? Na ang gamit natin pera ng bayan?" Robredo said.
(All of them are implicated in drugs. We're not saying that's true, but the mere fact that they have been implicated, they have cases in Taiwan, they are fugities from justice, what's our business dealing with them? And while using public funds at that?)
"Kung sariling pera ninyo ang gamit ninyo, wala kaming pakialam. Pero pera ng bayan 'yung gamit 'nyo, nakiki-deal tayo sa may mga record? So ito talaga, Ka Ely, ang hirap talagang, ang hirap lunukin kasi nasa gitna tayo ng pandemic tapos ganito," added the Vice President.
(If they were using personal funds, we wouldn't care. But they were using the people's money, yet they would deal with people with records? Ka Ely, this is such a hard pill to swallow because this is happening during a pandemic.)
Robredo is still deciding whether to mount a presidential bid in the high-stakes 2022 elections. She has low preference numbers so far, but pre-election surveys still indicate she is the most viable candidate for the anti-Duterte forces in 2022.
Financier and guarantor
The September 10 Senate hearing revealed that Duterte's ex-economic adviser Michael Yang turns out to be the financier and guarantor of the controversial Pharmally Pharmaceutical Corporation.
Pharmally is the small firm with low capital that somehow managed to bag P10 billion worth of pandemic deals in the Philippines.
Pharmally's executives Huang Tzu Yen and his father Huang Wen Lie as well as Yang's business associate Zheng Bingqiang are all wanted in Taiwan for several financial crimes.
Senators had also grilled Yang over his alleged links to Lin Weixiong, who bears some resemblance to Allan Lim.
The intelligence report of veteran anti-drug operator Eduardo Acierto – who is now in hiding – earlier identified Lim as a drug personality who had supposedly worked with Yang to bring shabu into the Philippines.
But Duterte, who has become notorious for waging his bloody drug war, was quick to dismiss Acierto's report.
Yang told senators he knows Lin Weixiong, but insists he could not confirm if the latter is the same as Allan Lim.
Senators got so angry at the flip-flopping answers of Yang and Pharmally's director Linconn Ong that the blue ribbon committee issued another round of arrest warrants for the two.
An earlier warrant was served to Yang and Ong for their ignoring of the panel's previous subpoeanas to attend the Senate hearings.
The committee also summoned Yang's other business associate Rose Nono Lin, who is believed to be Lin Weixiong's wife, to the next hearing.
Despite the glaring evidence against these businessmen, Duterte continues to exonerate Yang from any wrongdoing in relation to Pharmally.
Duterte has since directed his wrath at the Senate, particularly blue ribbon committee chairman and Senator Richard Gordon as well as Senate Minority Leader Frank Drilon. – Rappler.com