The Vice President also defends state auditors after their reports on misused pandemic funds angered President Rodrigo Duterte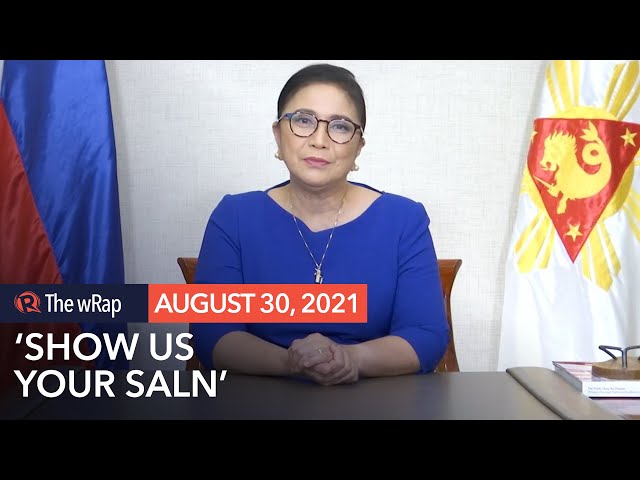 Philippine opposition leader and Vice President Leni Robredo told President Rodrigo Duterte that if he is truly serious about ending corruption in government, then it must begin with him publicizing his net worth.
Robredo made this statement on Sunday, August 29, as she reminded Duterte that auditing government agencies is the mandate of the Commission on Audit (COA), not the vice president.
Duterte earlier threatened to "audit all of government" should he run and win for vice president in 2022 – a move that political analysts have described to be a "bastardization" of the electoral process.
While Duterte has repeatedly claimed he is cracking down on corruption, his Statements of Assets, Liabilities, and Net Worth (SALNs) have been kept secret since 2018.
In contrast, Robredo readily makes her SALNs available, with her office quickly responding to media's requests for access.
"'Yung mandato ng VP succession lang…. Pero 'yung sa akin lang, Ka Ely, ang daming ibang paraan para ipakita mo na anti-corruption ka. 'Yung SALN, isa 'yun sa isang [paraan] para ipakita mo na bukas, bukas 'yung lahat ng information, para sa akin, pagpapakita na walang korapsyon," Robredo said in her weekly radio show on DZXL that she co-hosts with broadcaster Ely Saludar.
(The VP's mandate is just succession…. But for me, Ka Ely, there are a lot of other ways you can show that you're anti-corruption. Publicizing your SALN is one way to show the public that you are open to share information about you, to show that there's no corruption.)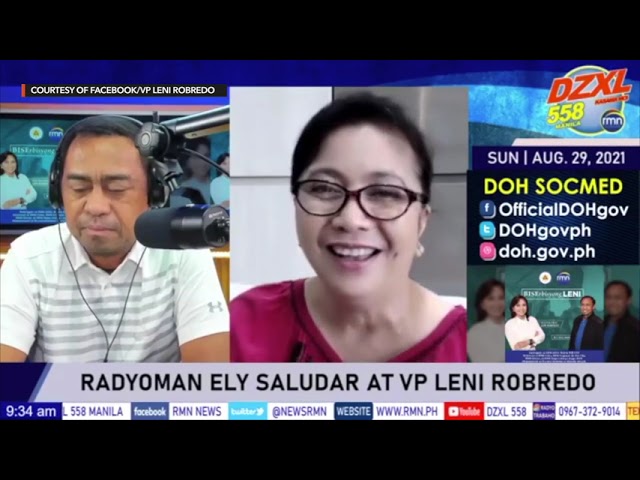 The last time the Ombudsman allowed the public to see Duterte's SALN was in 2017, when he recorded a net worth of P28.5 million. Ombudsman Samuel Martires has since restricted the public's access to the SALN of the president and the vice president.
Martires' policy was challenged before the Supreme Court, but justices later junked the petition and ruled that custodians of government officials' SALNs can regulate public access to the documents. The High Court is dominated by Duterte appointees.
Robredo is still deciding if she will run for president in the high-stakes 2022 polls. Pre-election surveys indicate she is still the most viable opposition standard-bearer despite her low numbers so far.
Robredo stands up for COA
Robredo then defended COA, the agency now drawing Duterte's ire after its audit reports showed there were billions of misused and unused funds that could have bolstered the government's pandemic response in 2020.
"Pero 'yung pag-audit, Ka Ely, nakalagay 'yan sa isang constitutional body. Bakit nakalagay 'yan sa isang constitutional body? Para may independence, hindi napapakailamanan ng ibang branches of government," said the Vice President.
(Ka Ely, the task of auditing is given to one constitutional body. Why is it given to a constitutional body? So there would be independence, so that other branches of government would not influence it.)
For Robredo, any serious fight against corruption should begin with the Office of the President.
She recalled the reforms introduced by her ally and Duterte's predecessor, the late former president Benigno "Noynoy" Aquino III, whose rallying cry in the 2010 elections was his anti-corruption drive.
"'Yung pinakaimportanteng office para at least mabawasan yung korapsyon 'yung Office of the President. Ako kasi, ano Ka Ely, kung naalala natin, kay PNoy noon, ang daming mga bagong mga in-introduce para mabawasan yung korapsyon. Hindi completely nawala, pero at least yung sistema in place," Robredo said.
(The most important office that plays a crucial role in at least reducing corruption is the Office of the President. If you can remember, Ka Ely, PNoy had introduced reforms before to lessen corrupt practices. It did not disappear completely, but at least the system was in place.)
Duterte has long been criticized for merely firing his erring appointees and not initiating investigations into the alleged wrongdoings that supposedly caused their termination.
He has also continued to stand by embattled Health Secretary Francisco Duque III despite what the Cabinet official's critics called his incompetence in leading the agency during the COVID-19 crisis. – Rappler.com