'One and a half years na tayo. Parang roller coaster lang,' the Philippine opposition leader says about the government's mishandling of the pandemic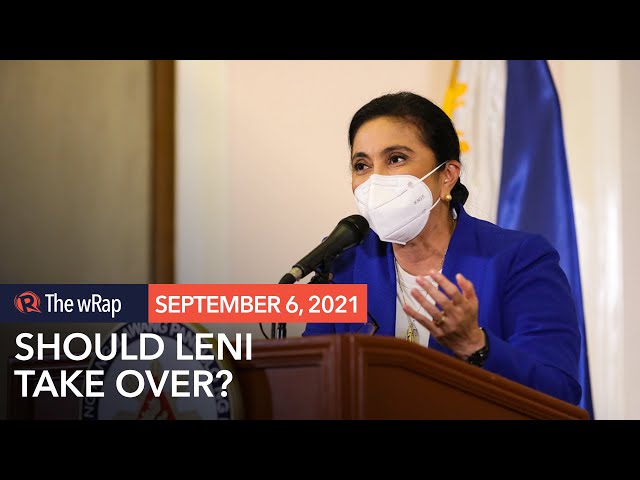 Philippine Vice President Leni Robredo is so frustrated by President Rodrigo Duterte's mismanagement of the pandemic that she's now tempted to ask him to just let her handle the crisis instead.
After all, Robredo said during a Rappler Talk interview on Friday, September 3, the Office of the Vice President (OVP) has the track record to back her ability to lead.
Asked what she thinks is the biggest tragedy in the President's mishandling of the COVID-19 crisis, Robredo said it is the lack of decisive leadership at a time when people need it most.
"Alam mo, nate-tempt na 'ko na magsabi na, 'Puwede bang bigyan 'nyo ko ng pagkakataon na tumulong at mag-manage? Basta bigyan lang ako ng blanket authority.' Siguro naman magi-improve naman ito!" said Robredo.
(You know, I am tempted to tell them, "Can you give me a chance to help you and manage all of this? Just give me blanket authority to do so.' Perhaps things would improve then.)
"Ang daming kailangang gawin na hindi ginagawa and nakakasama ng loob kasi last year pa 'to hinihingi," added the Philippine opposition leader.
(There's so much that should have been done that's not being attended to, and it's frustrating because we've been asking for these things since last year.)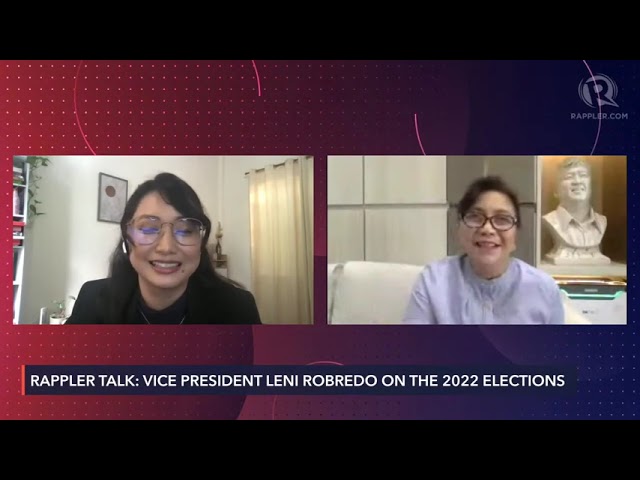 She then cited the highly praised relief drives the OVP has been doing to fill in gaps in the Duterte government's pandemic response – from free swab tests in areas at high risk for COVID-19 to drive-through vaccination sites in cities and municipalities.
The OVP was able to pull these off despite getting a small annual budget from the executive branch.
"Ang dami na naming volunteers kasi hindi kaya ng opisina namin, kasi ang liit-liit namin. Pero na-prove namin na kahit konti 'yung resources, 'pag 'yung dedication tsaka 'yung passion nandiyan, ang dami mong puwedeng gawin," said Robredo.
(We now have many volunteers because we can't do it alone since we're a small office. But we've proven that despite the few resources, there is so much you can do if there is dedication and passion.)
Unlike past vice presidents, Robredo doesn't have a Cabinet post. She served briefly as Duterte's housing czar, but she resigned in December 2016 after the President himself boxed her out of Cabinet meetings.
Robredo – who is still deciding if she would run for president in the high-stakes 2022 elections – has long been criticizing Duterte for failing to curb coronavirus infections in the country.
The Vice President's multiple suggestions to improve Duterte's pandemic programs often fall on deaf ears.
The government had to reimpose the strictest form of lockdown in several areas for the third time since the pandemic started due to the recent surge in cases.
Robredo said the country's COVID-19 testing and contact tracing are "palpak" or a failure, and lockdowns have just been band-aid solutions because hospital capacities and manpower have not been augmented.
"One and a half years na tayo. Parang roller coaster lang. Bumabalik-balik lang tayo," said Robredo.
(We're one year and a half into this pandemic. It's like a rollercoaster. We keep going in circles.)
Robredo laments corruption amid pandemic
What makes it worse, said the Vice President, are the recent revelations from state auditors and lawmakers showing the Duterte administration has billions worth of misused and unused funds that could have bolstered the government's pandemic response.
"'Yung possibility nga ng corruption, tapos 'yung mishandling, 'yung misspending, ang dami nating nakitang perang hindi nagamit. 'Yung nagamit na pera, 'yun nga, iniimbestiga ngayon, na ang laking possibility na may corruption. Very frustrating 'yun," Robredo said.
(There's the possibility of corruption, then the mishandling and the misspending of the budget. The funds used are now being investigated, and it seems there's a big possibility that corruption was involved. That's frustrating.)
An ongoing Senate probe has also shown that the bulk of the pandemic contracts went to Pharmally Pharmaceutical Corporation, a new firm with a small capital and whose incorporators supposedly gave non-existent addresses.
Former undersecretary Lloyd Christopher Lao, as then chief of the Department of Budget and Management's Procurement Service, had signed many of the contracts and purchase orders for Pharmally.
Lao used to work under Duterte's longtime aide turned senator Bong Go when the latter was still with the Presidential Management Staff, but Go denies Lao is his protege.
A Rappler investigation traced Pharmally's links to Duterte's former adviser Michael Yang. Pharmally's executives and an associate of Yang are also wanted in Taiwan for financial crimes.
Duterte, however, has been defending Lao and Yang. Malacañang even denied that Pharmally bagged the contracts because of Yang's closeness to the President. – Rappler.com