This is AI generated summarization, which may have errors. For context, always refer to the full article.
Vice President Leni Robredo says that in the age of fake news, journalists' role to speak truth to power has become even more crucial
Vice President Leni Robredo said democracy can survive only if there is a free press, and governments must do their part to respect and protect journalists across the world.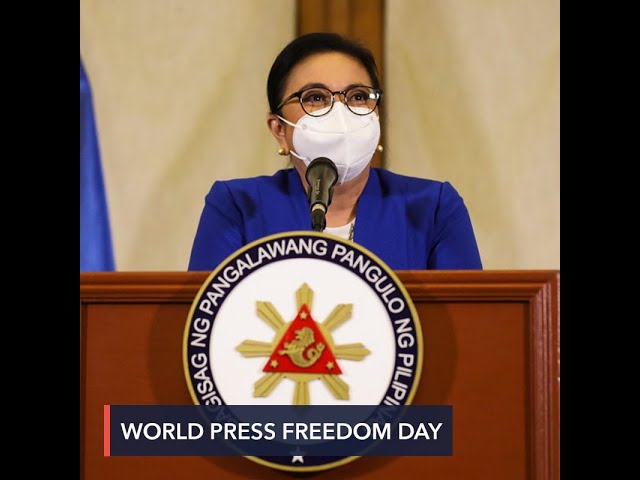 The Philippines' second highest official highlighted the crucial role that journalists play in the age of disinformation, as World Press Freedom Day was celebrated on Monday, May 3.
"Democracy cannot survive, much less flourish, without a free press that works to keep citizens informed by equipping them with a common, verifiable baseline of fact on issues pertinent to society and governance," Robredo said in a statement.
"And in this age of fake news and digital disinformation, where gaslighting has become a frequent tactic to evade accountability, and blatant falsehood has become the common currency in political discourse, this role has become even more imperative," she added.
The Vice President said leaders and governments everywhere, not just the Philippines, remain tasked to uphold press freedom and "to extend every protection to the women and men who must risk their lives, freedom, and reputations to bring to public awareness the truth behind events."
The Philippines' opposition leader called for the protection of press freedom amid the climate of fear that has been perpetuated by no less than President Rodrigo Duterte.
The Duterte government has threatened institutions meant to check his power and intensified a crackdown on critics through the controversial anti-terrorism law and the persistent red-tagging of civilians, including journalists.
Press freedom is under attack, with multiple cases filed against Rappler and its chief executive officer Maria Ressa, and broadcast giant ABS-CBN being forced to shut down in 2020. The last time ABS-CBN went off-air was in 1972, just before the late dictator Ferdinand Marcos declared Martial Law.
Tacloban City journalist Frenchie Mae Cumpio has been jailed for over a year after the military raided the Eastern Vista staff house and accused her of having links with communist rebels.
On Monday, Robredo paid tribute to Filipino journalists, especially those who continue on their pursuit of the truth despite persecution from the powers that be.
"Today as we observe World Press Freedom Day, let us take the time to honor the courage and commitment of journalists in the Philippines and abroad, who endure harassment, persecution, and violence as they remain steadfast in their roles of pursuing the truth and holding power accountable," the Vice President said.
In 2021, the Philippines slipped by two more places – now ranking 138th out of 180 nations – in Reporters Without Borders' World Press Freedom Index, which ranks countries according to the level of freedom given to journalists in a particular locale.
A non-commissioned Social Weather Stations survey also showed that 6 in 10 Filipinos agree that it is "dangerous to print or broadcast anything critical" of Duterte's administration, "even if it is the truth." – Rappler.com