This is AI generated summarization, which may have errors. For context, always refer to the full article.
(UPDATED) The killing of the unarmed mother and son in Tarlac is the latest incident of police abuse that mirrors the culture of impunity under President Rodrigo Duterte
President Rodrigo Duterte on Monday, December 21, distanced himself from abusive law enforcers after an off-duty policeman killed an unarmed mother and son in Tarlac – the latest incident of police abuse under his administration.
Police Senior Master Sergeant Jonel Nuezca shot dead Sonya Gregorio, 52, and her son Frank, 25, on Sunday, December 20. The incident was caught on video by relatives of the victims.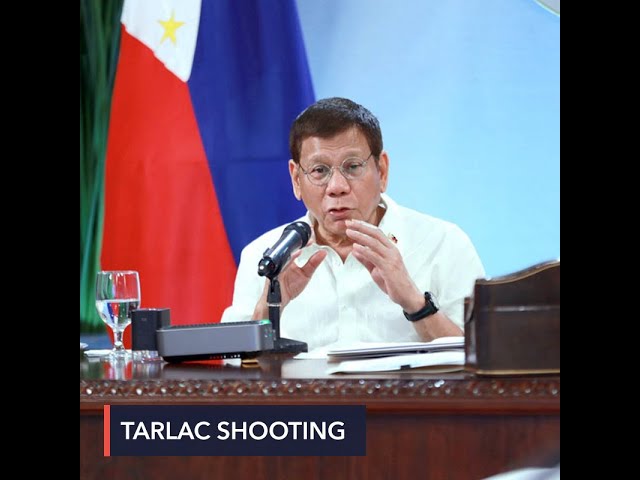 "Huwag 'nyo isali sa pagmamahal ko iyang mga gagong pulis, gagong military (Don't include abusive cops and military)," Duterte said, while reiterating his love for police and military during remarks aired on Monday night.
Describing the video, the President cursed Nuezca and called on the Philippine National Police (PNP) to ensure he will not go out of jail. Nuezca is facing two counts of murder.
"Pati ako napanganga, kawala-walang-kwenta. That's unfair and brutal masyado (I was also shocked. That's very unfair and brutal)," he said of the incident.
Duterte reminded his cops that their "actions must be in accordance with the law," adding that police "tend to exhibit [their] authority even in matters not connected with police work."
"You do not follow the law, mag-salvage ka, mag-patay ka dyan (You salvage people, you kill them), I'm sorry [but] that is not part of our agreement of how we should do our work," he said.
But Duterte had previously ordered his men to shoot quarantine violators, on top of his consistent killing orders against suspected drug personalities as part of his violent anti-drug campaign.
A report in June by the the United Nations Office of the High Commissioner for Human Rights said that widespread state abuses in the country "suggest that [Duterte]'s public comments may have incited violence and may have had the effect of encouraging, backing or even ordering human rights violations with impunity."
Culture of impunity
The President echoed the statements of his allies, which called the incident an isolated case.
In a press briefing a day later, Presidential Spokesperson Harry Roque stressed the President's call for more stringent neuropsychiatric tests for PNP applicants. "Sa pamamagitan ng mga test na ito, makikita natin kung sino 'yung mga bugok," he said. (Through these tests, we can identify the ones who are unfit.)
The killing of the Gregorios, however, is the latest in a series of police brutality and abuse that mirrors the culture of impunity under the Duterte administration. Victims include suspected drug personalities, activists, and even ordinary citizens. (READ: PNP has a human rights office, but what has it done?)
The PNP Cordillera regional police recently disbanded its Regional Drug Enforcement Unit after two members were implicated in the abduction and beheading of a Baguio City resident in November.
During the height of the coronavirus pandemic in April, former soldier Winston Ragos was gunned down by Quezon City police for violating quarantine rules, which the National Bureau of Investigation tagged as murder.
Earlier on Monday, Vice President Leni Robredo hit the "architecture of impunity" that allowed Nuezca to still serve in the force even if he faced at least 6 administrative cases in the past, including two grave misconduct involving homicide in 2019.
Both cases were "dismissed for lack of substantial evidence." – Rappler.com