Philippine Red Cross chairman Senator Richard Gordon earlier said he would give the President the 'benefit of the doubt' about his remark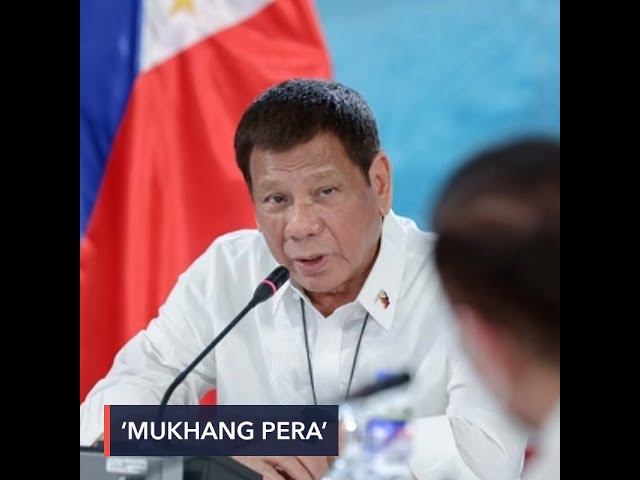 Presidential Spokesman Harry Roque could only tell the Philippine Red Cross to accept President Rodrigo Duterte's "mukhang pera" (looks like money or greedy) comment about their group last night, during a meeting with Cabinet members in Malacañang.
"Let's allow na lang the President to say what he wants to say. Let that remain on record. Bahala na po ang (It's up to the) PRC to construe what the President said," said Roque on Friday, November 6, during a virtual press briefing.
The night before, Duterte muttered, "mukhang pera" as Health Secretary Francisco Duque II was reporting on how PRC had resumed some of its PhilHealth-covered testing after the government made partial payment of its P1.1-billion debt to the organization.
The video aired last night, however, was heavily edited, with footage jumping from one part of the meeting to another with no transition. This makes it difficult to acertain if there was more context to Duterte's remarks than was shown to the public.
Duque had also been explaining how the stop in PRC testing led to a "significant but temporary decrease in testing capacity" that was partially compensated by the distribution of tests to 11 other laboratories.
Gordon reacts
On Friday, PRC chairperson Senator Richard Gordon countered, "Hindi kami mukhang pera (We aren't greedy)," in an interview with ABS-CBN's TeleRadyo.
He asked Duterte to be more careful with his words because the PRC was within its rights to ask for payment from the government.
"Ang sinasabi ko lang, dahan-dahan naman sa pananalita because nakakatulong naman kami. Hindi naman kami umutang, sila ang umutang. Sila ang nagpa-test, ginawa namin. 'Di ba dapat bayaran ninyo?" said the senator.
(All I'm saying is, be careful with words because we have been able to help. We aren't the ones in debt, they are. They asked for tests, we delivered. Shouldn't you pay up?)
Still, Gordon said it was possible Duterte was referring, not to the PRC, but to unscrupulous entities who were overcharging for testing while PRC had stopped its free testing.
"Hindi naman kami ang tinutukoy, palagay ko eh (We aren't the ones being referred to, in my view). I'm giving him the benefit of the doubt, out of respect for the President," Gordon added.
PRC is among the private sector groups with the biggest contribution to the country's pandemic efforts, providing more than a quarter of all coronavirus swab tests done in the country.
It struck a deal with the government where state insurer PhilHealth would shoulder the cost of the COVID-19 tests done on OFWs, Filipinos arriving in airports and seaports, and public healthcare workers.
So far, PhilHealth has paid P600 million of its initially P930 million debt to PRC, which had ballooned to P1.1 billion. – Rappler.com