Malacañang previously said only medical frontliners will get to choose their COVID-19 vaccine under the government's vaccination program
Malacañang has announced a rule that only medical frontliners get a chance to choose their COVID-19 vaccine under the government's vaccination program but President Rodrigo Duterte apparently also gets the same privilege because of his position.
Presidential Spokesman Harry Roque was asked by Rappler on Thursday, March 4, why Duterte gets to choose his vaccine when he is not a medical frontliner.
"I think the President is the president and because he is over 70 years old," said the Duterte spokesman during a press briefing in Cebu City.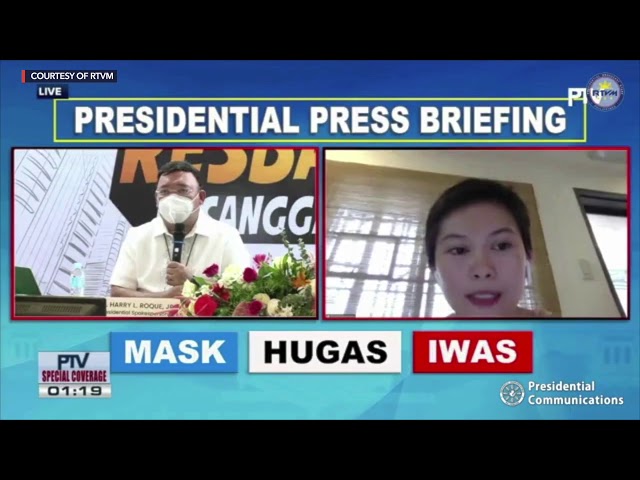 Told that senior citizens who are not medical frontliners don't get to choose their vaccine and must take whatever is available when it's their turn, Roque sidestepped by saying the question is "moot and academic" because it's not yet the turn of the elderly to get vaccinated.
Roque had said on February 27 that only health workers would be exempt from the general rule that Filipinos can't be "picky" with the vaccine they will get.
"Ang pagbabago po sa ating protocol, kung ayaw po ng health care worker ang Sinovac, pupwede po siyang tumanggi at hindi mawawala 'yung kanyang prayoridad kapag dumating na yung bakunang gusto niya. Pero pang health care workers lang po 'yan ah," he said.
(What has changed in our protocol is if the healthcare worker does not want Sinovac, they can refuse without losing priority status once the vaccine they want arrives. But that's only for healthcare workers.)
"For the rest of us, we must take what is available," he had added.
Later on Thursday, Duterte said he prefers the Sinopharm vaccine because he does not like products created by Western countries.
"Ang akin is Sinopharm, China. Hindi masyado ako maano diyan sa produkto ng puti," he said at the inauguration of a school building in Valenzuela City.
(My preference is Sinopharm, China. I'm not into products by white people.)
"Puti" is Filipino for "white," referring to Caucasians.
Will Duterte get AstraZeneca shot?
Roque previously said Duterte will wait for a Sinopharm vaccine, his preferred anti-COVID-19 vaccine. But Sinopharm is yet to secure emergency use authorization (EUA) for its shots and there is no set date yet for the arrival of any vaccine shipment from them. (READ: What's the Sinopharm confusion all about?)
Duterte's security aides, meanwhile, had earlier secured a donation of 10,000 Sinopharm vaccine doses which they can take by virtue of a compassionate special permit issued by the Food and Drug Administration.
Malacañang lawyers had even studied whether or not Duterte can be given those PSG-secured shots using the special permit since he is "commander in chief" of the Armed Forces of the Philippines.
But eventually, Roque said on Tuesday that Duterte decided to wait for the EUA for Sinopharm to be issued.
Duterte is set to be present at the arrival of nearly 500,000 doses of AstraZeneca vaccines on Thursday night.
Some countries have allowed the elderly to use the AstraZeneca shots. Could it be given to Duterte?
"I will ask if he will consider AstraZeneca because in other countries, there is no limitation on the use of AstraZeneca," said Roque.
The 600,000 Sinovac doses and the arriving AstraZeneca doses are not yet enough to vaccinate all 1.7 million healthcare workers in the country. – Rappler.com