Vice Mayor Mike Rama reveals the full slate of his local Partido Barug PDP-Laban, and allies Kusog and Marino, in the upcoming 2022 Cebu City race
President Rodrigo Duterte has endorsed Cebu City Vice Mayor Michael "Mike" Rama for the city's mayoral race in the 2022 elections, Presidential Spokesperson Harry Roque said on Tuesday, October 5.
Roque, who attended the event which introduced Rama's slate at Casino Español in Cebu City, said: "The President has no other candidate in Cebu but mayor Rama."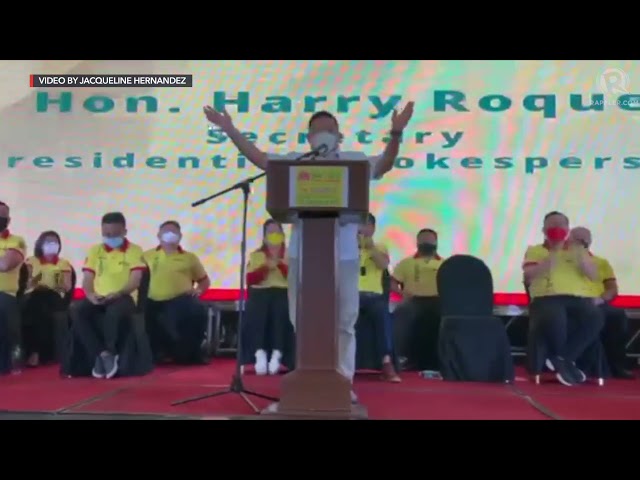 Rama was previously included in Duterte's "narco-list", a roster of politicians allegedly involved in the drug trade. Rama's name was later removed from the list in 2019.
"I am here as the spokesperson of the President to endorse to Cebuanos to vote straight PDP-Laban Marino," Roque said.
Rama officially announced his intent to run for mayor in the 2022 election on September 7, 2021.
He will face former Cebu City councilor Margarita "Margot" Osmeña, the wife of ex-mayor Tomas Osmeña.
Rama served as Tomas Osmeña's vice mayor from 2001 to 2010. He later became mayor himself from 2010 to 2016.
Meanwhile, Rama revealed the full slate for his local Partido Barug PDP-Laban, and allies Kusog and Marino, in the upcoming 2022 Cebu City race.
Councilor Raymond Garcia, nephew of Cebu Governor Gwen Garcia, will be Rama's running mate.
Barug also named the following nominees for district representatives:
Niña Mabatid for North District Representative
Eduardo Rama for South District Representative
The following names were listed as nominees for Cebu City North District councilors:
Noel Gonzales Wenceslao
Joel Capili Garganera
Jerry Guardo
Jepoy Labella
Jun Revocla Alcover
Melvin Legaspi
Doc Peter Mancao
Maria Pino
The party named the following nominees for Cebu City South District councilors:
Don Hontiveros
James Cuenco
Phillip Savior Zafra
Renato Junjun Osmeña
Jocelyn G.Pesquera
Rey" Sting Rei " Gealon
Francis Esparis
Harry Eran
– with reports from Jacqueline Hernandez /Rappler.com
Art Lubiano is a Visayas-based journalist and an awardee of the Aries Rufo Journalism Fellowship.