'He's in perpetual isolation in the sense that PSG has done a very good job in making sure that no one really comes close to the President,' says Presidential Spokesperson Harry Roque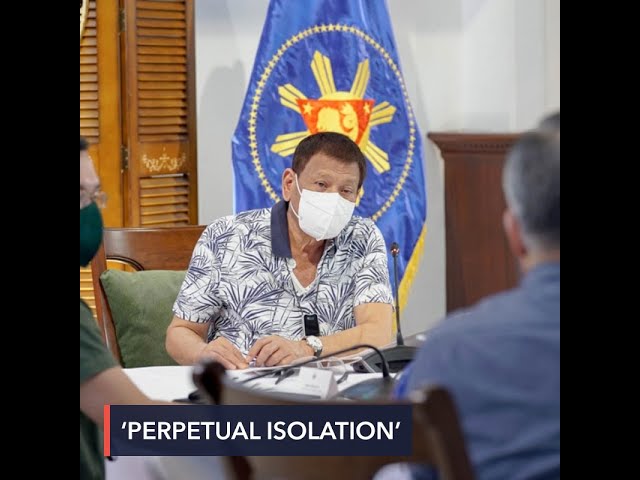 Presidential Spokesperson Harry Roque said on Monday, August 17, that President Rodrigo Duterte has been in "perpetual isolation" and regularly undergoes testing as part of safety precautions against COVID-19.
A few hours later, however, after concern over his use of the phrase "perpetual isolation" in a briefing with reporter, Roque clarified in a statement that this was only a "figure of speech."
"The President is in perpetual isolation because no one can come close to him…. Whenever we meet with him, there is a velvet rope that keeps him at least 6 feet away from everyone else. So, no one can really come close to the President," Roque said during a briefing.
"He's in perpetual isolation in the sense that PSG (Presidential Security Group) has done a very good job in making sure that no one really comes close to the President," he added.
Roque's remarks came after Interior Secretary Eduardo Año announced on Saturday, August 15, that he tested positive for the coronavirus a second time. He said Duterte was not in close contact with Año.
In a separate statement, Roque reiterated his use of "perpetual isolation" was a mere figure of speech that he used "to highlight the prudence exercised by the Presidential Security Group (PSG) in safeguarding the physical well-being of the President in this challenging time of COVID-19."
"Much as he wanted, for instance, to shake the hands of those present during his fifth State of the Nation Address, the PSG discouraged PRRD from doing so as part of precautionary measure of maintaining physical distance," he said.
Duterte's health
During the briefing, Roque also denied Duterte went abroad over the weekend for health reasons, adding the Chief Executive was in the Philippines and "closely monitoring the COVID-19 situation in the country."
"Nilinaw ko po sa isang statement kahapon na fake news po iyong pag-alis ng Pilipinas ng ating Presidente. Nananatili po siya sa Davao, hindi po siya umaalis ng Pilipinas and his health is fine," Roque said.
(I said this in a statement yesterday that its fake news the President left the Philippines. He's still in Davao. He hasn't left the Philippines and his health is fine.)
Roque added he and other Cabinet members would also no longer meet Duterte in Davao after Año tested positive to avoid exposing the President to the virus.
Duterte's state of health has been a constant question after the 75-year old leader claimed he suffered from a slew of medical conditions that included myasthenia gravis, Buerger's disease, Barrett's esophagus, and "spinal issues," among others. In October 2018, Duterte also said he tested for cancer but that it came back negative.
Last May, the Supreme Court dismissed a petition seeking to compel President Rodrigo Duterte to disclose his state of health outright, or without having to require Malacañang to answer the petition.
In its resolution, the High Court cited deliberations of the constitutional commission to say that the President has the discretion to "choose the appropriate means of releasing information to the public." – Rappler.com