The new job of the SBMA firefighters put them at the front lines
From putting out blazes, catching snakes and stray animals, and responding to disasters, the SBMA Fire Department is now fighting an unusual enemy that could not be seen – COVID-19.
Though they now fight with sprayers carried on backpacks to disinfect facilities, this new task does mean it is any less risky.
The SBMA firefighters are still on their toes in case a blaze breaks out. But as frontline workers in the fight against the formidable SARS-CoV-2, the virus that causes COVID-19, they face new risks every day.
The new mission is part of a contingency plan that was developed when the cruise ship World Dream with close to 800 tourists from China was stopped from docking in Subic last January when the new coronavirus began spreading worldwide, said SBMA fire chief Ranny Magno.
"We needed to be proactive. it's the way risk managers should think, and that is embedded in the SBMA culture," Magno said. "So we started preparation and planning."
The preparation involved training on disinfection and decontamination procedures, orientation on the new coronavirus, and the actual purchase of hazardous materials (HAZMAT) suits, personal protective equipment (PPEs), and 3 backpack sprayers.
For disinfectant and decontaminant solutions, Magno said the Subic firefighters used chlorine granules (calcium hypochlorite) mixed with clean water, an ingenuity they practiced here months before the Department of Health (DOH) officially endorsed chlorine solution as effective against the coronavirus.
One thing we learned during this pandemic was that every step must be precise; there's no margin for error because lives are at stake here.
Ranny Magno, SBMA fire chief
These came in handy when SBMA Chairman and Administrator Wilma T. Eisma ordered the disinfection of all SBMA offices, especially those frequented by clients, in order to ensure health and safety in the Freeport while keeping the local economy running.
SBMA's disinfection program began on March 14, two days before the declaration of the Luzon-wide enhanced community quarantine (ECQ), and the first to be sanitized was the Pass and ID office where there were always queues of customers.
Soon, some stakeholders got involved and chipped in: two hotels with huge swimming pools donated chlorine granules from their stocks. A Filipino who retired from the US Marine gave two units of backpack sprayers.
Since then and until June 30, the SBMA Fire Department had decontaminated a total of 110 buildings and offices, including 34 SBMA facilities.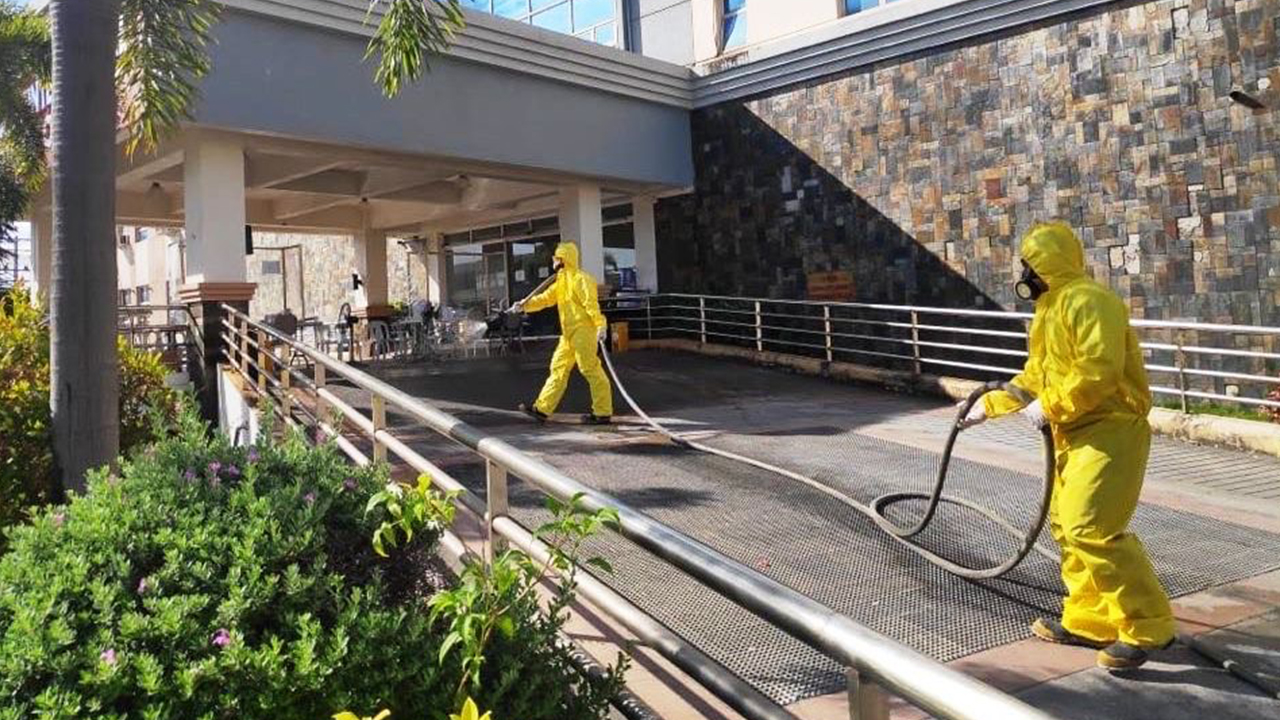 FRONTLINE. Using sprayers and fire nozzles, SBMA firemen disinfect facilities in the Subic Bay Freeport to prevent the spread of the Covid-19 virus. (SBMA-Photo)
At the same time, the Fire Prevention Division of the SBMA Fire Department switched from its usual lecture on fire control and instead performed orientation and inspection of COVID-19 health protocols in locator companies that were allowed to operate during the quarantine.
Under this task, the fire team managed to inspect the implementation of safety protocols, including measures for social distancing. The have inspected a total of 936 companies from May to August.
"One thing we learned during this pandemic was that every step must be precise; there's no margin for error because lives are at stake here," Magno said. "It is a hard task for us because we are all exposed to the virus."
Magno noted that one SBMA fireman had recently been infected after decontamination of the Subic container terminal where 45 workers had tested positive of COVID-19.
He said the firefighter, who remains asymptomatic, has been quarantined at an SBMA isolation facility and was doing well.
"We know the risks of our job. We understand that we could be infected anytime. But we have to do our job to protect our locators and stakeholders," Magno said.
Right now, as the SBMA management is considering giving the disinfection job to its maintenance unit. The tactical objective of the fire department would be to train locator-companies on the proper procedures for disinfection.
"To be safe, we have to be resilient by seeing to it that our area is free from virus. But each and every one of us — the stakeholders — should be resilient so that the whole community could be resilient," Magno added. – Rappler.com