(1st UPDATE) Chinese businessman Michael Yang joins the Senate hearing from a hotel in Davao – the home city and bailiwick of President Rodrigo Duterte
Senators were so pissed off by the "evasive" answers of President Rodrigo Duterte's former adviser Michael Yang and an executive of Pharmally Pharmaceutical Corporation that they issued another round of arrest warrants for the two.
On Friday, September 10, Senator Panfilo Lacson moved to once again cite Yang and Pharmally director Linconn Ong in contempt for their evasive and flip-flopping answers during the resumption of the Senate blue ribbon's investigation on anomalous pandemic deals.
"If I may move or issue the motion, Mr. Chairman, it's not only Mr. Ong who's being evasive. Mr. Yang is likewise being evasive. Because we cannot get a clear answer…clearly, they're being evasive," said Lacson.
The blue ribbon panel earlier issued arrest warrants for the two, along with other Pharmally executives, for ignoring past subpoenas ordering them to show up in the investigation.
No other senator objected to Lacson's motion, so it was accepted by Senate blue ribbon committee chairman Richard Gordon.
The arrest warrants for Yang and Ong would first have to be signed by Senate President Vicente Sotto III before they can be served.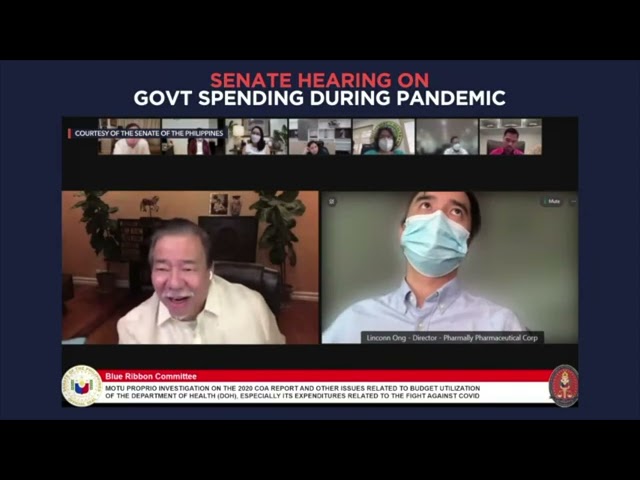 Yang, a Chinese national, confirmed he was staying at the Dusit Thani Residence Davao in Davao, the home city and bailiwick of President Duterte.
A Rappler investigation showed that Yang, through a network of companies, has links to Pharmally, the fairly new company that bagged the biggest contracts from the Philippine government for pandemic supplies.
Pharmally was awarded over P8 billion worth of COVID-19 contracts in 2020 even if the small firm lacked the track record and credibility to engage in big ticket government procurement. In 2021, it got contracts worth P2.3 billion.
Senator Joel Villanueva also showed records indicating Pharmally did not pay their employees' withholding taxes and mandated contributions to the government.
Yang, who spoke to senators via a Mandarin translator, initially denied having anything to do with Pharmally.
But Lacson pounded on Yang and Ong, until Ong admitted that Yang had acted as Pharmally's guarantor to Chinese suppliers.
It was also upon Lacson's questioning that Yang finally admitted that it was he who had introduced Ong to Chinese suppliers, whom Yang described as "friends."
Ong continued to be evasive when later pressed by Senate Minority Leader Frank Drilon on how Pharmally had possibly funded its procurements from China when the firm had a paid-up capital of only P625,000.
These included an initial order worth P54 million, which Ong insisted was paid by Pharmally through corporate funds. For Drilon, this could only mean Ong was "lying" to the committee.
"Here is a resource person who is clearly lying on the record, because he says the funds were corporate funds for Pharmally. But the audited financial statements indicates that, beginning of 2020, they had only P625,000, which is the paid-up capital. Clearly, the corporation had no capacity to pay the initial order of P54 million," said Drilon.
"So it is not true at all, and there is a deliberate effort to mislead the committee, to say these are corporate funds," added the veteran lawmaker.
Pharmally president and chairman Huang Tzu Yen later told the panel that his company did in fact borrow money from Yang.
"The company borrowed money from Mr. Yang. Linconn Ong was maybe just hesitant to say that because of courtesy, which is why he was evasive…. Since we were not able to finance these things, so we will not be blacklisted, Yang offered to lend us money," Huang said.
Gordon said his panel would formally ask the Senate blue ribbon committee to check Pharmally's finances and find out "if there is a money trail to be proven here."
Yan's business associate Rose Nono Lin has also been summoned to the next hearing. Lin is an incorporator or officer at all seven companies in Yang's network scrutinized by Rappler.
Ong said later in the hearing that he recently tested positive for the coronavirus.
Gordon said Senate security personnel would instead be deployed to his home and he would not be allowed to go out. The senator said an ambulance could be provided for him in case he would need it.
In the same hearing, tax expert and certified public accountant Mon Abrea said Pharmally's financial records were riddled with anomalies.
Duterte has repeatedly tried to exonerate Yang from any wrongdoing in relation to Pharmally. He described his former adviser as the "paymaster" or "financial sponsor" of Chinese businessmen who wanted to do business in the Philippines.
Malacañang also denied that Pharmally was able to bag the pandemic contracts because of Yang's influence and closeness to Duterte. – Rappler.com
Read the other stories from the September 10, 2021, Senate blue ribbon committee hearing: