This is AI generated summarization, which may have errors. For context, always refer to the full article.
(3RD UPDATE) The Senate version increases allocations for health, social welfare, disaster response, education, and other measures to adapt to the COVID-19 pandemic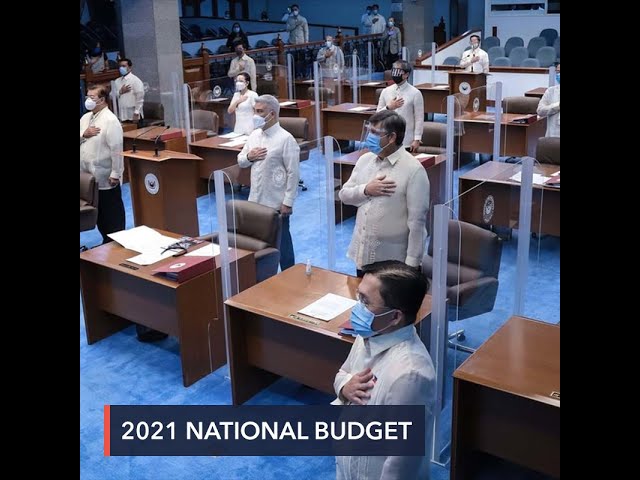 The Senate on Thursday morning, November 26, passed on 3rd and final reading the P4.5-trillion national budget bill with significant amendments increasing allocations for health, social welfare, disaster response, education, and other measures to adapt to the COVID-19 pandemic.
The 22 senators physically and virtually present in Thursday's plenary session voted unanimously to approve the budget bill. Senators Leila de Lima and Ronald dela Rosa were absent. De Lima was still in detention, while Dela Rosa was sick with COVID-19.
"Bagaman may pagbabago tayong isinasagawa, nananatili pa rin ang adhikain ng committee report na inilabas ng inyong committee on finance – na ang pambansang budget ay budget ng pagbangon, ang pinaka-stratehiya natin para umahon mula sa bigat at hirap ng nakaraang taon," Senate finance panel chairperson Sonny Angara said in a speech moments before the vote.
(Although we made changes, the purpose of the committee report released by your committee on finance remains – that the national budget is a budget of recovery, our main strategy to emerge from the heaviness and difficulty of the past year.)
The Senate's version of the 2021 General Appropriations Bill (GAB) includes the following increased allotments, according to Angara's office:
Note: "Unprogrammed appropriations" are allotments that are dependent on the availability of government revenues
Health
COVID-19 vaccines: P8 billion under the Department of Health (DOH), P54 billion in unprogrammed appropriations, and another P21 billion in unprogrammed appropriations for storage, transport, and distribution
Contact-tracing operations: P1 billion under the Department of the Interior and Local Government
Hiring of human resources for health: P15.741 billion
Health Facilities Enhancement Program: P6.497 billion under DOH, P4.518 billion in unprogrammed appropriations
Capital outlay of regional hospitals of the DOH to increase bed capacity and upgrade facilities: P1.6 billion (P100 million per region)
Prevention and control of non-communicable diseases: P462.443 million
Prevention and control of communicable diseases: P6.235 billion
Funding for medical schools: P1.04 billion
Funding for the Research Institute for Tropical Medicine (RITM)
Medical Assistance to Indigent Patients program
Disaster response
National Disaster Risk Reduction and Management (NDRRM) Fund: P21 billion
Rehabilitation and reconstruction assistance program for local government units (LGU): P15 billion
Quick response fund of the Bureau of Fire Protection and the Philippine National Police
Expanded use of the NDRRM Fund to include prevention and preparedness activities
Social Welfare
Assistance to Individuals in Crisis Situations program of the Department of Social Welfare and Development: P12.768 billion
Pantawid Pamilyang Pilipino Program (4Ps): P102.69 billion
Social pension: P23.631 billion
Sustainable Livelihood Program: P4.504 billion
Sustainable Feeding Program: P3.96 billion
Kapit-Bisig Laban sa Kahirapan (Kalahi): P5.75 billion
Social amelioration program: P10 billion
National ID System: P4.119 billion
Agriculture
Total increase in the Department of Agriculture's budget: P1.857 billion
Funding for cacao or coffee planting and processing equipment to be given to 22 coconut-producing areas under the National High Value Crops Development Program
Funding for the National Dairy Authority to start a Dairy Goat Project in 18 pilot areas
Funding for titling agricultural lands
Education
Total increase in budget: P712.348 billion
Budget of the Department of Health for school supplies, equipment, printing of class modules, and solar panels in certain schools
More National Child Development Centers
Funding for the Philippine Science High School
Alternative Learning System
Flexible learning options
More college scholarships
Labor
Tulong Panghanapbuhay sa Ating Disadvantaged or Displaced Workers (TUPAD) program of the Department of Labor and Employment: P15.839 billion
More scholarship programs under the Technical Education and Skills Development Authority (TESDA)
Trade and industry
Shared service facilities of the Department of Trade and Industry (DTI): P105 million
One Town, One Product program: P200 million
Livelihood Seeding Program – Negosyo sa Barangay: P500 million
Regional Inclusive Innovation Cluster: P300 million
Project Stride for consumer protection: P50 million
Bamboo Industry Development: P30 million
Infrastructure and transportation
Repair, rehabilitation, and upgrading of ports: increase of P226 million
Repair, rehabilitation, and upgrading of airports: increase of P1.228 billion
Enhanced accessibility for senior citizens and persons with disability: P70.27 million (increase)
Funding for bicycle lanes and pedestrian walkways
Health protocols in transport terminals
Protected pedestrian crosswalks and bicycle lanes
Facilities for persons with disability
Information and communication technology
Total increase in the Department of Information and Communications Technology's budget: P5.202 billion
Free wifi in state universities, colleges, and public places: increase of P1 billion
National Broadband Plan: increase of P5.902 billion
Peace and order
Total increase in the Department of Justice's budget: P550.39 million
Total increase in the Judiciary's budget: P2.2 billion
Initial funding to establish the Philippine Judicial Marshal Service: P50 million
100 judges-at-large: P245 million
Budget of the Philippine National Police, particularly its Internal Affairs Service, Anti-Cybercrime Division, and the PNP Maritime Group
Budget of the Commission on Human Rights
Arts, culture, and sports
Funding for participation in the Asia Pacific Performing Arts Network
2021 Olympics: P250 million
Southeast Asian Games: P200 million
Asian Regional Games: P100 million
Training for arnis: P5 million
Philippine Bowling Federation: P8.709 million
Samahang Kickboxing ng Pilipinas: P3 million
Philippine Football Federation: P5 million
Samahang Basketbolista ng Pilipinas: P5 million
"Ultimately, what we have is an improved version, where funds are poured into programs, activities and projects that deserve it the most," Angara said as he capped off his speech.
The Executive originally proposed only P2.5 billion for COVID-19 vaccines in its National Expenditure Program for 2021. The House version of the bill increased it to P8 billion.
The government aims to inoculate 60 million to 70 million Filipinos in 3 to 5 years, in order to achieve herd immunity, for which it would need more than P70 billion.
The Senate's passage of the 2021 GAB followed the schedule, with enough time for the bicameral committee conference, ratification by both chambers of Congress, and submission to Malacañang before the year ends.
In October, senators worried that the speakership tussle at the House would delay the budget process, and risk forcing the government to operate on a reenacted budget when 2021 starts. They strongly urged the House under the new speaker, Lord Allan Velasco, to follow the schedule and avoid a delay.
The Senate and the House will convene a bicameral conference committee on the 2021 GAB next week. – Rappler.com