The Senate committee on national defense and security chastises Lieutenant General Antonio Parlade Jr for his 'reckless and negligent propaganda wars'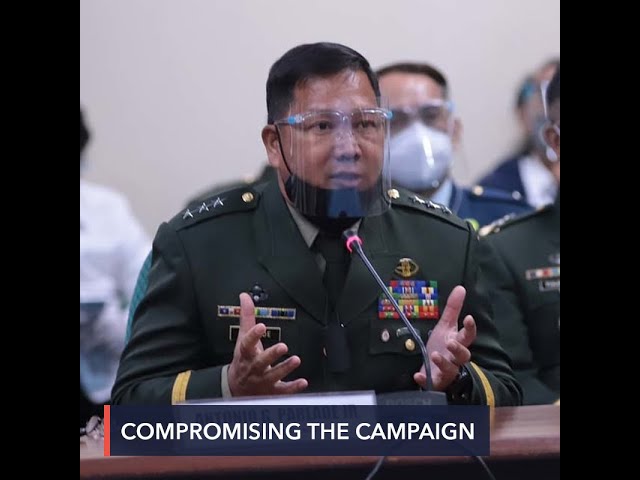 Lieutenant General Antonio Parlade Jr, the controversial general serving as the spokesperson of the Duterte government's National Task Force to End Local Communist Armed Conflict (NTF-ELCAC), is compromising their own campaign.
The Senate committee on national defense and security revealed this as one of its red-tagging probe findings in its 66-page report published on Monday, February 22. The report chastised Parlade for his inflammatory posts red-tagging opposition politicians, celebrities, students, and recently, a journalist with online news site Inquirer.net.
"Public statements of some NTF-ELCAC officials, particularly its spokesperson, Lt Gen Parlade, counter the whole-of-nation policy against communist armed insurgency. This undue public propaganda also undermines the social development efforts of the peace framework and results in discord among our people," the Senate committee said in its report.
It added, "If not rectified, these reckless and negligent propaganda wars waged by the NTF-ELCAC, particularly by Lt Gen Parlade, will lead to further polarization."
What the NTF-ELCAC should be doing
The NTF-ELCAC was created through Executive Order No. 70, envisioned to be the task force among Duterte's many task forces to unite government agencies in ending the communist insurgency in the Philippines – the longest-running in Asia.
"Towards this end, the government shall prioritize and harmonize the delivery of basic services and social development packages in conflict-affected and vulnerable areas," the EO reads.
It added, "The framework shall include a mechanism for localized peace engagements or negotiations and interventions that is nationally orchestrated, directed, and supervised, while being locally implemented."
With Parlade becoming the face of the NTF-ELCAC, the task force has become associated with the government's intensified red-tagging campaign. Meanwhile, its P16.4-billion barangay development program has been labeled as the military's version of the pork barrel – funds that are discretionary and difficult to audit.
Accountability for Parlade
Parlade has defended himself by saying that his statements are matters of his personal opinion. The Senate committee rejects this defense.
"'Personal opinions' do not absolve Gen Parlade from his lack of sense of responsibility and negligence in issuing contentious statements to the media and his Facebook account. Donning his military uniform in his media appearances and bearing the title of a spokesperson, his public pronouncements could never be dissociated from his position as the official spokesperson of NTF-ELCAC and a high-ranking official of the AFP," the committee said.
It added, "It is the very reason why restraint and prudence in speech are imperative among members of the armed forces pursuant to the constitutional mandate that 'no member of the military should engage, directly or indirectly, in any partisan political activity, except to vote.'"
As of Wednesday, February 24, Parlade is still under probe by the AFP's provost marshal, which probes soldiers of alleged violations of their internal guidelines. Rappler earlier reported that Parlade violated rules set by the military's social media handbook, which bans rants, gripes, and instigating fights and debate on political matters that affect the military. – Rappler.com