'Why wait for the next IATF [meeting]? Why wait for the next Cabinet meeting?' Senator Nancy Binay asks the education department
Did the Department of Education (DepEd) lack a "sense of urgency" when they lobbied to the President for the safe reopening of schools?
At a Senate basic education committee hearing on Wednesday, August 25, senators expressed frustration over what they called a "lack of sense of urgency" on the part of DepEd in pushing for President Rodrigo Duterte to allow limited face-to-face classes in areas classified as "low-risk" for COVID-19.
This, after Education Undersecretary Nepomuceno Malaluan presented to them DepEd's plan for the pilot run of face-to-face classes in some 100 schools the agency identified, should Duterte give his go signal.
Duterte has repeatedly rejected proposals for limited face-to-face classes due to the threat of the ever-mutating coronavirus. But in its fresh bid to get the President's nod, Malaluan told senators that a joint circular crafted by DepEd and the Department of Health (DOH) has already been approved by the government's coronavirus taskforce.
The joint circular, which is set to be released next week, contains the requirements and parameters for the safe reopening of schools, such as the transmission rate, availability of facilities, and ample space to hold classes while allowing social distancing.
The approval of the circular, however, doesn't mean that pilot run is already a go. Duterte needs to approve it first.
After Malaluan's presentation, Senator Nancy Binay went on to ask him if DepEd already presented its detailed plan to the President.
"Did Education Secretary Leonor Briones talk to the President and explain DepEd's plan to make our students safe?" Binay asked. Malaluan responded, "Not yet."
"Parang wala tayong sense of urgency. 'Di ba 'yung tourism nga sobrang nag pu-pursue sila na ma-open ang industriya nila? They've been coming up with reports," Binay said.
(It seems you don't have a sense of urgency. Hasn't the tourism department been overly persistent about getting their industry re-opened?)
The senator said that DepEd should have presented its plan to the President first, since he will be making the decision.
"I think the perception of the President is that it will be the same type of opening of classes na 50 sa class, which is not the case," she said.
"Why wait for the next IATF [meeting]? Why wait for the next Cabinet meeting? The Secretary [of Education] can just probably set an appointment with the President and do one-on-one presentation with him," she added.
No dialogue
In the same hearing, an organization of private schools in the Philippines appealed to the government to allow them to have their own guidelines or parameters for limited face-to-face classes.
Coordinating Council of Private Educational Associations of the Philippines (Cocopea) Managing Director Joseph Noel Estrada said that private schools should have a different set of guidelines "simply because the parameters and the environment are different for private schools, particularly on the consideration of space."
Estrada said that private schools in the country are capable of retrofitting their facilities to allow for the safe return of students.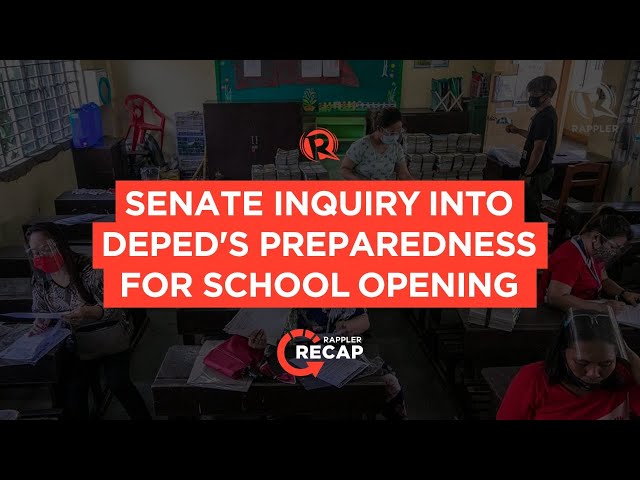 Binay then asked Estrada if a dialogue had been conducted between DepEd and the private schools group to discuss the matter. Estrada replied,"It's unfortunate that we're not given the opportunity to present."
"Nakaka-frustrate. Kung hindi ka pa pala nagpatawag ng meeting, Mr. Chairman, hindi natin malalaman na hindi pa sila nag-uusap," Binay said.
(It's so frustrating. If you hadn't called for a meeting, Mr. [Senate] Chairman, then we wouldn't have known that they hadn't discussed things yet.)
Senator Pia Cayetano was also baffled over the lack of dialogue, since there had been calls to resume face-to-face classes since last year.
"I kind of share the same shock that [DepEd has] not been able to take advantage of the thousands of members that Cocopea has. Bakit hindi sila napapakinggan? (Why haven't they been listened to?)" Cayetano asked.
Senator Sherwin Gatchalian, who chairs the basic education committee, echoed the sentiments of Binay and Cayetano as he asked DepEd to look into the private schools' proposal.
Gatchalian said that the education sector should learn "to adjust and live with the virus," similar to what the business sector is doing.
Missed opportunities
In a statement released on Wednesday, United Nations International Children's Emergency Fund (Unicef) said that millions of Filipino children will continue to miss education opportunities during another year of remote learning.
"The first day of school is a landmark moment in a child's life — setting them off on a life-changing path of personal learning and growth. Most of us can remember countless minor details — what clothes we wore, our teacher's name, who we sat next to. But for millions of children, that important day has been indefinitely postponed," Unicef executive director Henrietta Fore said.
Philippine schools have paused face-to-face classes for over a year due to the COVID-19 pandemic. Classes have been done via remote learning, and this distance education strategy will be implemented again next school year. – Rappler.com