(1st UPDATE) Senator Panfilo Lacson also criticizes President Rodrigo Duterte for defending his erring appointees instead of filing cases against them
Several senators on Friday, August 27, advised President Duterte to brush up on the principles of separation of powers and checks and balances after he lashed out at Congress for its investigations into his government's pandemic funds spending.
Senator Panfilo Lacson – who is planning to run for president in the high-stakes 2022 elections – advised Duterte to read about the mandate given to all three branches of government.
"Magbasa rin muna siya tungkol sa doktrina ng separation of powers at checks and balances ng ehekutibo, Kongreso at hudikatura bago niya kami pakialaman sa Senado," Lacson said on Friday, August 27.
(He should read about the doctrine of separation of powers as well as the checks and balances between the executive, Congress, and judiciary before he meddles in Senate affairs.)
In a meeting with his pandemic task force officials on Thursday, August 27, Duterte ranted against lawmakers in both the House of Representatives and the Senate for scrutinizing how his government is spending billions of pandemic funds.
The President – who counts a majority of legislators as his allies – said Filipinos do not believe in these probes and claimed lawmakers were just holding hearings for publicity.
Lacson said the President is better off focusing his efforts instead on addressing the "incompetence and corruption" in his government.
"Kaya hindi nakakasuhan ang ilang matataas na opisyal na naging subject ng pag-iimbestiga namin ay dahil ipinagtatanggol niya sa halip na makasuhan," Lacson said.
(No cases have been filed against some high-ranking officials who were the subjects of our investigation because he chose to defend them instead of holding them accountable.)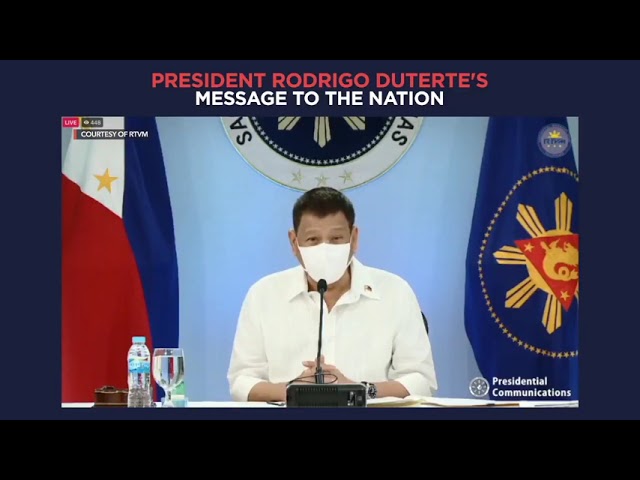 Duterte has been criticized for merely firing his erring appointees and not initiating investigations into alleged wrongdoings that supposedly caused their termination.
He has continued to stand by embattled Health Secretary Francisco Duque III despite what the Cabinet official's critics called his incompetence in leding the agency during a public health crisis.
Senate President Vicente Sotto III reminded Duterte that several of his appointees are now facing cases because Senate hearings exposed their alleged corrupt practices.
"Baka nakalimutan lang niya or misinformed siya (Maybe he forgot or he was misinformed). I will send him the Senate report on the committee of the whole investigation on PhilHealth. Most of his appointed officers have now pending cases and were removed because of the Senate investigation," said Sotto.
The Senate President also said the Office of the Ombudsman "usually relies" on Senate probes and reports for its preliminary investigations.
Sotto is Lacson's running mate in the 2022 elections and may see himself pitted against Duterte in the vice presidential race.
'Give us a little respect here'
Senator Richard Gordon, chairperson of the blue ribbon committee leading the ongoing Senate investigation, also took exception to Duterte's tirades against the chamber.
Gordon noted his panel's past probes that eventually led to filing of cases or even the removal of erring officials, like the investigation into the involvement of Bureau of Customs and Philippine National Police officials in the illegal drug trade, as well as the various corruption allegations hounding the Bureau of Immigration.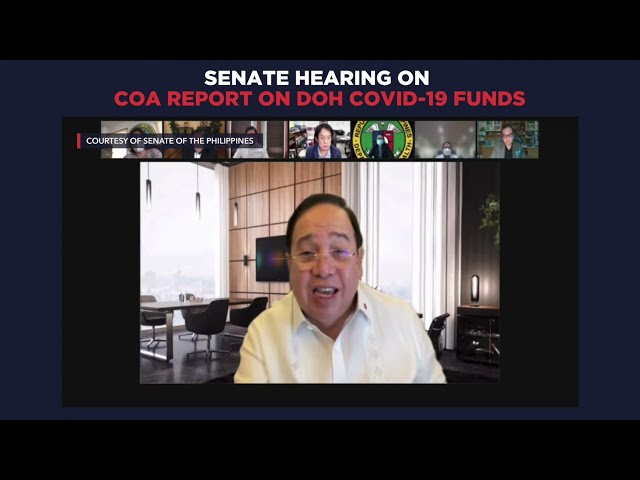 Gordon also recalled the blue ribbon committee's probe into the Bureau of Corrections later exposed the problematic computation of the Good Conduct Time Allowance for inmates.
He reminded Duterte that the blue ribbon committee is tasked to investigate allegations of corruption in government. Gordon said he would rather be criticized for doing his job as its chairperson instead of drawing flak for sleeping on the job.
"Mr. President, konting respeto naman po…. I always respect the title and the man, pero 'wag naman po tayong magsalita sa co-equal branch of government na 'di ginagawa ang trabaho nila," Gordon said.
(Mr. President, give us a little respect here…. I always respect the title and the man, but let's not speak like this about a co-equal branch and falsely claim we're not doing our job.)
"The blue ribbon committee…is there to protect the Senate and to protect the government from graft and corruption. But, above all, we protect the people," he added.
Nothing to probe if there were no complaints
Opposition senator Kiko Pangilinan, for his part, said the Senate would not have anything to investigate if there were no complaints about the Department of Health (DOH).
"I strongly suggest Malacañang listens to the frontliners, the hospital operators, the LGU officials, all whom are frustrated and angered by the incompetence and the stench of corruption in the affairs of the DOH," Pangilinan said.
Duterte has been drawing widespread criticisms for severely mismanaging the COVID-19 pandemic, with over 1.89 million infections and 32,728 people dying from the virus to date.
Reports from the Commission on Audit revealed various agencies have unused and misused billions of funds meant to bolster the government's response to the COVID-19 crisis in 2020.
In their investigations so far, senators have raised red flags over allegedly unauthorized purchases, overpriced and overstocked face masks and shields, and slow distribution of the hazard pay promised to health workers on the frontlines against COVID-19.
Some lawmakers even suspect there is a "well-entrenched mafia" in the DOH that could be profiting from taxpayers' money as the rest of the country grapples with the pandemic. – Rappler.com