Senate President Tito Sotto also says President Rodrigo Duterte may just be resorting to 'PR' tactics in going easy on China
Philippine Senate President Vicente "Tito" Sotto III said he is "not worried" about the presence of the Chinese military in the West Philippine Sea because of Manila's defense treaty with its longtime ally, the United States. 
In a Rappler Talk interview on Thursday, March 25, Sotto said that should the hostilities between Manila and Beijing escalate, the Philippines can always bank on its Mutual Defense Treaty (MTD) with the US.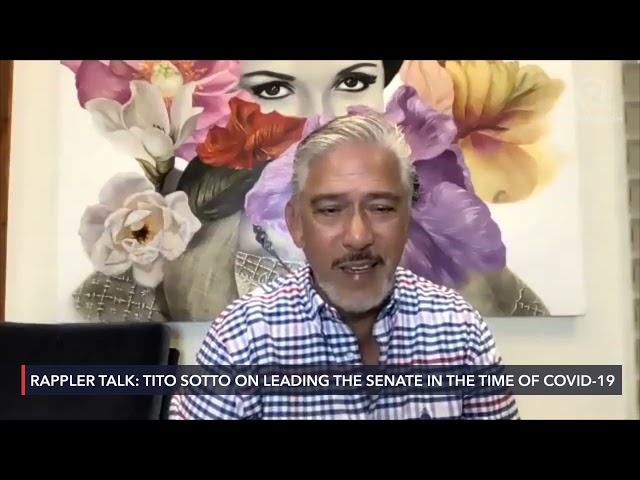 "On a personal level, because of the Mutual Defense Treaty, hindi ako masyado kabado diyan sa issue diyan eh (I'm not really worried about that issue). Because contained in the Mutual Defense Treaty – and I'm not sure if everybody is aware of this, they may not be aware of this – once a Philippine government boat or any property is attacked by anyone, the Mutual Defense Treaty takes [effect] right away," said Sotto.
"In this case, if let's say – I hope I'm not misquoted because there are many things I have said that were taken out of context – let's say China attacks our Coast Guard, it would be automatic: We have the United States of America Mutual Defense Treaty that will kick into place. I will not be worried if that happens. They should be the one who should be worried," added the Senate President in a mix of English and Filipino.
The 70-year-old MDT is a commitment of the Philippines and the US to defend each other – in accordance with constitutional processes – in the event of an armed attack by a hostile party. The Philippines is the United States' oldest treaty ally in Asia.
Sotto's expression of confidence in the MDT comes in the wake of the Philippines filing a diplomatic protest over the presence of 220 Chinese vessels near Julian Felipe Reef (Whitsun Reef).
Julian Felipe Reef is located in the West Philippine Sea, a part of the South China Sea that belongs to the Philippines but China is falsely claiming as its own. 
The Philippines' National Task Force for the West Philippine Sea earlier said it believed the vessels massed near Julian Felipe Reef are manned by Chinese maritime militia, but China denied this and denounced the claim as an "unnecessary irritation."
The US has expressed support for the Philippines, noting China has been known to use its maritime militia "to intimidate, provoke, and threaten other nations."
Philippine Foreign Secretary Teodoro Locsin Jr said in August 2020 that the country will invoke the MDT if China attacks a Philippine naval vessel in the West Philippine Sea.
Duterte doing 'PR' in going easy on China
In the same interview, Sotto also defended Philippine President Rodrigo Duterte against criticism over his pacifist view on the Chinese militarization of the West Philippine Sea.
For Sotto, Duterte going easy on China may just be the President resorting to public relations.
"I don't want to second-guess the President. We can only opine that perhaps pini-PR lang niya. Mayroong gano'n eh. Alam mo kaming mga pulitiko, may pini-PR kami. Pero kahit pa medyo alam mong may bunggo sa 'yo 'yan, pi-PR-in mo na lang. Mas mabuting PR-in mo na lang imbes na awayin mo," said Sotto. 
(I don't want to second-guess the President. We can only opine that perhaps he's doing PR here. There are people who do that. You know how politicians are, we do PR. Even if you know someone has the upper hand against you, you would just resort to PR tactics. It's better to do PR than to fight that person head-on.)
In 2016, the Philippines won its historic tribunal case against China, as an international tribunal junked China's expansive claim over the South China Sea. 
But Duterte himself has downplayed this victory numerous times, claiming that insisting on the Philippines' legal triumph would only spark war with the regional giant. 
Still, Malacañang said Duterte already raised the Hague ruling and discussed the presence of the Chinese ships near Julian Felipe Reef during a recent meeting with Chinese Ambassador Huang Xilian. – Rappler.com