(1st UPDATE) Vice President Leni Robredo describes the former DSWD chief as her 'lifesaver'
Friends and allies of the late former social welfare secretary Corazon "Dinky" Soliman took to social media to grieve her passing on Sunday, September 19.
Soliman, a longtime social worker who was appointed to the Cabinet by the late ex-president Benigno "Noynoy" Aquino III, died due to complications from renal and heart failure. She was 68.
Former presidential spokesperson Edwin Lacierda said Soliman was "indefatigable" as chief of the Department of Social Welfare and Development (DSWD).
It was under Soliman's leadership when the conditional cash transfer (CCT) program initiated by the Arroyo administration was boosted and further institutionalized into what is now known as the 4Ps, or the Pantawid Pamilyang Pilipino Program.
"Dinky was our indefatigable DSWD Secretary. In any calamity, she was there. She ensured the poorest were not left behind thru the CCT program. She was the smallest member of our Cabinet but the biggest heart among us. Salamat Dinky! Rest now in your little patch of sunflowers," Lacierda tweeted.
Like Lacierda, Aquino-time finance secretary Cesar Purisima also alluded to Soliman's favorite flower as he bid her goodbye.
"Dinky your time on earth was not enough compared to the amount of good you could still have done and wanted to do. Despite this, you helped, touched and gave hope to millions of people, specially those who needed society's help the most, many of whom are mourning right now," Purisima said.
"We will miss you Dinky Soliman. Rest in peace in heaven where there is eternal sunflower bliss. Say hi to #Pnoy for us," he added.
Soliman first became DSWD chief during the administration of Gloria Macapagal-Arroyo, but she later resigned, along with other Cabinet officials and heads of agencies collectively known as the "Hyatt 10," when Arroyo was accused of fraud in the 2004 presidential elections or the "Hello, Garci" scandal, in July 2005.
Arroyo's successor Aquino later appointed Soliman to the DSWD when he became president in 2010.
Under Aquino, Soliman headed the Human Development and Poverty Reduction Cabinet Cluster and helped lead massive rehabilitation efforts in the aftermath of Super Typhoon Yolanda that devastated Tacloban City and Eastern Visayas.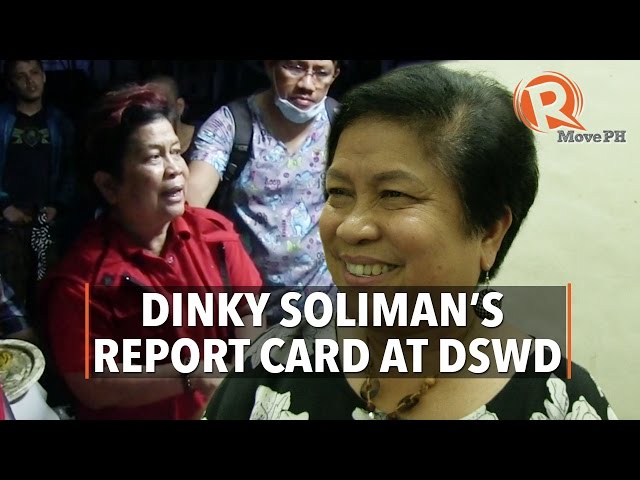 For Manuel Quezon III, former communications undersecretary, Soliman's passing marks the end of a pivotal chapter in government service.
"She left nothing materially but so much in the respectful affection of all who worked, dreamed and fought with her. Her passing ends a chapter in a Civil Society now gone: where the crossover from working in parallel to, to working not just with but in, government was tried. RIP," said Quezon.
Dinky the 'lifesaver'
Philippine opposition leader and Vice President Leni Robredo also shared fond memories with Soliman, with whom Robredo had gotten close after the tragic plane crash that killed her husband, ex-interior and local government chief Jesse Robredo, in August 2012.
The Vice President recalled how Soliman – who was supposed to be taking a vacation with her family in Batangas – volunteered to accompany the Robredo family in Naga City, Camarines Sur while search operations were ongoing for Jesse's plane.
Robredo said Soliman would stay on the couch beside her bed, ready to relay news from Aquino and other officials regarding the search for her husband's remains.
The Vice President said Soliman made sure she ate and slept during those harrowing days.
Robredo called Soliman her "lifesaver."
"She was our lifesaver, in every sense of the word…. Dinky was pure of heart, humble, and compassionate. The world has lost another good soul but heaven gained another angel. We love you and you will be terribly missed, Sec Dinky," said Robredo. 
DSWD mourns
The department she formerly helmed also expressed their grief and relayed her accomplishments as secretary.
"She led the Department in the implementation of various programs, one of which was the development and operationalization of the Kapit Bisig Laban sa Kahirapan-Comprehensive and Integrated Delivery of Social Services (Kalahi-CIDSS), the country's community driven development program," DSWD recalled in a statement.
"Under her term, DSWD championed the enactment of milestone laws, such as the Magna Carta of Social Workers, Magna Carta for Women, and Anti-Trafficking in Persons Act, among others. The DSWD family will truly miss Secretary Dinky. Apart from her notable accomplishments for the Department, she will also be remembered for her sunflower greetings."
Soliman is survived by her husband Hector, their children Sandino and Marikit and their spouses, and their three grandchildren: Tala, Gujan, and Gianluca. – Rappler.com