We compile key points in President Rodrigo Duterte's speech before the world's most high-profile diplomatic summit
Philippine President Rodrigo Duterte, for the first time, participated in the most high-profile event in international dipomacy – the United Nations (UN) General Assembly.
His roughly 20-minute recorded speech was aired before UN officials and diplomats in New York City at around 1 am, Manila time, on Wednesday, September 23.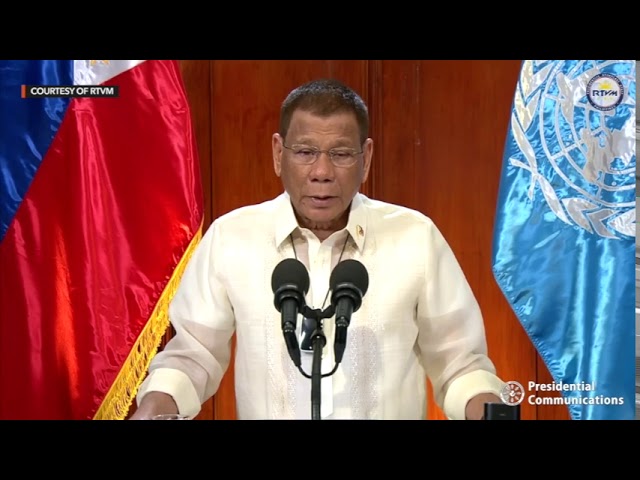 His speech was the 12th to be broadcast during the high-level debates, the most-awaited event of the annual summit when all leaders of the UN's 193 member-states deliver remarks.
Ahead of him, the gathering heard from Brazilian President Jair Bolsonaro, United States President Donald Trump, Chinese President Xi Jinping, and Russian President Vladimir Putin.
Here are all the important points in Duterte's speech:
COVID-19 pandemic – As expected, Duterte began with the global health crisis, calling it the "biggest test the world and the United Nations faced since World War II."
Grief and salute – He extended the Philippines' condolences to families who lost loved ones to the coronavirus and saluted frontliners all over the world.
UN pandemic fund – Duterte welcomed the UN's COVID-19 Response and Recovery Fund designed to help low- to middle-income countries like the Philippines get back on their feet after the crippling blow of the pandemic.
Vaccine – Duterte stressed that an effective COVID-19 vaccine "must not be denied or withheld" from any country, whether "rich or poor." He said there should be universal access to a vaccine and that it should be considered a "global public good."
Geopolitical tensions – He warned that tensions between world powers could escalate to the detriment of all countries ("When elephants fight, it is the grass that gets trampled.") He was worried that a "word war" between two countries with great military might could deteriorate into a "real war of nuclear weapons and missiles." He did not mention any specific countries but called on stakeholders in the South China Sea, Korean Peninsula, Middle East, and Africa to "not hate each other too much."
Migrant workers – Duterte called on all countries to protect the rights of migrant workers, especially as they lose their livelihoods due to the pandemic. He thanked governments who had given assistance to overseas Filipino workers and mentioned his administration's efforts to bring them home.
Sustainable Development Goals – Despite the pandemic, Duterte said the Philippines still aims to reach the Sustainable Development Goals set by the UN, such as ending poverty.
Climate change – Duterte called on all countries to honor their commitment to fight climate change and improve preparedness and resilience to its impacts. He said efforts to curb global warming need the "same urgency" as efforts against COVID-19.
Human rights, his critics – Duterte also took the opportunity to defend his government against allegations of human rights violations. He blamed his critics for painting him in a bad light, saying they were "weaponizing" human rights.
Open to 'dialogue' without 'interference' – He claimed he was open to "constructive engagement" with the UN on human rights issues but that it must be done objectively and without interference into domestic government policies.
Terrorism – Duterte mentioned the Marawi Siege as proof of the ever-present threat of terrorism. He then promoted the controversial 2020 anti-terrorism law as a legal framework that allows the government to beef up its efforts against terrorists.
West Philippine Sea – In an unprecedented move, Duterte dropped a bombshell by raising the Philippines' landmark legal victory against China. He welcomed countries that support it and said the arbitral award "is now part of international law, beyond compromise and beyond the reach of passing governments to dilute, diminish or abandon." The Philippines, Duterte said, will "firmly reject attempts to undermine it."
Nuclear weapons – Duterte called on UN member-states to fully implement the Nuclear Non-Proliferation Treaty, and the Chemical and the Biological Weapons Conventions as the world cannot afford nuclear war. The President said he had asked the Philippine Senate to ratify the Treaty on the Prohibition of Nuclear Weapon, where the Philippines had been among the first countries to sign.
Refugee crisis – Duterte reiterated the Philippines would keep its doors open to refugees fleeing for safety such as the Rohingyas. He recalled the Philippines' humanitarian tradition in welcoming Russian, Jewish, Vietnamese, and Iranian refugees, but also stressed helping those displaced by conflict "is a shared responsibility of all countries."
UN peacekeeping missions – Duterte committed to increasing the Philippines' footprint in UN peacekeeping missions, including having more women participate. He thanked peacekeepers, among them Filipinos, who risk their lives in harmful areas.
Commitment to multilateralism – Facing calamity and conflict across the world, Duterte rededicated the Philippines to multilateralism, a main principle of the UN. The Philippine President said while the international body remains "humanity's essential organization" 75 years since it was set up, countries must be "bold" and possess "courage" to institute reforms that will strengthen the agency.
He ended his speech with a challenge for the UN.
"To be ready for the new global normal, it cannot be business as usual for the UN," Duterte said. "After all, we are the United Nations." – Rappler.com