Months of hard work are wiped out in a matter of hours as Super Typhoon Rolly lashes at a farming village in Camarines Sur
In a matter of hours, months of hard work by farmers in Camarines Sur were destroyed by two typhoons just roughly a week apart.
Randy Cirio, president of the Banasi Farmers Association, is a second-generation farmer who has been tilling his parents' land in Bula, Camarines Sur, for 12 years.
The common crops he plants are rice and corn. He also takes care of their livestock – goats, ducks, and chickens.
No warning from barangay officials
Before typhoons Quinta (Molave) and Rolly (Goni) struck the province, Cirio recalled that village officials didn't warn people.
In a phone call to Rappler, Cirio said, "Dati po, nag-iikot ang barangay pero 'di ko po mawari bakit doon sa dalawang bagyo ay wala man lang akong nasilayang nag-abiso galing sa LGU (local government unit)…. Kasi ang parang tingin nila ay nasanay na rin kami sa bagyong laging dumadaan."  
(In the past, barangay officials would go around but I can't understand why no one gave any warning from the LGU in the last two typhoons…. Because maybe they think that we got used to the typhoons that always pass here.)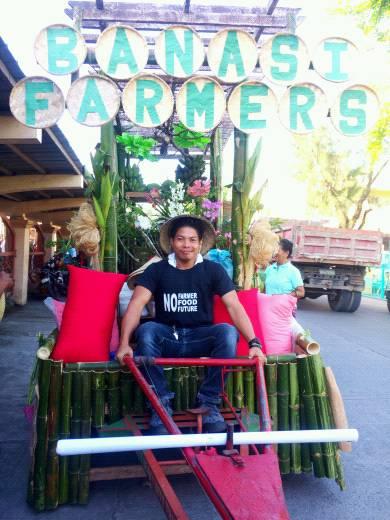 Nevertheless, Cirio prepared the best way he could for the coming typhoon. The community reinforced their houses and secured their belongings.
Cirio wrapped his clothes, TV, and other belongings in a tarpaulin sheet to keep them from getting wet.
Many people in the community evacuated but he didn't. He needed to stay home to make sure his animals were safe. 
"Sabi ko, tiisin ko na lang 'yung mabasa ako, 'wag lang maapektuhan 'yung mga nandoon sa loob ng bahay na alagang hayop (I said, I'll just endure getting wet as long as our animals there inside the house aren't affected)," Cirio said.
Rolly roars in
Before Super Typhoon Rolly arrived, the weather was very calm and pleasant, similar to what happened in 2016 before Typhoon Nina (Nock-ten) struck, Cirio recalled.
Signal No. 5 was raised in Camarines Sur when Rolly first made landfall in Catanduanes at around 4:50 am on Sunday, November 1.
Cirio was asleep when the rain started to pour at around 8 pm on Saturday, October 31.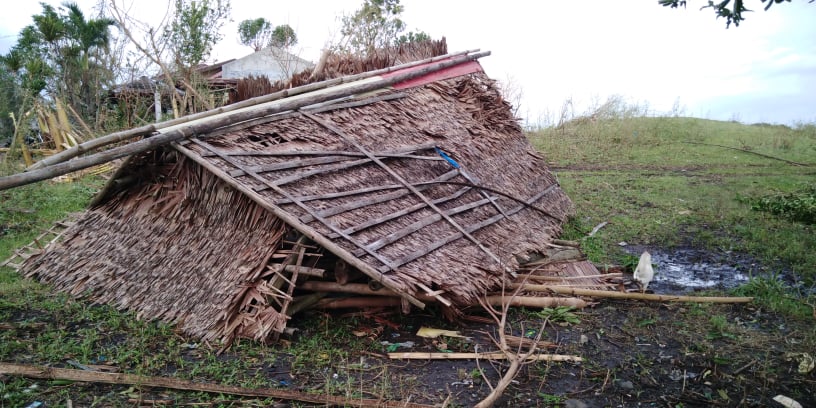 Very early the next day, Sunday, November 1, at around 3 am, the winds started to pick up. Around this time, Cirio said that his roof started to give way – his house was made of light materials.
There was no flood where he was, but the rain started to leak through the roof. He found a dry and safe place for his animals and kept them there until the storm passed.
The winds died down at around 10 am, he said.
Still in the dark
"Kahit po anong paghahanda, dahil nga po magkasunod 'yung bagyo at 'yung isa naman ay kalakasan 'yung hagupit, ay talagang sinira po kahit anong paghahanda (Whatever preparations you do, because the typhoons came one after the other and one was strong, the preparations were no good)," Cirio said.
All over Camarines Sur, and the rest of Bicol, many houses were destroyed, their roofs blown away by the storm. Some low-lying areas remain flooded, Cirio said.
Some farmers in the area were unable to harvest their crops before the typhoons came. These were all destroyed, Cirio added.
Super Typhoon Rolly reminded him of Typhoon Rosing (Angela) in 1995, which also brought widespread destruction in the region.
However, Cirio noted that Rolly was not as devastating as Rosing because more people now live in concrete houses.
Cirio's village hasn't had electricity since Typhoon Quinta. They still endure dark nights even after Rolly.
Farmers' advocacy: Enriching the land
When a typhoon strikes farmers, they are unable to recover quickly because it takes months for crops to grow and get harvested Cirio said.
There is nothing for the community to do but wait until the flood subsides so they can replant the land – hopefully soon.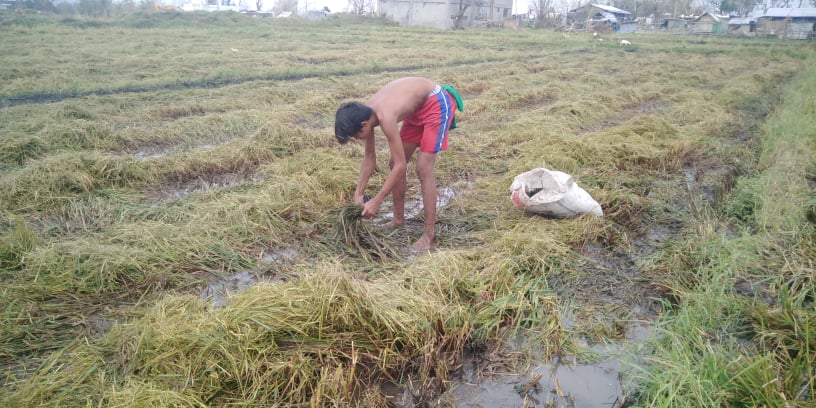 Difficult as it is, farming is the only life and livelihood Cirio knows. He said he will stick with it, as did his parents and grandparents before him.
"Ito po ang aming advocacy, na gusto namin na bawat piraso ng lupa ay mayroong tanim, at hindi nasasayang. Kasi ito pong lupa ay bigay ng gobyerno at 'yun po ang gusto naming pagyamanin," Cirio added.
(This is the advocacy that we have, which is for every piece of land to be planted and not wasted because this land was given by the government, and we want the land to flourish.)
Help needed
Cirio said he has received no help from the local government despite the back-to-back storms.
"Kahit noong Bagyong Quinta, wala po kaming natanggap na kahit relief goods…. Hindi ko rin alam kung wala nang pera 'yung gobyerno, o talaga nang nagamit sa COVID-19," Cirio added.
(Even during Typhoon Quinta, we didn't receive even relief goods…. I don't know if the government doesn't have any more money, or if it was all spent on COVID-19.)
What Cirio and his neighbors need now is food, and help with repairing their houses that were battered by the typhoons.
Those who wish to give financial assistance to the farmer may send donations to Randy R. Cirio, BDO Pili Branch Account No. 003500231092. – Rappler.com
Editor's note: Jacob Reyes is a volunteer at Rappler. He is studying AB Communication at the Ateneo de Manila University.