Justice Delos Santos's early retirement would be the 3rd one during this pandemic, giving President Duterte more room to recompose the Court before his term ends in 2022
Supreme Court Associate Justice Edgardo Delos Santos has expressed his intent to retire earlier than required. This development raises to 4 President Rodrigo Duterte's picks for new justices, and gives him more room to decide until his term ends in 2022.
Supreme Court Spokesperson Brian Keith Hosaka confirmed on Friday, March 26, that Delos Santos was "considering" retiring earlier than June 12, 2022 "due to health reasons," but that there was no specific date yet.
"According to Justice Delos Santos, due to health reasons he is considering the possibility of retiring ahead of his 70th Birthday on 12 June 2022," Hosaka told reporters.
In his letter to his staff on March 19, Delos Santos said "I have agonized over this decision to hang my judicial robe early."
"I spent sleepness nights trying to think of a better – no, make that – the best way to announce my decision to you, my staff, in light of the trying times we are currently experiencing. In the end, I succumbed to the frailty of human emotions, that as I mustered to overcome my sadness during my announcement this afternoon, I tactlessly covered it up by trying to be funny," Delos Santos told his staff.
Delos Santos has not written the Court en banc, sources said.
Hosaka said Delos Santos told his staff ahead of the Court en banc so they could start looking for other jobs "knowing the difficulty of finding a job during this pandemic."
"Justice Delos Santos further added that he remains an incumbent member of the Supreme Court until after a specific date of retirement, as may be indicated in a formal letter from him to the En Banc, is accepted and acted upon by the Court," Hosaka said.
Although Delos Santos' original retirement date on June 12 still falls within the midnight appointment period for President Rodrigo Duterte, an early retirement would give the president more room to take a new pick.
Excluding his impending chief justice pick to replace Chief Justice Diosdado Peralta, Duterte has 4 more appointments to make before his term ends in June 2022.
By the end of his presidency, only two would be non-Duterte appointees – the dissenters Associate Justices Marvic Leonen and Benjamin Caguioa.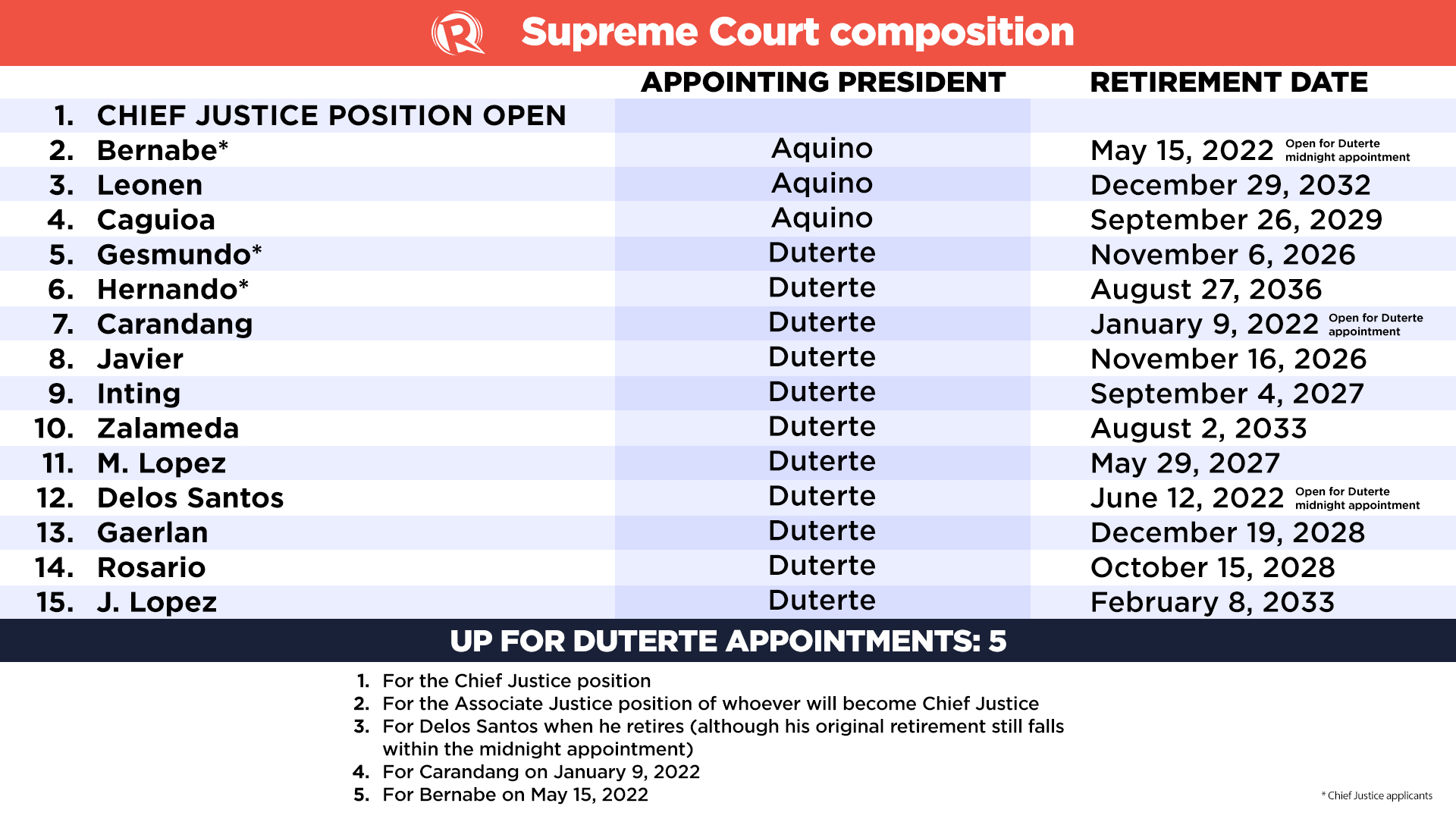 Who is Delos Santos?
Delos Santos, a longtime Cebu-based Court of Appeals (CA) justice, was appointed by Duterte to the Supreme Court in December 2019.
In his brief term so far in the Supreme Court, Delos Santos was assigned to the highly political case of detained activists asking for temporary freedom for humanitarian considerations amid the pandemic.
One of the petitioners was young activist Reina Mae Nasino. Her 3-month-old child, River, was born and then died while Reina Mae was in jail.
The unanimous decision to remand the petition to the lower courts, which was unattributed and which Delos Santos was relegated to a concurring opinion, was highly criticized for being belated. That a baby died in the pendency of the case highlighted the role that the courts, including the lower courts, failed to play.
Delos Santos was remarkable during his Judicial and Bar Council (JBC) public interview for his touching rags-to-riches story. A son of a fisherman from Leyte, Delos Santos worked hard to get into the topnotch University of San Carlos (USC) in Cebu where he built his career in the judiciary.
Delos Santos was first a municipal trial court judge in Dumaguete where he came to be known as the habal-habal judge because he could only afford a second-hand motorcycle. Delos Santos then became a regional trial court judge in Bacolod, until he returned to Cebu for the CA base there.
Revolving door
Delos Santos would be the 4th justice to retire early under Duterte, the 3 of which happened just during the pandemic period.
The first was justice Samuel Martires who was supposed to retire January 2019, but opted for an early retirement because he was appointed as Ombudsman in July 2018.
The next was Justice Priscilla Baltazar Padilla, who, after only 4 months on the bench, retired in November 2020 "due to physical inability." She was supposed to stay on the Court for 8 more years.
The next was Peralta, who announced in December 2020 that he would retire a year early for still undisclosed reasons. He was scheduled to retire March 27, 2022, which would have still meant Duterte gets to choose his replacement.
But with Peralta retiring Saturday, March 27, Duterte picks much earlier a new chief justice. The president has 90 days from Saturday to select among Senior Associate Justice Estela Perlas-Bernabe, Associate Justice Alexander Gesmundo and Associate Justice Ramon Paul Hernando.
In the early years of his term, Duterte was fond of appointing justices who would retire quickly, like Martires, Noel Tijam, Andres Reyes Jr and Jose Reyes Jr.
Duterte then got around to appointing much younger justices who would stay on the Court long before he steps down from his presidency. Two of such young justices are now applying for chief justice. These are Gesmundo, who will retire in 2026, and Hernando, who will retire in 2036. – Rappler.com