In denying Akbayan's request to hold DENR in contempt, the SC says the question on whether dolomite is harmful is a factual question that is not in the Court's jurisdiction
The Supreme Court has taken a hands-off approach in a group's attempt to hold the Department of Environment and Natural Resources (DENR) in contempt for putting dolomite sand on Manila Bay, saying it is a political question that the Court "may not venture into."
The Supreme Court said the question of whether using dolomite was proper is a political question. The political question doctrine states that for issues that refer mostly to the wisdom of policy, it is best left to the discretion of political leaders, and not for the Supreme Court to tackle.
"It is a challenge that properly lies in the realm of political questions which the Court may not venture into even incidentally in a contempt proceeding under the given circumstances," said the Court said in a statement Thursday, November 19.
The Supreme Court said the contention is only whether dolomite is harmful.
"[It is] a factual issue not ordinarily entertained by the Court," said the Court. The Supreme Court is not a trier of facts.
Marine scientists from the University of the Philippines (UP) had said the crushed dolomite "will not help solve the root of environmental problems in Manila Bay."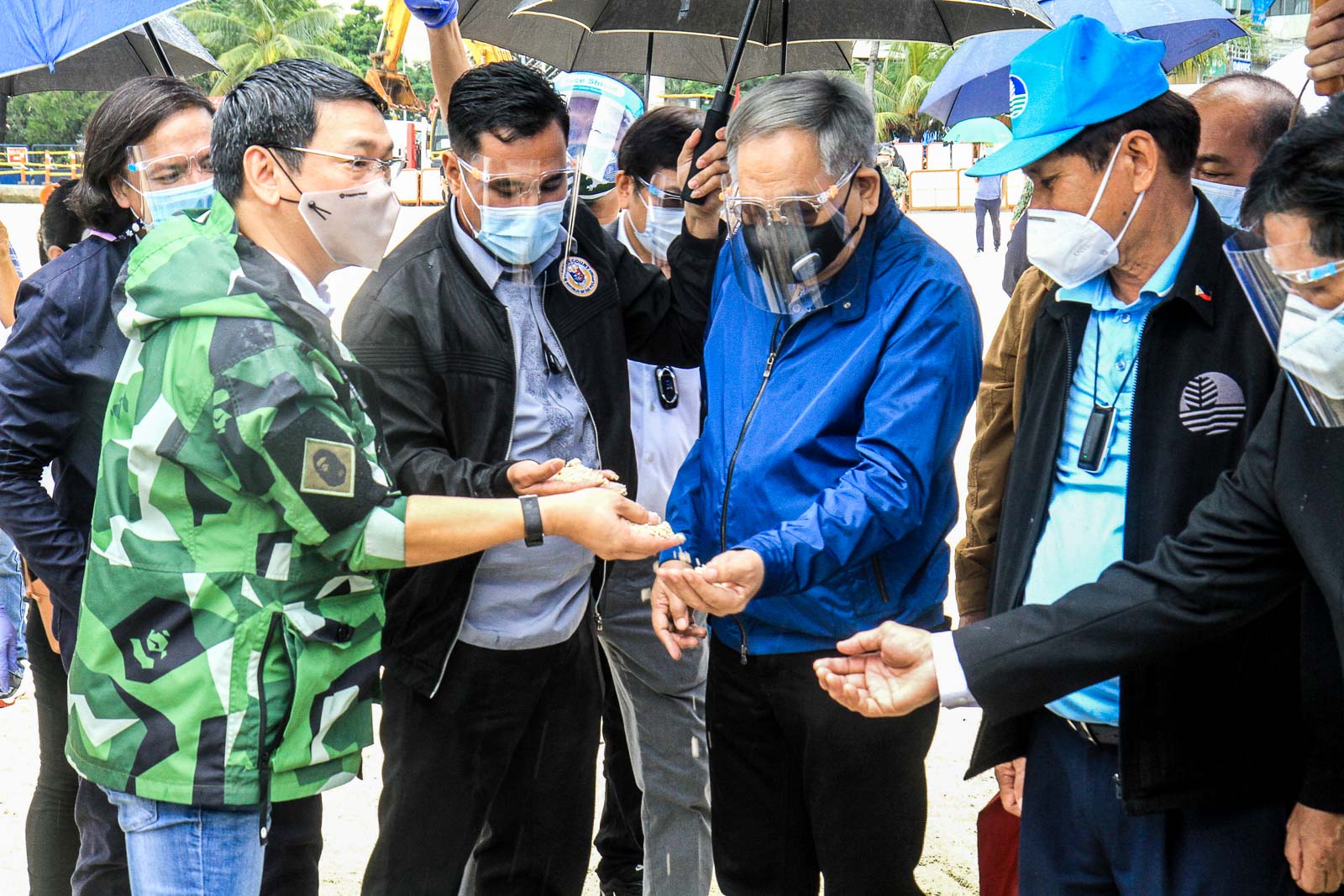 Not covered by mandamus
The Supreme Court thus denied the motion of progressive group Akbayan.
Akbayan filed the motion in the context of a 2008 continuing mandamus that the Supreme Court issued in a landmark case. The continuing mandamus, or a continuing order, compelled the government to rehabilitate Manila Bay and provide the Court with progress reports.
Akbayan, which was not a party to the 2008 case, requested to intervene to argue that dumping the dolomite white sand along Manila Bay was a violation of that order because it is hazardous both to humans and the environment.
But the Supreme Court said the intervention cannot be done in a case that has already been closed with finality.
"The jurisdiction retained by the Court is limited only to ensuring the successful implementation of the mandated reliefs," said the Supreme Court.
The Supreme Court said the DENR's beautification project, wherein they used dolomite sand that is seen to be receding as it washes out from the shore, is an activity that is not covered by the directive.
"The specific directive to the DENR and the concerned agencies and departments is simply to clean the waters of the bay and perform maintenance measures to keep it within the legal standards of cleanliness fit for recreation," said the Supreme Court.
"The project…could hardly be objectively measured as a deviation from the government's mandate as defined in the said writ," the Supreme Court added. 
The Supreme Court said the DENR has not been "remiss in its reportorial duty" to the Court.
"This is evident from the compliance report, duly made of record containing a detailed resumé of the works accomplished, concluded and maintained within the bay and its environs," said the Court.
– Rappler.com